Ending College Degree Requirements
Too many jobs needlessly specify a bachelor's.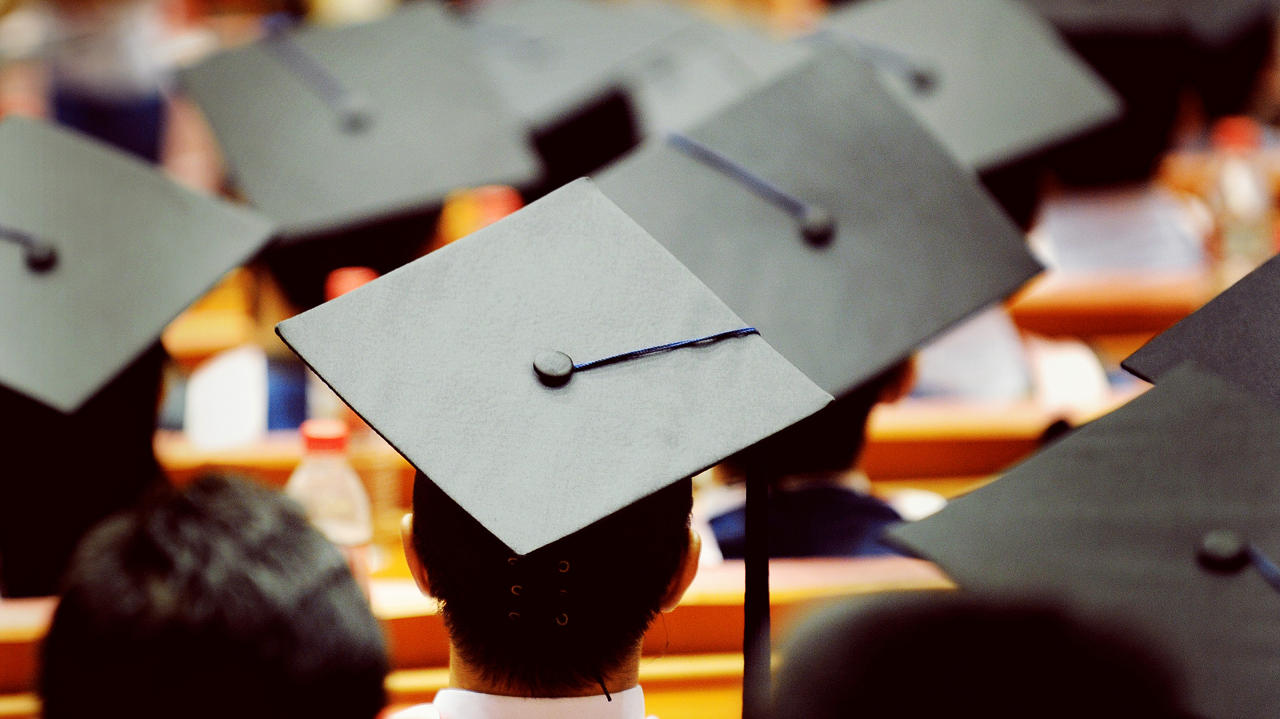 National Review staff writer Nate Hochman argues "Easing College-Degree* Requirements Should Be a No-Brainer for Conservatives."
In his first move as governor of Pennsylvania, Democrat Josh Shapiro signed an executive order abolishing four-year-degree requirements for the vast majority of state government jobs. "Effective immediately, 92% of state government jobs — about 65,000 positions — do not require a four-year college degree," he announced on Twitter. According to the executive order, state government "job postings will begin with equivalent experience needed in lieu of a college degree whenever possible."

It's a great idea.

The growth in the share of U.S. jobs that require a four-year college degree is partially owing to a broader shift away from physical-labor-based industries and toward information and knowledge economies. But it's also due to a misguided, and often toxic, cultural and political trend toward viewing college degrees as a prerequisite for participation in American public life. Among technocrats on both the center-right and center-left, there's often a flawed assumption that a central goal of U.S. education policy should be to get as many young Americans as possible into four-year programs, rather than to open up other pathways and models for success.

That assumption is reinforced by the ballooning of credentialism — often called "degree inflation" — in the American workforce. In the United States today, there is a massive swath of middle-management, white-collar jobs with unnecessary degree requirements. As of 2021, just 37.9 percent of Americans over the age of 25 held a bachelor's degree. But a 2017 Harvard Business School study, which examined "more than 26 million job postings," reported "that employers were increasingly inflating the educational requirements for jobs usually held by high school grads" — and "in many cases, qualified candidates never even got the chance to apply for a position." In total, according to the study, "as many as 6.2 million workers could be affected by the practice of degree inflation."

Of course, government jobs are only one part of the workforce. But Shapiro just opened 65,000 jobs to Pennsylvanians without a four-year degree — some 63 percent of the state population, as of 2016. This is an easy, obvious political win on numerous levels: The move lifts artificial barriers to entering the workforce, expands opportunity, and subsequently grows the economy by opening up (often well-paying) jobs to those who would have otherwise been boxed out. On a more fundamental level, it eliminates a basic unfairness that has led to a two-tiered class system.
While I was the first in my family to get a bachelor's degree and have worked entirely in jobs that require at least an undergraduate degree my entire adult life—including a considerable time teaching at the college level—I fundamentally agree.
I believe Hochman misattributes the motivation. I don't see social bigotry at work so much as laziness. Possession of a college degree** indicates, at a bare minimum, that the individual is likely to show up to work on time with some regularity and has certain basic competencies that one used to expect of a high school graduate.
There are still many jobs that require specific, college-issued credentials. Physicians, attorneys, architects, engineers, chemists, and the like need specific skills that are next to impossible to gain through an apprenticeship program. But that's almost certainly not true of middle managers in a government agency.
This is not a new issue. My late father found himself in such a dilemma when he retired from the Army four decades ago.
As I've recounted before, he joined the Army in 1962 without a high school diploma but soon got a GED. The Army sent him to junior college circa 1973-1975 to get an associate's in police science as he transitioned to the Millitary Police Corps and, ultimately, its Criminal Investigations Division. His last job in the Army, as a master sergeant, was as the (acting) Chief Instructor at the MP School, a major's billet. When he retired and applied for instructor jobs at the same school, he was ruled unqualified because instructors needed bachelor's degrees!
After a few years in retail, he eventually went back and got a bachelor's in political science (graduating from the same institution as I had eight months earlier, and thus becoming the second member of the family with a BA) and got hired back on at the MP School. Rather obviously, he was no more qualified to teach the basics of police science than he was when he'd left the Army; indeed, his skills had likely atrophied.
Alas, Hochman goes beyond the policy merits of the argument:
From the conservative perspective, the move could also be framed as a potential culture-war win. One of the most fundamental divisions in American politics today is what New York magazine's Eric Levitz dubbed the "diploma divide": "Throughout the second half of the 20th century, Americans without college degrees were more likely than university graduates to vote Democratic," Levitz wrote. But by 2020, Joe Biden carried 68 percent of congressional districts where 30 percent or more of the population had four-year degrees, while Donald Trump won 64 percent of those where less than 30 percent had such degrees. "College graduates in general — and Democratic college graduates in particular — tend to have different social values, cultural sensibilities, and issue priorities than the median non-college-educated voter," Levitz noted. They "tend to be more cosmopolitan and culturally liberal, report higher levels of social trust, and are more likely to 'attribute racial inequality, crime, and poverty to complex structural and systemic problems' rather than 'individualist and parochial explanations.'"

In this sense, beyond the obvious nonpartisan arguments for the idea, there's a specifically conservative case for easing degree requirements wherever and whenever possible. Doing so would weaken the hold of a predominantly liberal class of college graduates over a large segment of the job market, including influential jobs in government agencies. And it would aid and empower the social, economic, and political influence of a class of Americans who are, increasingly, drawn to our side: the more culturally conservative cohort of working- and middle-class citizens who are strongly rooted in their communities and less likely to be tied to ideologically left-wing institutions.
While it's true that Democrats have gradually been increasing their vote share among college-educated Whites for some time: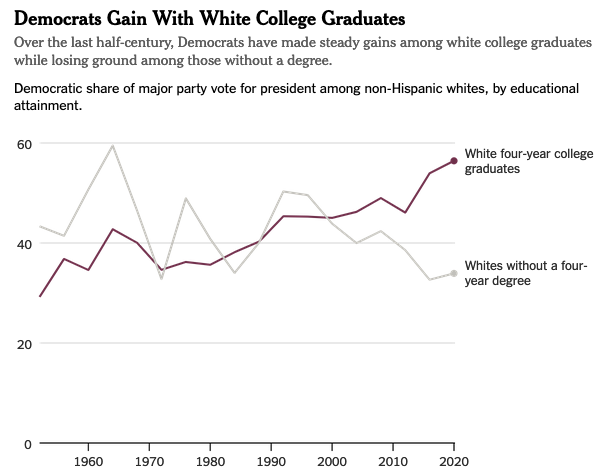 The starkness is new:
The educational divide has been building for years but accelerated dramatically during the Trump era. As recently as the 2012 presidential election, for example, college-educated voters were narrowly split, with college-educated white voters favoring GOP presidential nominee Mitt Romney.

But in the 2020 presidential election, Biden won 68 percent of congressional districts where at least 30 percent of adults have a bachelor's degree. Donald Trump won 64 percent of districts where less than 30 percent are college-educated — and, what's more, Trump's showing includes carrying 96 percent of districts that were both below that education threshold and at least 70 percent white.
The causes are likely manifold but, when party leaders go out of their way to lampoon expertise, science, and all the rest to court the rubes, it's hardly shocking that the college-educated are going to get turned off. Overt white nationalist appeals didn't help with that group either. The #NeverTrump Republicans were almost entirely from the professional class.
________________
*What's up with the recent proliferation of unnecessary hyphenation? Over the last year or so, I've noticed that external spell- and grammar-checking software like Grammarly is suggesting hyphens for ordinary adjectives in a way I haven't seen in the 50ish years I've been paying attention. It's gradually seeping into published works.
**At least a genuine one. Alas, the proliferation of online degree mills has made it much more complicated.