Yes, College Is Worth It (If You Graduate)
While it's been much derided in recent years, there's a definite economic benefit to obtaining a college degree,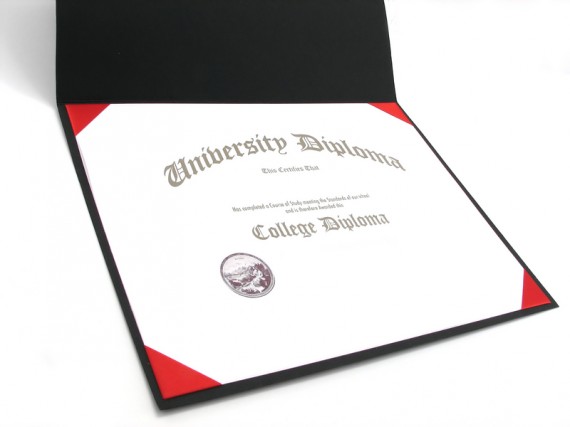 College education has taken something of a hit among pundits in the United States of late. The combination of tuition rates that continue to rise at rates that bear no rational resemblance to either the ability of people outside the upper class, or who don't qualify for full financial aid, to pay and the impact that the Great Recession had on employment had on new college graduates over the past five years has led many people to put forward the idea that we overstate the value of a college education. Perhaps there's some merit to that idea in the abstract, but as David Leonhardt notes at The New York Times the numbers still show that people who complete a college education end up better off than those who don't:
Some newly minted college graduates struggle to find work. Others accept jobs for which they feel overqualified. Student debt, meanwhile, has topped $1 trillion.

It's enough to create a wave of questions about whether a college education is still worth it.

A new set of income statistics answers those questions quite clearly: Yes, college is worth it, and it's not even close. For all the struggles that many young college graduates face, a four-year degree has probably never been more valuable.

The pay gap between college graduates and everyone else reached a record high last year, according to the new data, which is based on an analysis of Labor Department statistics by the Economic Policy Institute in Washington. Americans with four-year college degrees made 98 percent more an hour on average in 2013 than people without a degree. That's up from 89 percent five years earlier, 85 percent a decade earlier and 64 percent in the early 1980s.

There is nothing inevitable about this trend. If there were more college graduates than the economy needed, the pay gap would shrink. The gap's recent growth is especially notable because it has come after a rise in the number of college graduates, partly because many people went back to school during the Great Recession. That the pay gap has nonetheless continued growing means that we're still not producing enough of them.

"We have too few college graduates," says David Autor, an M.I.T. economist, who was not involved in the Economic Policy Institute's analysis. "We also have too few people who are prepared for college."

(…)

According to apaper by Mr. Autor published Thursday in the journal Science, the true cost of a college degree is about negative $500,000. That's right: Over the long run, college is cheaper than free. Not going to college will cost you about half a million dollars.

Mr. Autor's paper — building on work by the economists Christopher Avery and Sarah Turner — arrives at that figure first by calculating the very real cost of tuition and fees. This amount is then subtracted from the lifetime gap between the earnings of college graduates and high school graduates. After adjusting for inflation and the time value of money, the net cost of college is negative $500,000, roughly double what it was three decades ago.

This calculation is necessarily imprecise, because it can't control for any pre-existing differences between college graduates and nongraduates — differences that would exist regardless of schooling. Yet other research, comparing otherwise similar people who did and did not graduate from college, has also found that education brings a huge return.

In a similar vein, the new Economic Policy Institute numbers show that the benefits of college don't go just to graduates of elite colleges, who typically go on to to earn graduate degrees. The wage gap between people with only a bachelor's degree and people without such a degree has also kept rising.
Perhaps the best way to see this is in the accompanying chart: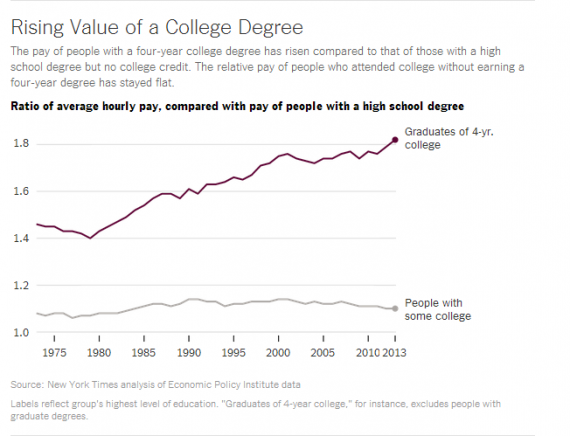 There are plenty of caveats, of course.
Most importantly, of course the findings only hold if you actually get through college and graduate. As the chart above shows, if you only have "some" college education, the likelihood is that you won't get much of a benefit
Additionally, the pay gaps among college graduates depending on what field they majored in is well-known and not necessarily factored in to the chart above. However, that simply suggests that students need to think more seriously about what they major in and perhaps aim their education toward areas that will actually help set them on a path to a career. Some bachelors degrees are, quite honestly, largely worthless unless one intends to go to graduate school or pursue a career in academia, while others, such as in the fast growing field of health professions, can lead to a well-paying job right out of college. Students ought to be more prudent when choosing a major if they really care about their future earning power.
It's also the case that many of the jobs that college graduates get after receiving their Bachelor's Degree are ones that don't necessarily require a college degree. Indeed, many graduates have reported over the years that the job they ended up with out of college was one that was largely unrelated to their major, or that they were rarely using much of what they learned to do their job. To a large degree, this is is due to the fact that American businesses place an huge premium on a college degree to the point where they block people who lack them from applying for positions where, arguably, a college degree isn't necessary. One could argue that employers who are doing this are overvaluing college education, but it may also be the case that they are making the judgment that they skills that one learns in college outside of a specific major — working independently with little direct supervision, meeting deadlines, absorbing new and unfamiliar material — are skills that will help in the business world. Whether that is the case or not, though, it's obvious that employers have made the decision to give added value to college education for some reason and that they wouldn't do so if there was no value at all.
None of this is to deny that there are problems in higher education, of course. Tuition is rising too fast, administrative budgets at most large universities are bloated, and student loan debt is a burden that is holding graduates back just as they step out into the working world. In the long run, though, it remains the case that someone who graduates from college will, on average, be better off than someone who doesn't.