Most Useless College Majors
The major you choose in college will have an impact on your future.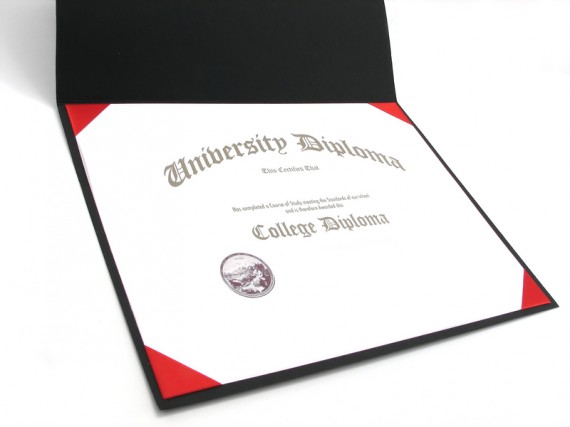 Newsweek is out with a list of what it calls the "Most Useless College Majors." The list is based upon a Georgetown University study [PDF] that examines the earnings levels and unemployment rates for recent and "experienced" graduates with a wide variety of degrees. You can check out the Newsweek breakdown for yourself, but here's the list from 1 to 13:
Fine Arts
Drama And Theater Arts
Film, Video, and Photographic Arts
Commercial Art and Graphic Design
Architecture
Philosophy And Religious Studies
English Literature And Language
Journalism
Anthropology and Archeology
Hospitality Management
Music
History
Political Science and Government
Of course, there are some majors on the list whose presence is entirely unsurprising. Fine arts, philosophy, and religion and hardly fields that one goes into if one wishes to cash in on the big bucks, for example. It also strikes me that some of the majors listed, such as Political Science, History, Anthropology, and Archeology, are ones in which those who are serious about the field typically go on to obtain an advanced or professional degree of some kind. It's unclear if the study that this list is based on takes into account such things as the Political Science major who goes on to law school, for example. For the most part, there's nothing really surprising here. A degree in Drama, for example, isn't likely to make one more likely to get a theater role than the 18 year-old ingenue who just got off the bus from Pine Bluff, Arkansas, for example (which kind of makes one wonder what the real value of a degree in "Drama" actually is) and most of America's most legendary journalists never went to college.
Despite the seeming logic of the list, though, one art critic, objects to the placement of Fine Arts at the top of the list:
[W]ho's more important today, Rembrandt or the people who bought his art? Monet or the people who bought his? Van Gogh or the rich idiots who FAILED to buy what he made? Useless is as useless does, I say, and it seems pretty clear to me that, across history, many of the people who made the biggest difference had training in the most useless professions. (Aristotle, anyone?)

Again, which is more useless, adding another million dollars to the millions you already have, or adding a new work of art, or a new thought, to the world's store of ideas? The single biggest problem the world has today, by far, is that people in the West are used to owning and using too much, and are setting an impossible example for the rest of the planet. (See the new movie Surviving Progress.) So there's real-world, practical virtue in living modestly, "uselessly", and taking your pleasure from the thoughts and ideas you acquired in getting your "useless" degree in art or poetry or philosophy. The world will not be a better place when more people have more money and stuff. It can ONLY be better when more people have better thoughts.

I'm proud to say that my first degree, in medieval history, and my second and third, in art history, are as useless as they come. I'd do them all over again.
Well, that's fine for him I suppose, and it's great that he was able to parlay those three degrees into gigs writing for The Washington Post, Newsweek, and The Daily Beast, but I'm not at all sure that he followed a career path that would be available to everyone who graduates with those degrees, or with a Fine Arts degree. More importantly, Van Gogh didn't go to college to learn his art, neither did Monet, or Rembrandt. You either have that kind of talent, or you don't, and no amount of education is going to turn a guy who can barely draw stick figures into the next great artist of his generation. In fact, I'd say it would be deceptive for anyone to tell a prospective Fine Arts major that anything of the sort was even remotely possible.
Besides, what is so wrong with acknowledging the fact that if you major in something like Fine Arts, you're likely to find it difficult to make a career out of your field of study? Shouldn't we be honest with students when they enter college?
I would say the answer to that last question is yes, especially considering the problems that many of them are facing as they graduated college:
The college class of 2012 is in for a rude welcome to the world of work.

A weak labor market already has left half of young college graduates either jobless or underemployed in positions that don't fully use their skills and knowledge.

Young adults with bachelor's degrees are increasingly scraping by in lower-wage jobs — waiter or waitress, bartender, retail clerk or receptionist, for example — and that's confounding their hopes a degree would pay off despite higher tuition and mounting student loans.

(…)

About 1.5 million, or 53.6 percent, of bachelor's degree-holders under the age of 25 last year were jobless or underemployed, the highest share in at least 11 years. In 2000, the share was at a low of 41 percent, before the dot-com bust erased job gains for college graduates in the telecommunications and IT fields.

Out of the 1.5 million who languished in the job market, about half were underemployed, an increase from the previous year.

Broken down by occupation, young college graduates were heavily represented in jobs that require a high school diploma or less.

In the last year, they were more likely to be employed as waiters, waitresses, bartenders and food-service helpers than as engineers, physicists, chemists and mathematicians combined (100,000 versus 90,000). There were more working in office-related jobs such as receptionist or payroll clerk than in all computer professional jobs (163,000 versus 100,000). More also were employed as cashiers, retail clerks and customer representatives than engineers (125,000 versus 80,000).
Of course, your prospects are slightly different depending on what degree you ended up with at the end of your four years:
While there's strong demand in science, education and health fields, arts and humanities flounder. Median wages for those with bachelor's degrees are down from 2000, hit by technological changes that are eliminating midlevel jobs such as bank tellers. Most future job openings are projected to be in lower-skilled positions such as home health aides, who can provide personalized attention as the U.S. population ages.

Taking underemployment into consideration, the job prospects for bachelor's degree holders fell last year to the lowest level in more than a decade.

"I don't even know what I'm looking for," says Michael Bledsoe, who described months of fruitless job searches as he served customers at a Seattle coffeehouse. The 23-year-old graduated in 2010 with a creative writing degree.

Initially hopeful that his college education would create opportunities, Bledsoe languished for three months before finally taking a job as a barista, a position he has held for the last two years. In the beginning he sent three or four resumes day. But, Bledsoe said, employers questioned his lack of experience or the practical worth of his major. Now he sends a resume once every two weeks or so.

Bledsoe, currently making just above minimum wage, says he got financial help from his parents to help pay off student loans. He is now mulling whether to go to graduate school, seeing few other options to advance his career. "There is not much out there, it seems," he said.

His situation highlights a widening but little-discussed labor problem. Perhaps more than ever, the choices that young adults make earlier in life — level of schooling, academic field and training, where to attend college, how to pay for it — are having long-lasting financial impact.
This is an example of what has perhaps been the most pernicious aspect of the Higher Education Bubble. As tuition rates keep rising, university officials keep assuring students and parents that a college degree, any degree, is the key to success in the future. To a large degree they're right given that there are wide gaps in employment, income, and standard of living between those with at least a Bachelor's Degree and those without. However, it strikes me that they've also been rather dishonest about the whole thing. Did anyone ever ask Mr. Bledose, for example, exactly what he thought he would end up doing with that Creative Writing degree when he entered college four years ago? Granted, that's a question that he should've asked himself because I'm pretty sure barista wasn't his dream job. Nonetheless, I doubt that anyone at the university he attended ever even tried being honest with him about the job prospects for creative writers (which again strikes me as a talent that one doesn't necessarily go to school to learn).