ISIL Destroys Nimrud
The gang calling itself the Islamic State has destroyed another historical site.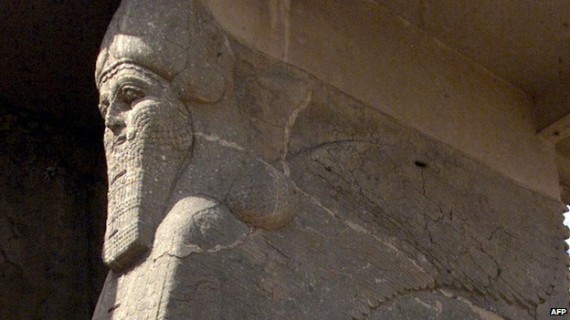 The gang calling itself the Islamic State has destroyed another historical site, the city of Nimrud.
WaPo ("Islamic State 'bulldozes' ancient Assyrian city of Nimrud"):
Islamic State jihadists have "bulldozed" and looted the world-famous archeological site of the ancient city of Nimrud in northern Iraq, continuing the destruction of the area's renowned pre-Islamic cultural heritage, the Iraqi government said.

A statement late Thursday from Iraq's Ministry of Tourism and Antiquities said the extremist militants "defy the will of the world and the feelings of humanity" with this latest attack, in which the extremists used heavy military vehicles to crush treasured relics from one of ancient Mesopotamia's greatest cities.

Nimrud, the second capital of the ancient kingdom of Assyria, was built around 1250 B.C. and destroyed in 612 B.C. It became a great regional power, part of the most powerful state at the time, reaching through modern-day Egypt, Turkey and Iran.

Nimrud is located just south of Iraq's largest city in the north, Mosul, which was captured by Islamic State militants last June.

Last week, a video was released showing apparent Islamic State militants ancient statues and other artifacts at Mosul's museum. The Mosul attack was described by the United Nations as a war crime.

[…]

The discovery of Nimrud's royal tombs in the late 1980s has been described as one of the 20th century's most significant archeological finds. Archeologists Friday compared the assault to a destruction of Rome's Coliseum in its importance. Nimrud is a UNESCO World Heritage site.

The Islamic State, which controls large areas of Iraq and Syria, claim the area's rich pre-Islamic heritage of ancient shrines and statues represents past idol worship that it views as heretical.
Compared to their mass murder, often in particularly horrific ways, of human beings, this is perhaps the least of ISIL's savagery. It will perhaps be its legacy, however.