Israel Forms Unity Government to Avenge Hamas Atrocities
Amid warnings of war crimes, no mercy is forthcoming.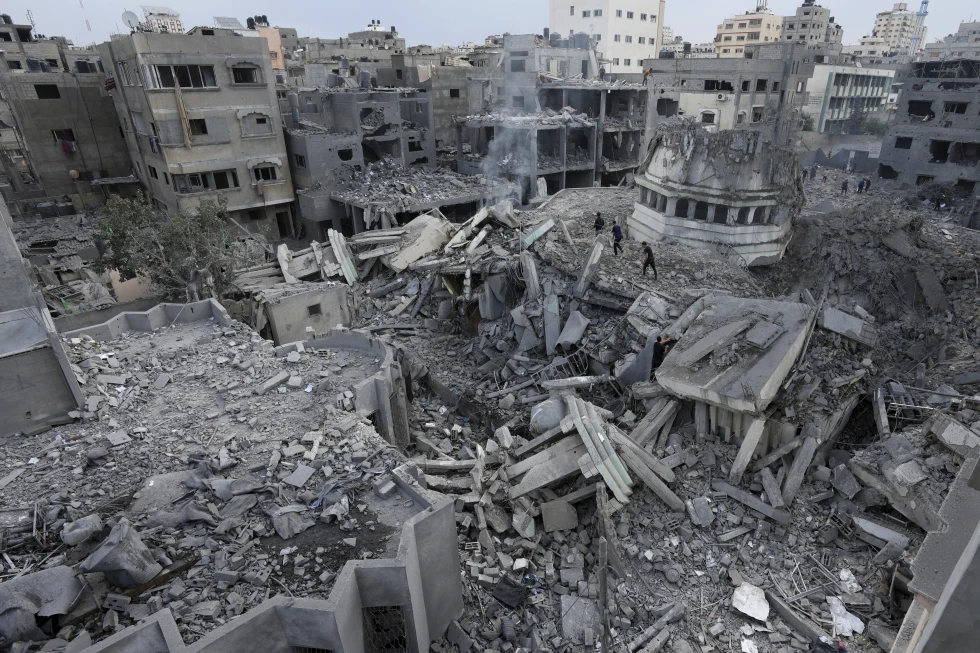 The News:
CNN ("Israel forms emergency government and steps up Gaza offensive as brutality of Hamas attacks laid bare"):
Israel has formed an emergency government and war management cabinet, Prime Minister Benjamin Netanyahu and National Unity Party leader Benny Gantz jointly announced Wednesday, in the wake of Hamas' surprise attacks on border communities that killed at least 1,200 people and injured thousands more.

Gantz, a former defense minister, will join Netanyahu and current defense minister Yoav Gallant in a "war management cabinet."

The government will not pass any laws or make any decisions that do not concern the conduct of the war, the announcement said.

Israel has stepped up its offensive in Gaza following Hamas' October 7 onslaught, when armed militants poured over the heavily-fortified border into Israel, raiding homes, rampaging through farms and communities and taking as many as 150 hostages back to Gaza.

Since Israel began airstrikes on the Palestinian enclave Saturday at least 1,055 people have been killed in Gaza, including hundreds of children, women, and entire families, according to the Palestinian health ministry. It said a further 5,184 have been injured.

Israel has ordered a "complete siege" on the enclave, including halting supplies of electricity, food, water and fuel. On Wednesday, Gaza's only power station stopped working after running out of fuel, the head of the Gaza power authority Galal Ismail told CNN.

[…]

Days after Hamas launched its large-scale surprise assault on Israel, horrifying details are still emerging.

In Kfar Aza, a kibbutz in southern Israel, the Israel Defense Forces (IDF) told CNN that militants carried out a "massacre" in which women, children, toddlers and elderly were "brutally butchered in an ISIS way of action."

Less than 20 kilometers (12 miles) away, the farming community Be'eri was among the worst-hit, with more than 100 bodies recovered and eyewitnesses describing assailants going door to door, breaking into homes and executing civilians.

In retaliation for the atrocities, Israeli jets have been pounding Gaza – the densely-inhabited coastal strip that Hamas controls – with hundreds of airstrikes, reducing homes and neighborhoods to rubble and trapping residents, with many cut off from food and electricity.

The IDF has also bolstered troops and tanks along the border as speculation of a possible Israeli ground incursion into Gaza grows. An IDF spokesperson said Wednesday that it has massed 300,000 reservists near the border.

Israel's Defense Minister Yoav Gallant said he has "released all restraints" for the IDF in their fight against Hamas, saying the response will permanently change Gaza.

"They will regret this moment – Gaza will never return to what it was," Gallant said.
NYT ("Israel Agrees to Unity Government as War With Hamas Intensifies"):
Prime Minister Benjamin Netanyahu of Israel formed an emergency government on Wednesday, adding two opposition lawmakers — both former army chiefs — to his cabinet. Analysts said the infusion of military expertise would give the government greater legitimacy to make tough wartime decisions, including whether to invade Gaza, or even south Lebanon.

The arrangement came as the devastation of the Hamas incursion over the weekend was becoming clear: bodies in the streets, people shot dead at a bus stop, bullet holes in residential walls. Israel said the death toll in the attack had risen to 1,200, with an estimated 150 people believed to be held hostage in Gaza.

[…]

Israel has also intensified its retaliation against Hamas, launching more missiles on Wednesday at the Gaza Strip, the sealed-off coastal territory controlled by the militant group, where fears of a humanitarian disaster were growing. New airstrikes hit rescue crews trying to reach people buried under the rubble of earlier attacks. The authorities in Gaza, which is under blockade by Israel and Egypt, said that its sole power plant had run out of fuel, forcing hospitals to rely on backup generators with limited fuel supplies.

[…]

Gazans say that Israel has hit structures that are normally safe, such as schools, hospitals and mosques. Israel has given broad warnings for people to leave certain neighborhoods or towns but has acknowledged that they are not as extensive or specific as they have been in the past.
NYT ("Early Intelligence Shows Hamas Attack Surprised Iranian Leaders, U.S. Says"):
The United States has collected multiple pieces of intelligence that show that key Iranian leaders were surprised by the Hamas attack in Israel, information that has fueled U.S. doubts that Iran played a direct role in planning the assault, according to several American officials.

These key Iranian officials did not know the attack was coming, according to the intelligence. The United States, Israel and key regional allies have not found evidence that Iran directly helped plan the attack, according to the U.S. officials and another official in the Middle East.
All emphases mine – jhj
My two cents:
While everyone from Turkey's Recep Erdogan (really!) to Vermont's Bernie Sanders is condemning Israeli overreach and urging respect for international humanitarian law, it's clear the unity government has no appetite for restraint. It was clear from the outset that there was going to be a reckoning, and the new details of massacres of women and children are doubtless adding fuel to that fire.