Israel Kills Dozens of Palestinian Protestors as US Unveils Jerusalem Embassy
The Leader of the Free World is, sadly, enabling atrocities.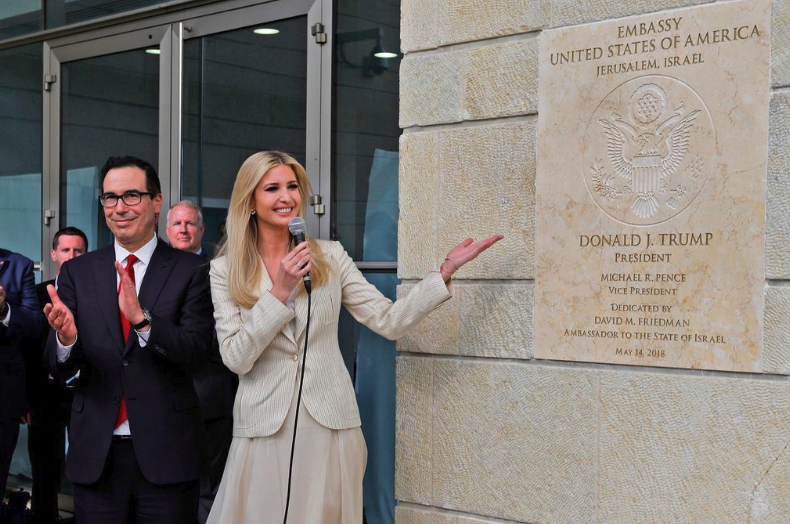 On the day the United States opened its controversial embassy in Jerusalem today, marking the 70th anniversary of Israel's founding, Israeli forces have killed dozens of Palestinian protestors. It's not entirely coincidental.
NYT ("Israel Kills Dozens at Gaza Border as U.S. Embassy Opens in Jerusalem"):
A mass attempt by Palestinians to cross the border fence separating Israel from Gaza turned violent, as Israeli soldiers responded with rifle fire. Monday became the bloodiest day since the campaign of demonstrations began seven weeks ago to protest Israel's economic blockade of Gaza.

Tens of thousands of Palestinians took part in the Gaza protests. Protests also took place on the West Bank, where the focus was the embassy move.

By nightfall, 52 Palestinians, including several teenagers, had been killed and more than 2,400 were injured in Gaza, the Health Ministry said. Israeli soldiers and snipers used barrages of tear gas as well as live gunfire to keep protesters from entering Israeli territory.

The Israeli military said that some in the crowds were planting or hurling explosives, and that many were flying flaming kites into Israel; at least one kite outside the Nahal Oz kibbutz, near Gaza City, ignited a wildfire.

By midafternoon, the protest nearest to Gaza City had turned into a pitched battle — a chaotic panorama of smoke, sirens and tear gas that stretched along the fence. Emergency workers with stretchers carried off a stream of injured protesters, many with leg wounds but some having been shot in the abdomen. A number were teenagers.

[…]

Even as Palestinians' anger erupted, American and Israeli officials celebrated President Trump's move of the embassy to Jerusalem. Previous administrations in Washington, like the governments of most American allies, had been unwilling to make the transfer, insisting that the status of Jerusalem needed to be resolved in a peace agreement with the Palestinians.

In a recorded video message played to some 800 people gathered at the new embassy, Mr. Trump said the United States "remains fully committed to facilitating a lasting peace agreement."

In a speech at the ceremony, Jared Kushner, Mr. Trump's son-in-law, also spoke of a resolution to generations of conflict. "When there is peace in this region, we will look back upon this day and will remember that the journey to peace started with a strong America recognizing the truth," he said.

But Prime Minister Benjamin Netanyahu of Israel sounded more triumphant and defiant than conciliatory.

"What a glorious day," Mr. Netanyahu exulted. "Remember this moment! This is history! President Trump, by recognizing history, you have made history."
WaPo ("Israelis kill more than 50 Palestinians in Gaza protests, health officials say"):
Israeli forces killed 55 Palestinians on the boundary fence with Gaza on Monday, local health officials said, a level of bloodshed not seen since the most violent days of Israel's 2014 war in the territory.

The death toll doubled the number of Palestinians killed during six weeks of demonstrations, dubbed the "March of Return," and came on the same day that a new U.S. Embassy opened in Jerusalem.

Tens of thousands of Palestinians had gathered on the edges of the fenced off blockaded territory from mid-morning. Many came to peacefully demonstrate, bringing their children, carrying flags. Food stalls sold snacks and music blared.

But the protests appeared to have a more violent edge than in previous weeks. Some young men brought knives and fence cutters. At a gathering point east of Gaza City, organizers urged protestors over loudspeakers to burst through the fence, telling them Israeli soldiers were fleeing their positions, even as they were reinforcing them.

Israeli snipers were determined not to allow a breach, and ambulances soon began screaming back and forth from the fence, as gunshots rang out over the crowd. No Israeli soldiers were injured, though, and Israel drew widespread condemnation for an excessive use of force.

More than 2,400 people were injured, according to the Palestinian health ministry in Gaza, including 1,200 from live ammunition.
The protests have been going on for weeks, mostly in response to outrageous policies of the Netanyahu government. But, certainly, the opening of the US embassy in Jerusalem, a capital claimed by both people, exacerbated an already volatile situation. As former Foreign Policy editor David Rothkopf put it, "We are complicit."
We are complicit. https://t.co/Bt6WZZtrje

— David Rothkopf (@djrothkopf) May 14, 2018
Richard Painter, who was chief ethics advisor to the George W. Bush administration from 2005 to 2007 (i.e., after the Iraq invasion and during the post-torture period) rightly questions what we've gained.
What did the U.S. get out of this embassy move other than a lot of unnecessary violence, more anti-Americanism and a boost to Trump's already inflated ego?

Israeli troops kill dozens of Palestinians in protests as US embassy opens in Jerusalem https://t.co/xr7q07xgsu

— Richard W. Painter (@RWPUSA) May 14, 2018
Richard Haas, the longtime president of the Council on Foreign Relations and former official in the Reagan and George H.W. Bush administrations, is even harsher:
"iatrogenic illness" refers to illness brought on by treatment, by what doctors and nurses do. The decision to move the US embassy to Jerusalem absent a larger negotiation, w/o asking anything of Israel or involving the Palestinians, can best be understood as iatrogenic diplomacy

— Richard N. Haass (@RichardHaass) May 14, 2018
Rothkopf correctly assesses the last quarter century or so of Israeli overreach thusly:
Since the first intifada, Palestinians have recognized that protests and modest provocations will produce brutal Israeli over-reaction…and that this wins both the moral high ground and international support for the Palestinians. Israel has been losing standing ever since.

— David Rothkopf (@djrothkopf) May 14, 2018
He adds,
Israelis argue they're defending their border…but their border is not at any real risk nor is their national security. (Hamas has posed such a risk in the past. But these protests have not.) Israel argues protests ("provocations") deserve the death penalty. Indefensible.

— David Rothkopf (@djrothkopf) May 14, 2018
Israel's policy has been shameful. They've gone from victim to bully in the world's eyes and continue to double down. And, sadly, the United States is now their chief enabler.
UPDATE: Doug Mataconis was crafting his own post at the same time.