Israeli Army Moves into 21st Century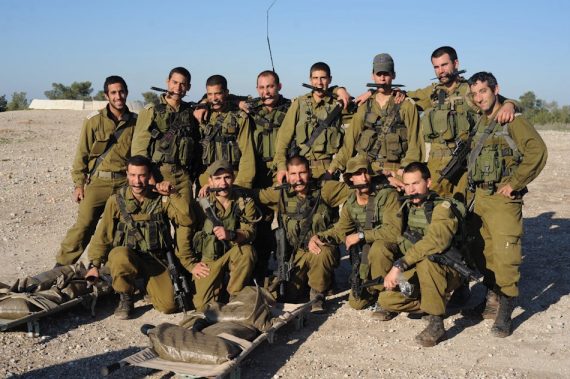 The Israeli Army is moving beyond the 1948, 1967, and 1973 wars that shaped its culture.
WSJ ("Israel to Revamp Army for New Risks"):
Israel's military plans to downsize its conventional firepower such as tanks and artillery to focus on countering threats from guerrilla warfare and to boost its technological prowess, in a recognition that the Middle East turmoil has virtually halted the ability of neighbors to invade for years to come.

The plan marks a sea change in Israel's decades-old outlook toward the main military threats it faces. Ever since it fought a multiple-front offensive by Arab armies in its 1948 war for independence, Israel's strategic planners and public have been dogged by fears of being overrun by enemy armies, with their backs to the sea.

Formidable militaries in Egypt and Syria, which fought together against Israel three times in a quarter century, are now mired in domestic unrest. The war against President Bashar al-Assad has worn down the Syrian army; Egypt's military is busy trying to stabilize the country amid a political crisis.

Israeli Defense Minister Moshe Yaalon said in public remarks that the army plans to be less dependent on heavy armaments. "In another few years we will see a different" Israel Defense Forces, he said. "Wars of military versus military—in the format we last met 40 years ago, in the Yom Kippur War—are becoming less and less relevant."

Prime Minister Benjamin Netanyahu has often highlighted Israeli concerns about the rise of instability in the region since 2011. The new direction is significant because it underlines a new belief among Israeli military planners that the turmoil wreaked by the Arab Spring has eased some of the major risks to Israeli national security.

The army plans to cut thousands of career officers, shut ground-force units, eliminate air-force squadrons, and decommission naval ships over a period of five years, said an Israeli army spokesman who declined to provide more details.

The changes are part of a plan which will come up for parliamentary government approval in the coming months to cut about $830 million from the military budget. Israel's government has had to deal with an unexpectedly large budget deficit in 2013, because of overspending and lower-than-projected tax revenue. The military has come under pressure from the Israeli treasury and the public, which has come to view it as bloated, to chip in with cuts after years of spending increases.

Defense chiefs and military analysts said that the overhaul would focus on countering threats from guerrilla armies with rockets embedded in civilian areas, such as Hezbollah and Hamas—conflicts known as asymmetric warfare.

Instability in Egypt and Syria has prompted Israel to bulk up forces against cross-border terrorist attacks from small militias which have filled the power vacuum along the Sinai Desert and Golan Heights border regions.

Israel will also focus on cyberwarfare and confronting its arch-nemesis Iran, which it accuses of seeking to build a nuclear weapon.
Rockets, missiles, and terrorists have been the main threat to Israel for four decades now. Nothing like budget cuts to force recognition of reality.