It Doesn't Matter If It's Allah, Jesus, or Aqua Buddha: Why "Separation Of Church And State" Exists
An incident at a school in England provides us with an object lesson in why the often derided concept of separation of church and state is an important part of protecting individual liberty.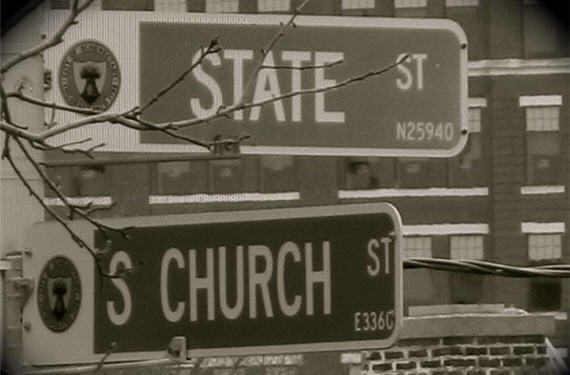 A school in England gives us a lesson in what can happen when you don't have a Constitutional guarantee of separation of church and state:
Two schoolboys were given detention after refusing to kneel down and 'pray to Allah' during a religious education lesson.

Parents were outraged that the two boys from year seven (11 to 12-year-olds) were punished for not wanting to take part in the practical demonstration of how Allah is worshipped.

They said forcing their children to take part in the exercise at Alsager High School, near Stoke-on-Trent – which included wearing Muslim headgear – was a breach of their human rights.

One parent, Sharon Luinen, said: "This isn't right, it's taking things too far.

"I understand that they have to learn about other religions. I can live with that but it is taking it a step too far to be punished because they wouldn't join in Muslim prayer.

"Making them pray to Allah, who isn't who they worship, is wrong and what got me is that they were told they were being disrespectful.

"I don't want this to look as if I have a problem with the school because I am generally very happy with it."

Another parent Karen Williams said: "I am absolutely furious my daughter was made to take part in it and I don't find it acceptable.

"I haven't got a problem with them teaching my child other religions and a small amount of information doesn't do any harm.

"But not only did they have to pray, the teacher had gone into the class and made them watch a short film and then said 'we are now going out to pray to Allah'.

"Then two boys got detention and all the other children missed their refreshment break because of the teacher.

"Not only was it forced upon them, my daughter was told off for not doing it right.

"They'd never done it before and they were supposed to do it in another language."

"My child has been forced to pray to Allah in a school lesson." The grandfather of one of the pupils in the class said: "It's absolutely disgusting, there's no other way of putting it.
The problem for these students, of course, is that the United Kingdom has no written Constitution, no written Bill of  Rights, and the restraints on agents of the state from imposing religious belief or activity on others are not nearly as strict as they are in here.
In the United States, this would be not only inexcusable, but illegal thanks to the Supreme Court decision in Engle v. Vitale, where the Supreme Court declared unconstitutional the practice of New York State schools of requiring students to start out each school day by reciting a "non-denominational Christian prayer." In that case, the Court said the following:
The Establishment Clause thus stands as an expression of principle on the part of the Founders of our Constitution that religion is too personal, too sacred, too holy, to permit its "unhallowed perversion" by a civil magistrate. Another purpose of the Establishment Clause rested upon an awareness of the historical fact that governmentally established religions and religious persecutions go hand in hand. The Founders knew that only a few years after the Book of Common Prayer became the only accepted form of religious services in the established Church of England, an Act of Uniformity was passed to compel all Englishmen to attend those services and to make it a criminal offense to conduct or attend religious gatherings of any other kind – a law which was consistently flouted by dissenting religious groups in England and which contributed to widespread persecutions of people like John Bunyan who persisted in holding "unlawful [religious] meetings . . . to the great disturbance and distraction of the good subjects of this kingdom . . . ." And they knew that similar persecutions had received the sanction of law in several of the colonies in this country soon after the establishment of official religions in those colonies. It was in large part to get completely away from this sort of systematic religious persecution that the Founders brought into being our Nation, our Constitution, and our Bill of Rights with its prohibition against any governmental establishment of religion. The New York laws officially prescribing the Regents' prayer are inconsistent both with the purposes of the Establishment Clause and with the Establishment Clause itself.
It's also worth quoting at length from the January 1802 letter where Jefferson used the phrase that has become a battleground:
Believing with you that religion is a matter which lies solely between man & his god, that he owes account to none other for his faith or his worship, that the legitimate powers of government reach actions only, and not opinions, I contemplate with sovereign reverence that act of the whole American people which declared that their legislature should make no law respecting an establishment of religion, or prohibiting the free exercise thereof, thus building a wall of separation between church and state. [Congress thus inhibited from acts respecting religion, and the Executive authorised only to execute their acts, I have refrained from presenting even occasional performances of devotion presented indeed legally where an Executive is the legal head of a national church, but subject here, as religious exercises only to the voluntary regulations and discipline of each respective sect.] Adhering to this expression of the supreme will of the nation in behalf of the rights of conscience, I shall see with sincere satisfaction the progress of those sentiments which tend to restore to man all his natural rights, convinced he has no natural right in opposition to his social duties.
The separation of church and state, Jefferson recognized, went both ways. It protected the church from being interfered with by the state, and it protected the state from becoming the thing that the Founders feared as much as political tyranny, a means by which the church can impose its beliefs on society as a whole at the point of a gun.
Religion, Jefferson and the other founders believed, was a wholly private matter that the state had no business being involved in. That's why religious liberty exists, and that's what the "separation of church and state" really means.