It's a Mystery Why Republicans Have Trouble Attracting Black Votes
Newt Gingrich provides another example.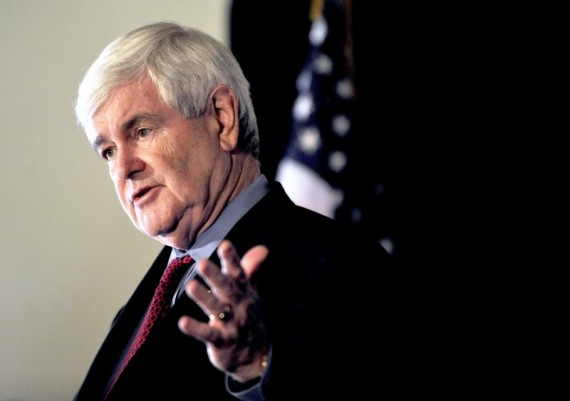 Newt Gingrich speaks:
"And so I'm prepared if the NAACP invites me, I'll go to their convention and talk about why the African American community should demand paychecks and not be satisfied with food stamps."

[…]

"The fact is if I become your nominee we will make the key test very simple – food stamps versus paychecks. Obama is the best food stamp president in American history. More people are on food stamps today because of Obama's policies than ever in history.  I would like to be the best paycheck president in American history."
Now, I expect that Gingrich and his supporters would state that what is being said here is that it is better to have a job than to have to rely on handouts.  That message is one that I expect most people would find palatable.  However, that isn't all that is being said here.
First, Gingrich isn't just saying that getting a paycheck is better than getting food stamps.  No, he is specifically saying that he needs to go tell black people that fact.  The positioning here is clear:  that arguably the largest and most well-known organization focusing on issues of significance to African-Americans needs Newt Gingrich to bring the message to tell persons of color that they need to get off food stamps.  Because, of course, otherwise, who has the courage to point this out?
Second, this forwards a stereotype of minorities as being nothing but leeches on the system.  In other words, Gingrich is not saying, as a generic notion, that citizens of the US should expect policies that produce jobs rather than simply relying on social policies to help them out.  No, he wants to evangelize blacks on this subject.  Indeed, he says as much when he says "the African American community should demand paychecks and not be satisfied with food stamps"—because, apparently, they, as a community, are currently satisfied with just getting handouts.
Third, it is true that there are high levels of poverty amongst African-Americans.  However, instead of acknowledging the long-term reasons for this, Gingrich plays into the notion that said poverty is simply a result of the community being "satisfied" with handouts.  Not only does such rhetoric ignore long-term problems that contribute the poverty in question, it also ignores that there are plenty of successful African-Americans and, likewise, there are plenty of poor whites (indeed, there are more poor whites than there are poor blacks in US).  Indeed, Gingrich's rhetoric is part of a narrative that says that all poverty is simply the result of laziness.
Indeed, fourth:  whites receive food stamps as well.  However, Gingrich is not proposing going to, say, the Southern Baptist Convention's annual meeting, to talk "about why the white community should demand paychecks and not be satisfied with food stamps."
Fifth:  the reason that food stamp usage has surged since 2008 is because of the state of the economy, not because Obama is a "food stamp president" (an assertion that has long-term racial implications within American political rhetoric).
Certainly were I an African-American I would not translate Gingrich's rhetoric as "jobs are good," but rather I would hear another white Republican telling a predominantly white audience that if he had the chance he would gladly lecture blacks about how they ought not be so lazy.
But, of course, it is a mystery as to why African-Americans vote predominantly Democratic.