It's Time for Sanders to Concede
Continuing the fight at this point is not just Quixotic, it's unsporting.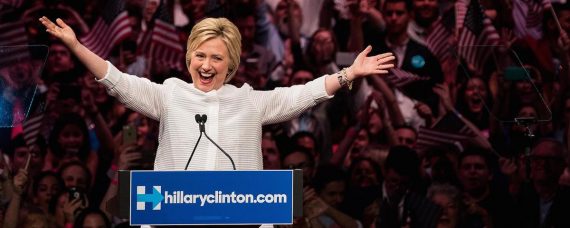 While it has been clear for months now that Hillary Clinton would be the Democratic nominee, an unexpectedly strong showing by Bernie Sanders has given him and his supporters reason to carry their fight forward. Even when enough party insiders with "superdelegate" status announced their support for Clinton for her to unofficially "clinch" the nomination, he could cling to longshot scenarios to justify staying in the race.  After being trounced in New Jersey and, especially, California yesterday, it's time for him to concede.
Clinton claimed the nomination last night, but Sanders vowed to continue the fight:
Hillary Clinton claimed her place in history Tuesday as America's first female presumptive presidential nominee but rival Bernie Sanders is refusing to drop his bid despite overwhelming odds.
The former secretary of state immediately pivoted from her victory to a full bore assault on the presumptive Republican nominee Donald Trump and made a sweeping effort to reach out to Sanders supporters in an attempt to unify Democrats.

But hours after Clinton's euphoric victory rally in Brooklyn, Sanders spoke before a roaring crowd of his own in California to declare "the struggle continues." The Vermont senator pledged to stay in the race through next week's primary in Washington, D.C., and to fight on for social, economic, racial and environmental justice at the Democratic National Convention in Philadelphia.

[…]
Sanders confounded the notion that the end of the state primary races would mean the end of his campaign.

"Next Tuesday, we continue the fight in the last primary in Washington DC," Sanders said. "We are going to fight hard to win the primary in Washington, D.C., and then we take our fight for social, economic, racial and environmental justice to Philadelphia."

"I am pretty good at arithmetic and I know that the fight in front of us in a very, very steep fight."

But Sanders vowed to fight on for every delegate and every vote.
President Obama has stopped pretending to be neutral:
President Barack Obama, who waited until voting ended in the last six primary states to weigh in on the race, called both candidates to congratulate them for "running inspiring campaigns that have energized Democrats," according to a White House statement.

But the President, who will meet with Sanders Thursday at the Vermont senator's request, clearly sided with Clinton by lauding her for "securing the delegates necessary to clinch the Democratic nomination for President."

"Her historic campaign inspired millions and is an extension of her lifelong fight for middle-class families and children," the statement said.

Reaching the highest peak yet in a tumultuous and trailblazing political career, Clinton claimed victory exactly eight years after folding her 2008 Democratic primary campaign against Obama.
Winning in California, by far the nation's most populous state and a bellweather for the Democratic Party, would have given Sanders some justification to fight on. But, while he did much better than anyone would have predicted months ago, Clinton is going to win the primary easily. The results aren't final but she's up 56% to 43% with 88% counted. That's a landslide in a state that should be favorable to Sanders.
Politics is personal and conceding defeat after a long, hard fight is a bitter pill. It's even harder if you truly believe your opponent's victory will be harmful to your party and your country. Ted Cruz, who was never as strong a challenger to Donald Trump as Sanders was to Clinton (albeit in a much larger field), ultimately swallowed the pill once the math turned from implausible to impossible. It's time for Sanders to do the same.
The press anointed Clinton the "presumptive nominee" a day early, in my view. But she's certainly that now.  Regardless of whether Sanders concedes or obstinately fights on, the coverage will now turn to the Trump vs. Clinton general election contest. Sanders' continued campaigning for the Democratic nomination will either be dismissed as the rantings of a lunatic or seized upon as fodder for Trump.  Either way, it's a bad look.