Clinton And Sanders Clash In Advance Of High Stakes New York Primary
Just days before a high stakes primary in New York, Hillary Clinton and Bernie Sanders clashed over familiar themes in their latest debate.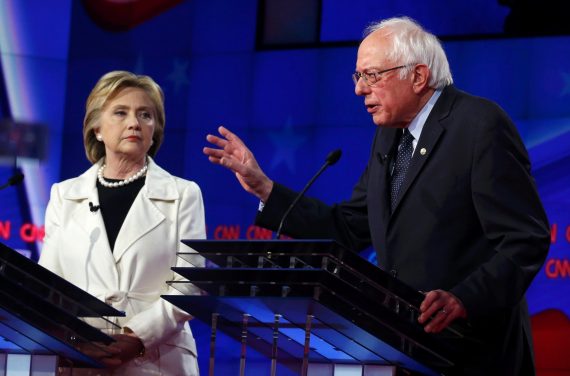 In what may well be one of their final debates of the primary season, Hillary Clinton and Bernie Sanders clashed sharply ahead of a New York primary that seemed likely to put Clinton in an any even stronger position in the race for delegates to the Democratic National Convention while putting that goal even further out of reach for Bernie Sanders:
Senator Bernie Sanders, seizing on potential vulnerabilities for Hillary Clinton in the coming New York primary, repeatedly savaged her ties to wealthy donors and Wall Street banks during their debate on Thursday night, delivering a ferocious performance that Mrs. Clinton countered with steely confidence and her own sharp elbows.

Mr. Sanders, hoping to humiliate Mrs. Clinton in her adopted home state in Tuesday's primary, bluntly challenged her fitness for the presidency, saying she had the experience and intelligence for the job but adding, "I do question her judgment."

He listed her most controversial actions over the years, from voting to authorize the American invasion of Iraq to supporting some free-trade deals and taking $675,000 in speaking fees from Goldman Sachs. While he did not repeat his recent remark that she was unqualified to be president, he constantly edged up to the line.

"Do we really feel confident about a candidate who says she will bring change in America when she is so dependent on big money interests?" Mr. Sanders asked. "I don't think so."

Mrs. Clinton fought back hard, especially in a fierce exchange over Israel, as the two candidates played to a rambunctious and roaring audience at the Brooklyn Navy Yard: a classic New York crowd that interrupted, booed and cheered in sports arena style, creating a highly charged atmosphere.

The forum also revealed the increasing animosity between Mr. Sanders and Mrs. Clinton, who no longer offer each other the polite rejoinders and carefully couched criticisms that characterized the early part of the campaign.

Feisty and frequently sarcastic, Mr. Sanders could barely contain his disgust with Mrs. Clinton's ties with Wall Street, a ripe target among liberals in New York City and in economically depressed upstate regions. After Mrs. Clinton said she had stood up to bankers and "called them out" on their shaky financial practices before the recession, Mr. Sanders delivered his retort with the flair of a veteran Broadway actor.

"Secretary Clinton called them out — oh my goodness, they must have been really crushed by this," Mr. Sanders said. "And was that before or after you received huge sums of money by giving speaking engagements?"

Mrs. Clinton, who is comfortably ahead in polls of New York voters, seemed to relish taking swings at Mr. Sanders.

"Make no mistake about it — this is not just an attack on me, it's an attack on President Obama," Mrs. Clinton said about the criticism of her use of a "super PAC" and her acceptance of big-money contributions. As many audience members booed, Mrs. Clinton grinned a little before saying, "This is a phony attack that is designed to raise questions when there is no evidence or support to undergird the insinuations."

Mr. Sanders needs a landslide victory in New York to improve his slim chances at the Democratic nomination, and throughout the debate he appeared on the hunt for any new advantage. He highlighted a recent report about the failure of banks to plan for their own demise as evidence that his regulatory plans, and not Mrs. Clinton's, were tough enough to rein in bank executives. He pointed to some polls indicating that he would be a stronger opponent than Mrs. Clinton in a general election against Donald J. Trump if he wins the Republican nomination.

Mrs. Clinton showed a determination to deal a devastating blow to Mr. Sanders in the New York primary, and she sought to lay the groundwork on Thursday night with the issue of Israel, which evolved into one of the more memorable exchanges of the evening.

In New York, where candidates traditionally compete with one another to align themselves with Israel's interests, it was startling to see a major Democratic candidate, Mr. Sanders, unapologetically challenge the actions of the Israeli government and call for evenhanded treatment of Palestinians.

"If we are ever going to bring peace to that region," Mr. Sanders said, "we are going to have to treat the Palestinian people with respect and dignity." He added, "That does not make me anti-Israel."

Mrs. Clinton jumped on her rival. "I negotiated the cease-fire between Israel and Hamas in November of 2012," she said. "They do not seek this kind of attacks. They do not invite rockets parading down on their towns and villages."

(…)

Mr. Sanders came in for some of his toughest treatment from the debate moderators, led by Wolf Blitzer and Dana Bash of CNN, who questioned him aggressively about his grasp of banking regulations and his struggle to provide policy details during an interview with The Daily News's editorial board.

Ms. Bash also challenged Mr. Sanders to give an example of how Mrs. Clinton was unduly influenced by big banks, to which he cited the financial excesses and greed that led to the recession.

"The obvious response to that is that you've got a bunch of fraudulent operations and they've got to be broken up," Mr. Sanders said. "Now, Secretary Clinton was busy giving speeches to Goldman Sachs for $225,000 a speech. So the proper response, in my view, is we should break them up."

Mrs. Clinton drew strong applause when she bluntly said her opponent had dodged the question, adding, "He cannot come up with any example because there is no example."

The debate was in many ways the sum of the previous eight. Mr. Sanders has grown steadily more assertive and combative since the Democrats' first debate in October, when he passed up opportunities to attack Mrs. Clinton over her Iraq war vote and her speaking fees from Goldman Sachs.

He now raises those issues almost daily in an attempt to win over voters by drawing sharp contrasts between his and Mrs. Clinton's policy records. He has also been trying to appeal to a broader audience, including African-Americans and Hispanics, beyond the liberals and young people who were his focus in the early debates.
More from The Washington Post:
NEW YORK — Hillary Clinton and Sen. Bernie Sanders traded testy accusations and open scorn over policy differences and personal judgment in a debate Thursday that put on full display just how much the once-genteel Democratic presidential contest has turned ugly.

Days before the all-important New York primary, the longtime front-runner and the persistent underdog did little to disguise the resentment and dislike that have taken root as Sanders has eroded Clinton's national lead and laid claim to a hold on the Democratic Party's populist heart.

Sanders opened the session by charting the startling success of his insurgent campaign. The reason for it is simple, he said: "We're doing something pretty radical; we're telling the American people the truth."

Clinton fired back that Sanders has demonstrated that his own qualifications for the job are thin — and cited an interview with the New York Daily News editorial board in which he stumbled over how he would accomplish a signature goal of breaking up big banks.

The tension, which crossed over to open hostility, was apparent from the first moments of the debate. Well before the halfway point of a two-hour broadcast, the candidates had accused each other of being unprepared, misguided and confused and had engaged in a shouting match where each refused to cede the floor to the other.

(…)

With time running short, Sanders was fiercely critical of Clinton and willing to be far more provocative than in the previous eight debates. He accused her of using a "racist" expression when she said, as first lady, that some young black youths were "super-predators."

"Everybody knew it was a racist term," Sanders said.

Clinton has apologized for using the expression.

Both candidates ducked and weaved when presented with tough questions about parts of their records and positions that are at odds with progressives in the party.

Sanders struggled to defend a vote to grant immunity to gun dealers and manufacturers but also sought to express sympathy for the victims of the Sandy Hook school shootings in Connecticut, who are pressing their case in court.

Clinton stood by her advocacy of a $12 federal minimum wage — less than the $15 Sanders advocates — yet touted her support from unions that take Sanders's position.

Both candidates struggled to square their support of a 1996 crime bill that liberals in their party blame for a large increase in the jail population — which both of them repeatedly have spoken out against on the campaign trail.

Sanders zinged Clinton for giving paid speeches to Wall Street firms and suggested she is beholden to the financial industry.

Pressed to cite an example of Wall Street's influence on Clinton during her tenure as senator, Sanders said "the obvious response" to the financial sector's excesses would be to support breaking up the banks, as he has. But he didn't cite a specific piece of legislation, instead turning to a common line of attack on the campaign trail.

"Secretary Clinton was busy giving speeches to Goldman Sachs for $225,000 a speech," Sanders said, referring to speeches given following her departure from the State Department.

"He cannot come up with any example, because there is no example" of her doing the bidding of Wall Street, Clinton said, adding that she had "called out" wrongdoing. "It may be inconvenient, but it's always important to get the facts straight," she said.

Sanders mocked her answer.

"Secretary Clinton called them out? Oh, my goodness, they must have been very upset by this," he said sarcastically.

Clinton glared, as they both did throughout the debate, then sought to turn the tables by noting that she had released decades of tax returns but Sanders has not followed suit.

Sanders said he would release his 2015 tax returns on Friday and asked for understanding for not doing so sooner.

"Jane does our taxes," Sanders said, referring to his wife. "We've been a little bit busy lately. You'll excuse us."

Sanders said there would be no major revelations.

"They are very boring tax returns," he said. "Not big money from speeches, no major investments."

Previously, Sanders has only released part of his 2014 return.

In a discussion over Social Security, Clinton expressed exasperation as Sanders pressed her on whether she supports his position on expanding benefits.

"If Senator Sanders doesn't agree with how you are approaching something, then you are a member of the 'establishment,'" Clinton said.

One of the sharpest exchanges occurred over gun control, with Clinton accusing Sanders of helping gun manufacturers get unique legal protections. They also clashed over climate change, with Clinton saying that Sanders has unrealistic notions about what can be done within the confines of the U.S. political system. She accused Sanders of discounting progress that President Obama has made on both fronts.

"It's easy to diagnose the problem, It's harder to do something about it," she said.
To a large degree, of course, the issues on which Clinton and Sanders clashed last night are the same ones on which they have clashed throughout the months of their battle for primary and caucus voters and convention delegates. In all honesty, in fact, there isn't anything that either candidate said during the course of this debate that they haven't already said during the course of any of the other debates they've engaged in, during media appearances, or during the numerous stump speeches. Given the fact that both of these candidates have done so many of these debates already, neither one of them made any real mistakes that would be likely to hurt their campaign or change the course of the election. The major difference this time is that there is a sense from both campaigns that the outcome of Tuesday's primary in New York could have a significant impact on the future course. A big win by Hillary Clinton would likely mean the effective end of the race since it would mean that it would put her much closer to getting the majority of delegates, and put Senator Sanders close to the point where it would be mathematically impossible for him to win the nomination at all. A win by Sanders, on the other hand, would keep the Sanders insurgency alive even if it didn't do much to slow Clinton's seemingly inevitable momentum toward the nomination. Given those stakes, and the fact that the race has become increasingly acrimonious, it's not surprising that the two candidates clashed as sharply as they did last night.
Heading into last night's debate, it seemed clear that Clinton seems to be poised to pull off a win in New York that will go a long way toward closing the door on this race. Recent polling shows her sustaining the double digit lead that she's had in her adopted home state for months now to the point where RealClearPolitics now shows her with a 13.8 point lead over Sanders, while Pollster gives Clinton a twelve point lead over the Vermont Senators. If these numbers hold up, then Clinton will likely score a major win on Tuesday that will bring her even closer to the 2,382 delegates she needs to win the nomination outright. One week later, we've got a series of primaries in Mid-Atlantic states, including Pennsylvania and Maryland, where Clinton has similar double digit leads. This sets Clinton up for a series of wins that is likely to effectively mean the end of the race, especially if Clinton's wins cause many of the Superdelegates who have been sitting on the sidelines to start lining up behind her. In that case, the race will indeed be effectively over regardless of what Sanders and his supporters might think.