Growing Acrimony In The Race For The Democratic Nomination
Even as the outcome becomes more certain, Bernie Sanders and Hillary Clinton seem to be attacking each other with increasing acrimony.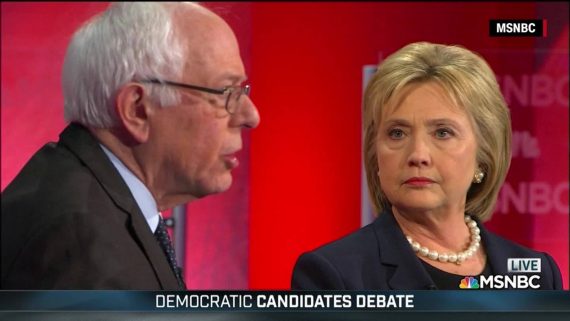 While much of the media attention is focused on the race for the Republican nomination and the civil war that seems likely to break out in the GOP depending on how the nomination fight plays out, there's suddenly a lot of acrimony on the Democratic side of the aisle. The most recent example of that came last night when Vermont Senator Bernie Sanders said in a speech at a rally in Philadelphia that Clinton is not qualified to be President:
In the city of Brotherly Love, the home of Rocky Balboa, the place where disgruntled Eagles fans once booed Santa Claus, the increasingly personal and bitter fight for the Democratic nomination took a sharp pugilistic turn Wednesday night. The issue: whether either candidate is even fit for the White House.

Hillary Clinton is not qualified to be president, Bernie Sanders told a crowd of supporters packed into Temple University's arena, delivering his fiercest jab yet to the struggling Democratic front-runner.

"Now the other day, I think, Secretary Clinton appeared to be getting a little bit nervous," he began. "We have won, we have won seven out of eight of the recent primaries and caucuses. And she has been saying lately that she thinks that I am, quote unquote, not qualified to be president.

"Well let me, let me just say in response to Secretary Clinton: I don't believe that she is qualified if she is, if she is, through her super PAC, taking tens of millions of dollars in special interest funds," he said. "I don't think you are qualified if you get $15 million from Wall Street through your super PAC."

Sanders then pivoted to her record on foreign policy, saying, "I don't think you are qualified if you have voted for the disastrous war in Iraq. I don't think you are qualified if you've supported virtually every disastrous trade agreement, which has cost us millions of decent paying jobs. I don't think you are qualified if you supported the Panama free trade agreement, something I very strongly opposed and which, as all of you know, has allowed corporations and wealthy people all over the world to avoid paying their taxes to their countries."

Clinton's camp fired back almost immediately — with great umbrage taken — as the Sanders operation shot out new fundraising appeals keying off the senator's comments.

Her campaign spokesman, Brian Fallon, first denied that she had said the Vermont senator wasn't qualified to be president.

"Hillary Clinton did not say Bernie Sanders was 'not qualified.' But he has now — absurdly — said it about her. This is a new low," he tweeted
Ostensibly, Sanders' comments came in response to Clinton's appearance on Morning Joe earlier in this day during which she pointed to a recent Sanders interview with the Editorial Board of the New York Daily News to suggest that Sanders wasn't fully aware of how to implement many of the ideas that were the centerpiece of his own campaign. To be fair to Clinton, though, she did not directly say that Sanders was unqualified to be President although she did question just how honest he was being with himself and his supporters when he talks about the methods and legal issues behind many of the proposals he's been talking about for the past year that he's been campaigning for President. Obviously, that rubbed Sanders the wrong way, but it also seems as though Sanders has become more combative the more apparent it has become that he clearly isn't going to be the Democratic nominee. On some level, I suppose it has to be frustrating to a politician when they are winning primaries and still seemingly falling behind in the delegate count, or at least not keeping up a pace that would bring them anywhere near victory. At the same time, though, one has to believe that Sanders is at least politically aware enough to realize that his campaign was a long shot to begin with and that it's unlikely that he's going to win this race for the Democratic nomination. Given that, burning bridges in the manner that Sanders is right now doesn't really seem to make any sense.
Chris Cillizza offers one theory:
Sanders still trails Clinton by more than 200 pledged delegates. The math is close to determinative — and not in his favor. Barring a major cataclysm in the race, Clinton will be the nominee.

That means, if you are Sanders, you need a major cataclysm. (That's called "analysis," folks!) And the only potential cataclysm on the calendar anytime soon is the New York primary on April 19. (Worth noting: This need for a major disruption in the race has always been at the heart of Sanders's chances. Remember how much we focused on what it would mean if Sanders won Iowa and New Hampshire within eight days of each other? That was entirely based on the race disruption principle.)

Sanders and his team understand that if he beats Clinton in New York — a state she represented for eight years in the Senate and now calls home — it would force a reexamination of the race from the party establishment, the media and the donor class. Although it wouldn't alter the delegate math (it's hard to see anything doing that), it would raise fundamental questions about whether Clinton can excite enough Democrats to win the White House in the fall. If Sanders won New York, the Clinton fretting industry, which has been dormant of late even amid her series of losses, would roar back with worries about what her inability to rally the party means.

New York then looks like Sanders's best, last chance to fundamentally shift the Clinton campaign car out of cruise control. And when you are down to your last chance, you do what needs to be done to win. For Sanders, that means going after Clinton's vulnerabilities in a more direct and confrontational way than he has done in the race to date.
I suppose this makes some sense, but, in the end, the odds that Sanders is going to beat Clinton in New York seem exceedingly low, but I suppose if you've got nothing to lose you go for broke. Incidentally, as Cillizza goes on to note, the one issue we have yet to see Sanders hit on in his attacks on Clinton is her private email server. Indeed, he hasn't said much about that issue ever since the first Democratic debate when he said he didn't want to talk about that issue. As Cillizza notes, if he starts bringing that issue up we'll know he really is going for broke in New York.
All of this comes at the same time that a new poll shows that as much as one-quarter of Sanders backers say they would not support Clinton in the fall:
One out of every four Bernie Sanders supporters said they will not support Hillary Clinton in the general election if she is the Democratic Party's standard bearer, according to the results of a McClatchy-Marist poll out Wednesday.

While 25 percent of Sanders backers said they would not support Clinton in November, 69 percent said they would vote for the former secretary of state.

Among Clinton supporters, just 14 percent said they would steer clear of voting for Sanders should he become the party's nominee, with 79 percent saying they would get behind the Vermont senator.
On some level, this reminds one of the acrimony that existed at the end of the 2008 campaign between Clinton and Obama supporters, most of which ended up disappearing after the party convention. At the same time, though, when it's viewed in conjunction with similar polling that shows large numbers of Republicans who say they would never support Donald Trump even if he did win the nomination, it could be an indication that we're in for an interesting General Election campaign to say the least.