Supreme Court Strikes Down Aggregate Limits On Campaign Contributions
Once again, the Supreme Court reminds us that limiting political speech is unconstitutional.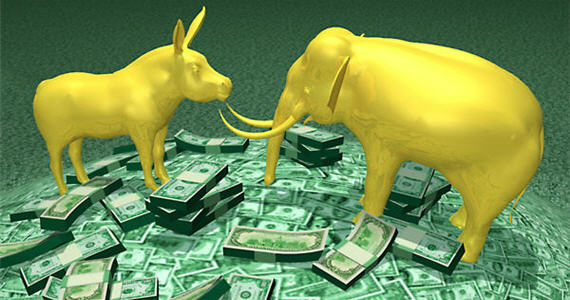 Ever since the passage of the McCain-Feingold campaign finance law more than ten years ago, the limitations that law and other Federal laws and regulations have been subjected to a seemingly endless barrage of legal challenges. Within five years after the law had been passed, the Supreme Court had already struck down those provisions of the law that limited the ability of corporations and labor unions to air ads against specific candidates within a certain time period before an election, as well as the so-called "millionaire's amendment" to the law which purported to "equalize" campaigns by making donation limits more stringent for candidates who managed to raise more money than their opponents. Most famously, in the Citizens United case, the Court struck down FEC regulations that prevented political expenditures other than direct contributions to candidates by corporations, associations, and labor unions. Two months later, in SpeechNow v. FEC, the Court issued a ruling that expanded on Citizens United and which is widely credited as being the legal impetus for the SuperPACs that became such a large part of the 2012 Presidential campaign. In intervening years, the Court has also issued rulings on state-level campaign finance laws, including a Montana law which effectively sought overturn the Citizens United holding which the Court struck down.
This term, the Supreme Court was presented with a case challenging the Federal Election Commission's limits on aggregate donations to political candidates, which purports to act in tandem with the individual donation limits that most people are familiar with to limit how much a single person can donate to any political candidates in total. As I noted at the time that the case was argued in the first week of the Court's term last October, the arguments in favor of the aggregate limit seemed weak and it appeared that the conservative majority on the Court was inclined to strike them down. Today, in an opinion that was divided to some extent, the Court did indeed rule that the FEC's aggregate campaign donation limits are unconstitutional:
WASHINGTON — The Supreme Court on Wednesday issued a major campaign finance decision, striking down some limits on federal campaign contributions for the first time. The ruling, issued near the start of a campaign season, will change and most likely increase the already large role money plays in American politics.

The decision, by a 5-to-4 vote along ideological lines, with the Court's more conservative justices in the majority, was a sequel of sorts to Citizens United, the 2010 decision that struck down limits on independent campaign spending by corporations and unions. But that ruling did nothing to affect the other main form of campaign finance regulation: caps on direct contributions to candidates and political parties.

Wednesday's decision in McCutcheon v. Federal Election Commission, No. 12-536, addressed that second kind of regulation.

It did not affect familiar base limits on contributions from individuals to candidates, currently $2,600 per candidate in primary and general elections. But it said that overall limits of $48,600 by individuals every two years for contributions to all federal candidates violated the First Amendment, as did separate aggregate limits on contributions to political party committees, currently $74,600.

It did not affect familiar base limits on contributions from individuals to candidates, currently $2,600 per candidate in primary and general elections. But it said that overall limits of $48,600 by individuals every two years for contributions to all federal candidates violated the First Amendment, as did separate aggregate limits on contributions to political party committees, currently $74,600.

The decision chipped away at the central distinction drawn by the Supreme Court in its seminal 1976 campaign finance decision, Buckley v. Valeo. Independent spending, the court said in Buckley, is political speech protected by the First Amendment. But contributions may be capped, the court said then, in the name of preventing corruption. The court added that aggregate contribution limits were a "quite modest restraint upon protected political activity" that "serves to prevent evasion" of the base limits.
Lyle Denniston does his usual able job of summarizing the case:
The main opinion delivered by Chief Justice John G. Roberts, Jr., said confidently that corruption in politics will be kept in check by caps — left intact — on how much each single donation can be.  Removing the ceilings on the total amounts that may given in each election cycle will not undermine those limits, Roberts predicted.

The decision was not as sweeping as the Court's ruling four years ago, removing all restrictions on what corporations and labor unions can spend of their own money in federal campaigns (Citizens United v. Federal Election Commission), which has led to billions of dollars spent on politics through financing that is supposed to be independent of candidates or parties.  The new ruling leaves that option open if a donor does not want to directly support a candidate or a party committee and stay within the per-donation caps.

Even so, the practical result of the new ruling is almost sure to be that wealthy individuals favoring specific candidates or party positions will be able to spread their money around among more candidates and political groups.

Donors will get into legal trouble, the ruling emphasized, only if they demand a specific favor in policy or legislation in a direct exchange for the money they give.  That is the only kind of corruption that the First Amendment will allow the government to attack, the decision stressed.

The Chief Justice's opinion said that other recent changes in campaign finance law will work to reduce the risks of abuse, and it offered several other ideas for new limits that it implied might be constitutional. Whether the votes are there in Congress to pass any of those suggestions is problematic.

Although the Roberts opinion spoke only for himself and three other Justices, Justice Clarence Thomas said he agreed with the result, making a majority for eliminating the two-year ceilings.  Thomas said he would have gone even further to free up even more donations in federal campaigns.  He would have overruled a 1976 decision (Buckley v. Valeo) that gives contributions less constitutional protection than spending during campaigns.  He added, though, that the Roberts opinion "continues to chip away" at the 1976 decision's foundations.
It's important to understand exactly what the Court has done here, and what it's likely to mean for campaigns and elections going forward. First of all, the decision itself makes clear that the Court is not expressing any judgment as to the validity of the contribution limits that restrict individuals from donating more than a certain amount to individual candidates ($2,600 per election with primaries and general elections treated separately), political parties ($32,400 per year at the national level and $10,000 per year at the state or local level), and political action committees ($5.000 per year). Instead, what has been struck down are the limitations that were placed on how much an individual could contribute to individual candidates over a two-year period. On the surface, there never really seemed to be a very good reason for those aggregate limits, and the arguments that are often cited in favor of the individual limits don't really make much sense when applied to candidates as a whole. Moreover, as the Court noted today, the aggregate limits have the impact of limiting how many candidates an individual can contribute to in a given two year period. Given the fact that those donations are still limited by the individual donation limit, the justifications for the aggregate limit don't really seem to make much sense, especially when balanced against the First Amendment rights of the individuals wishing to make those donations. In that respect, it seems clear to me that that Court got this case right and that the aggregate limits are something that served no real purpose to begin with.-maries and general elections treated sear, and $5,000 per year to a regular political action committee
So far, the reaction to the decision from political partisans on both sides is about what you might expect. Conservatives are hailing the decision as a victory for free speech, while those on the left are arguing that the Court is helping once again to "corrupt" the political process much as it did in Citizens United, which is a decision that makes liberals about as apoplectic as Roe v. Wade does with conservatives. As I've noted in the past, though, the arguments against "money in politics" are typically misplaced fors several  reasons. First of all, as much as it gets derided by critics, the Supreme Court has recognized since its first campaign finance decision, Buckley v. Valeo, that money is indeed equivalent to speech in the political context. Functionally, there is no difference between me written a blog post endorsing a political candidate, and me writing them a check, and any effort by government to restrict my ability to do either should be subjected to the strictest form of scrutiny. Second, history has shown us that any attempt to decrease the role of money in politics only tends to drive such activity underground where it is much harder to keep track of. This is why, as I've noted in the past, the most ideal form of campaign finance reform would be one that eliminates restrictions on donations while at the same time requiring disclosure of campaign donations and expenditures to be made more frequently and with greater detail. In an era where records are kept on computers and most Federal campaigns file their FEC reports electronically, there is no rational reason for reporting to be something that only happens on a quarterly basis. Finally, the fact remains that trying to restrict campaign donations will do nothing to restrict the influence that lobbyists, "the rich," or corporations have on government. As long as we continue to have a government that has its hands in every aspect in the economy, then those institutions it impacts most directly will always have a greater incentive to influence policy, and they will always find a way to do so.
Going forward, today's decision should have some interesting impacts. For one thing, the elimination of the aggregate donation limits is likely to impact the balance of power between political parties and campaigns on the one hand and SuperPACs and other independent groups on the other. As we saw during the 2012 campaign most especially, there has always been tension between the campaigns and these independent groups due to the manner in which independent expenditures can push campaigns into directions other than those that the candidates and their advisers would like to see. For example, during the 2012 campaign there were some rumors that one SuperPAC was readying a series of anti-Obama ads featuring Rev. Jeremiah Wright, a subject that both the Romney and McCain campaigns avoided for rather obvious reasons. While that ad never ran, it's potential to cause problems for the candidate were quite obvious, and we've seen similarly disruptive activities by SuperPACs in other campaigns. With the aggregate limits gone, we should see some of the balance between the "official" and independent groups restored in favor of the campaigns, although we're unlikely to see the influence of the independent groups eliminated completely. On the whole, though, if you dislike the influence that SuperPACs have had on politics, you should like this decision.
Where we go from here depends on what kind of cases make it to the Court in the coming years. The next most logical target of attack would be the individual donation limits, but those have been around as long as we've had campaign finance laws and it's unclear that even this conservative Court would want to upset that balance. Ideally, of course, we'd see real reform along the lines I've noted here but that's not likely to occur given the current makeup of Congress and not much more likely if the GOP gains control of the Senate. At some point, though, perhaps we need to recognize that this 40+ year long effort to restrict speech was mistaken from the start.
Here's the opinion: