Jeb Bush Says He Doesn't Read New York Times
The Republican frontrunner claims he doesn't read America's most important newspaper.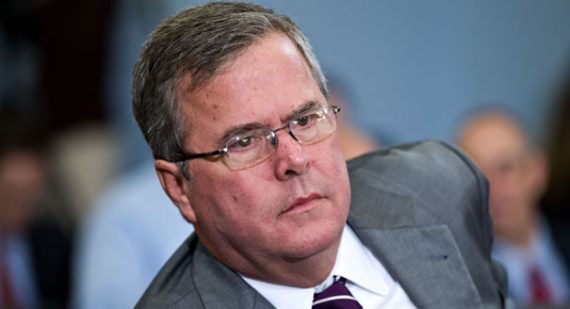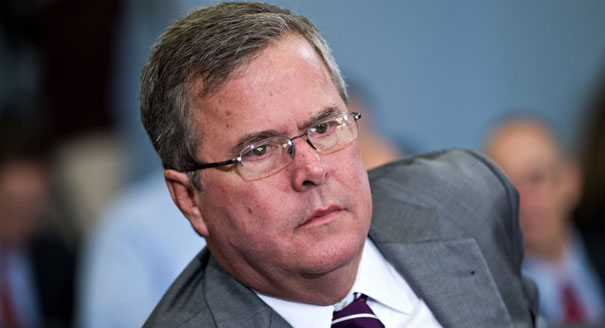 Jeb Bush, the presumptive frontrunner for the 2016 Republican nomination, claims he doesn't read America's most important newspaper.
POLITICO ("Jeb Bush: I don't read The New York Times"):
Jeb Bush isn't a New York Times reader.

The former Florida governor and likely Republican presidential candidate appeared on Fox News Radio on Thursday and, when asked to respond to a quote in the paper, said he doesn't read it.

"I don't read The New York Times, to be honest with you," Bush told Fox's Brian Kilmeade.

The quote in question came from Tony Perkins, the president of the Family Research Council, who was quoted in the Times saying that the Christian right should begin discussing which candidate to back as an alternative to Bush, because he didn't represent their views.

"When you become the frontrunner and you're a well-known name and you've had the type of fundraising success that you've had, even though you haven't declared yet, you're going to be a target of The New York Times, which many on the right think is a badge of honor," Kilmeade told Bush.

Kilmeade later asked, "Would [Perkins] be somebody you'd approach. Would you say, Tony, you're misunderstanding me. We need to talk. I read that column today in The New York Times?"

"Maybe I'll give him a call today, I don't know," Bush said. "I don't read The New York Times. But if you're going to force me to do so…."

"I'm not going to force you to do so," Kilmeade replied. "I'm just bringing it up."
This is bizarre and unhelpful on a variety of levels.
First,  while "I don't read the New York Times" might be a clever rejoinder to a negative editorial in the paper, the quotation in question comes from a key figure in an important wing of the GOP. The response is therefore a non sequitur. Second, it strains credulity that Bush wasn't aware of the quote, given that he presumably has a staff who culls media mentions to prepare him for such questions.
I get that there's a longstanding bias against "the liberal media" in general and the Times in particular in Republican circles. It's tempting for any GOP contender, especially one whose socially conservative bona fides are in question—and doubly if his last name is Bush—to pander to that bias. But it's just silly. It's unlikely to win over those who currently prefer a Rand Paul or Ben Carson and will make it harder for him to win over general election voters who are already unethusiastic over the prospects of another President Clinton or President Bush.
It's my longstanding belief that candidates should just run as a disciplined form of themselves. While going full Jon Huntsman is advisable only for those running to send a message rather than to win, trying to go eighteen months or more pretending to be someone you're not just doesn't work. It's probable that Bob Dole, John Kerry, John McCain and Mitt Romney would have lost anyway but they'd have been better candidates and had fewer regrets had they followed that model. And Al Gore, who got more total votes than George W. Bush even running as the highly programmed stiff in earth tones, may well have managed to have marginalized Ralph Nader and generate more enthusiasm had he just run as the guy who got elected multiple times to the Senate from Tennessee.
Jeb Bush is the son of a President of the United States and the brother of another. He reads the New York Times and the Washington Post; at least, he reads important stories from both of them. He should just own that.