Jerry Sandusky Sentenced To 30-60 Years In Prison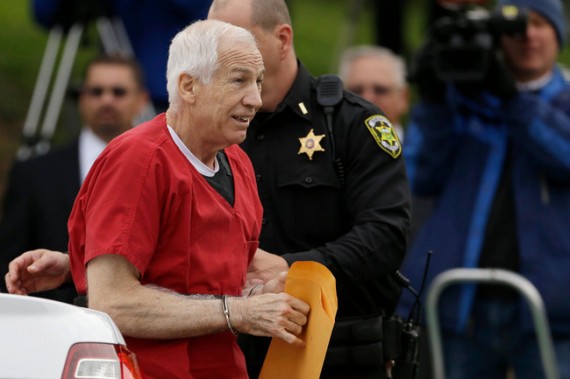 Less than a year after he was first arrested on charges that he had been sexually abusing children for years, former Penn State coach Jerry Sandusky has received a sentence that guarantees that he will die in prison:
BELLEFONTE, Pa. —Jerry Sandusky, a former Penn State assistant football coach, was sentenced Tuesday morning to 30 to 60 years in prison for sexually abusing young boys, crimes that roiled the university community and shook one of major college football's most prominent programs.

The ruling was handed down in Centre County Court by Judge John Cleland, and it essentially guaranteed that Sandusky, 68, would die in prison. The sentencing came roughly three and a half months after a jury found him guilty of 45 counts of child sexual abuse.

Sandusky, the jury determined, had abused 10 young boys, all of them from disadvantaged homes. Sandusky used his connections to the Penn State football program, as well as his own charity for disadvantaged youth, the Second Mile, to identify potential victims, get close to them and then sexually violate them.

In a recorded statement broadcast on a Penn State radio station Monday night, a defiant Sandusky said: "They can take away my life, they can make me out as a monster, they can treat me as a monster, but they can't take away my heart. In my heart, I know I did not do these alleged, disgusting acts. My wife has been my only sex partner and that was after marriage."

Sandusky arrived at the court Tuesday dressed in a red prison outfit and looking thinner than he had at his trial. He spoke before the sentence was handed down, again denying that he had abused the young boys.

Cleland said that Sandusky's ability to deceive those who trusted him and thought so highly of him was what made his acts so "heinous."

"I'm not going to sentence you to centuries in prison, although the law will permit that," Cleland said, though he added that he expected Sandusky to be in prison for the rest of his life.
At the age of 68, a 30 year sentence before he's even eligible for parole almost certainly guarantees that Sandusky will die in prison. On the off chance he managed to survive, one doubts that he'd be released even at the advanced age of 98. The Judge apparently could have sentenced Sandusky to a longer sentence but one wonders what the purpose of that would have actually been given that the impact will be the same, Jerry Sandusky will die in prison.
While this is the end of the Sandusky case, it isn't the end of the scandal. Penn State still faces nearly a dozen civil claims from Sandusky's victims, and former Penn State Vice President Gary Schultz and Athletic Director Tim Curley face trial in January on the charges against them for perjury before the Grand Jury and failing to report the allegations of abuse they were made aware of to the proper authorities.