Max Cleland, 1942-2021
The Vietnam War hero and one-term Georgia Senator has died at 79.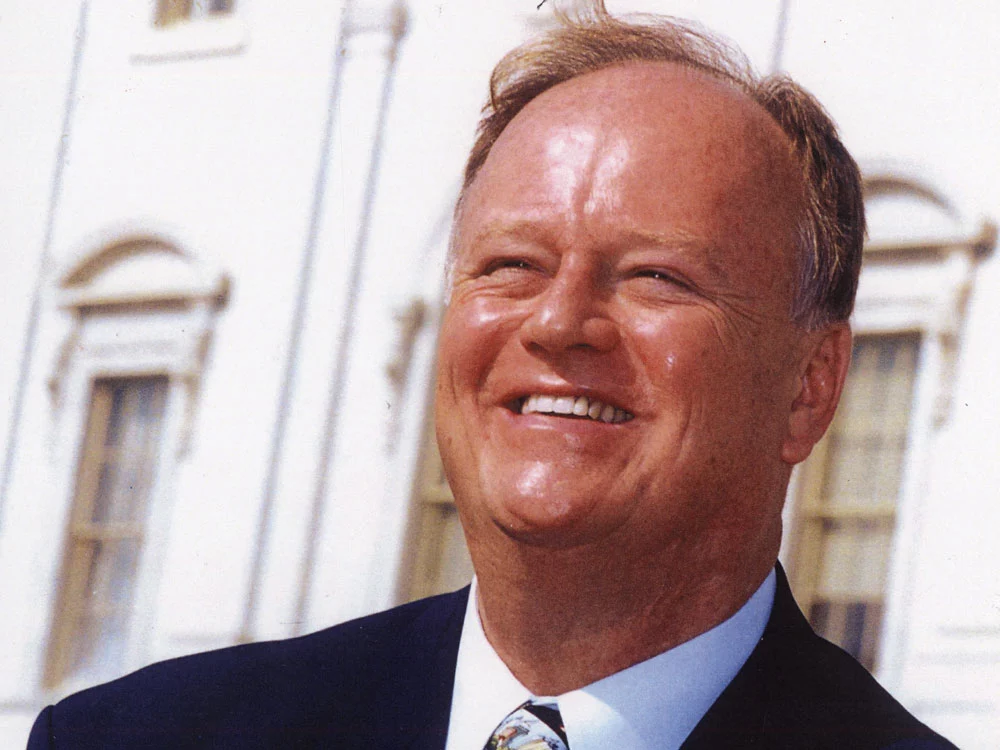 AJC ("Former VA administrator and Georgia senator Max Cleland dies at home"):
Former U.S. senator and Veterans Administration leader Max Cleland died Tuesday more than 53 years after a live grenade dropped by a fellow soldier in Vietnam robbed him of three limbs.

The injuries, however, did not take the unfettered optimism and grit that helped him climb from Georgia politics to some of the nation's top offices.

A Democrat bound to a wheelchair most of his adult life, the 79-year-old Cleland was one of the first veterans from the killing grounds of Southeast Asia to enter American politics. He took a state senator's seat in 1971, three years after his wounding, and went on to serve as top administrator in the U.S. Veterans Administration, as Georgia Secretary of State, a U.S. senator and an appointee in other federal agencies.

Cleland died at his Atlanta home from heart failure, according to a close friend and caregiver.

Former Gov. Roy Barnes called Cleland one of the most remarkable guys he had ever met. "What happened to him would have destroyed most men. But he persevered through it and prospered," Barnes said.

Cleland's public career was forever identified with the conflict that, along with the fight for civil rights, defined the 1960s. In "The Vietnam War," the 2017 documentary directed by Ken Burns and Lynn Novick, the voice first heard is his. "To live is to suffer. To survive is to find meaning in the suffering," Cleland told the camera, quoting philosopher Friedrich Nietzsche. He told friends that he could not bring himself to watch the entire 18-hour series — the memory was still too raw.

Cleland found his meaning in the public service he threw himself into as enthusiastically as he had volunteered for combat duty.

Even when voters turned him out of office in 2002 after a nasty, hyper-polarized campaign that caught national attention for the way his opponent assailed his patriotism, he fought through the tailspin of depression and returned, finally, back to his crowd. His final job was heading the American Battlefield Monuments Commission — overseeing U.S. military monuments and cemeteries in foreign lands.

A gregarious extrovert, he surrounded himself with a sprawling network of friends and acquaintances. Visitors to his senate office often remarked on the Mickey Mouse watch he wore — a reminder, he told them, "not to take life too seriously."

Cleland never married. After his Washington years, he lived in a two-bedroom apartment in Buckhead that overlooked the skyline of downtown Atlanta, its walls covered with autographed photos of celebrities, both of the Hollywood and D.C. variety.

In retirement, he indulged his fascination with early TV westerns, never shy about his admiration for Clayton Moore of "The Lone Ranger," whose wrong-or-right moral code made him a boyhood hero.

Throughout his public life, Cleland never called himself a hero, in part because, for decades, he mistakenly thought his wounds might have been a wartime accident of his own making.

On April 8, 1968, only days after Martin Luther King Jr. had been assassinated in Memphis, Cleland was a world away in Vietnam, a young Army captain in the 1st Air Cavalry Division. During the battle of Khe Sahn, as he exited a helicopter, he saw a live grenade that had been dropped on the ground. He bent to pick it up with his right hand, intending to toss it quickly away, and was shattered by its blast.

A Marine named David Lloyd was the first to reach him, using his ammunition belt as a tourniquet for what was left of Cleland's left leg.

For more than 30 years, Cleland thought the grenade had fallen off his own web belt and blamed his own carelessness. But in 1999, Lloyd reached out to him after seeing Cleland describe his injuries on CNN's "Larry King Live," and told him the grenade had dropped from the belt of an unnamed private exiting the chopper with him — a "newbie." On Cleland's 50th "Alive Day," the anniversary name he gave the to that day that transformed him, Lloyd was an invited guest. Cleland gave him an ammunition belt to replace the one he had given up in 1968.
WaPo ("Max Cleland, Vietnam War veteran who led VA and served in Senate, dies at 79"):
Max Cleland, an Army captain whose injuries during the Vietnam War left him a triple amputee and propelled his career in public service, including leadership of the Veterans Administration and one term in the U.S. Senate, died Nov. 9 at his home in Atlanta. He was 79.

[…]

Mr. Cleland, a moderate Democrat from Georgia, was elected to the Senate in 1996 after heading the VA under President Jimmy Carter and serving as Georgia's secretary of state. He was known primarily as an impassioned advocate for veterans and their families, launching counseling programs and championing services for post-traumatic stress disorder, which the VA began to recognize as a legitimate condition during his tenure.

He often spoke of his own struggles with depression and PTSD, which "came roaring back" after he lost his Senate reelection campaign in 2002 to Saxby Chambliss, a Republican congressman who had aired an attack ad questioning Mr. Cleland's commitment to national security in the wake of the Sept. 11, 2001, terrorist attacks.

Describing his election loss to military author and journalist Thomas E. Ricks, Mr. Cleland said, "I went down — physically, mentally, emotionally — down into the deepest, darkest hole of my life. I had several moments when I just didn't want to live."

He began to recover after attending group therapy sessions at Walter Reed Army Medical Center in Washington, where he had been treated nearly 40 years earlier after losing his legs and right arm to a hand grenade in Vietnam. Were it not for the grenade wounds, he speculated, he probably would have been "a frustrated history professor somewhere" and never entered politics.

Mr. Cleland had volunteered for Vietnam believing he had an obligation to serve and fight in his generation's war, much as his father had in joining the Navy after the Japanese attack on Pearl Harbor. He was awarded the Silver Star for his actions on April 4, 1968, when his battalion command post came under attack near the town of Khe Sanh. Mr. Cleland, a communications officer, exposed himself to a barrage of rocket fire while administering first aid to the wounded and helping move them to safety.

Four days later, he stepped off a helicopter and reached for a stray hand grenade, thinking he had dropped it and not realizing the pin had fallen out.
NYT ("Max Cleland, Vietnam Veteran and Former Senator, Dies at 79") emphasizes the bitter end of his career in elective politics:
Max Cleland, who lost both legs and an arm during the Vietnam War and who became a Senator from Georgia, only to lose his seat after Republicans impugned his patriotism, died on Tuesday at his home in Atlanta. He was 79.

[…]

The cause was congestive heart failure, said Jason D. Meininger, a close friend.

After a grenade accident in Vietnam in 1968, Mr. Cleland spent 18 months recuperating. He served in local politics in his native Georgia and as head of the federal Veterans Administration, now the Department of Veterans Affairs, before he was elected in 1996 to the U.S. Senate.

But it was his treatment at the hands of Republicans while he was seeking re-election in 2002 that made him a Democratic cause célèbre.

Running for another term just a year after the terrorist attacks of Sept. 11, 2001, he was the target of an infamous 30-second television spot that showed images of Osama bin Laden and Saddam Hussein while it questioned Mr. Cleland's commitment to homeland security and implied that he was soft on the war on terror.

It was the ad's images in particular that created the uproar. Even prominent Republicans, including Senators John McCain and Chuck Hagel, both Vietnam veterans, were outraged.

"I've never seen anything like that ad," Mr. McCain told The Washington Post. "Putting pictures of Saddam Hussein and Osama bin Laden next to a picture of a man who left three limbs on the battlefield — it's worse than disgraceful, it's reprehensible."

Mr. Hagel said he recoiled when he saw the ad, and it rankled many others, who noted that Mr. Cleland's Republican opponent, Representative Saxby Chambliss, had avoided military service.
Even as a Cleland admirer who no longer identifies with the Republican Party, though, I continue to believe the Chambliss ad was fair game:
It's an attack on Cleland's voting history, not his wartime valor or patriotism. Chambliss was arguing that these votes made America less safe. Being a war hero doesn't insulate a candidate for political office from criticism, even on national security policy. It was a common line of attack on Democrats who were skeptical of the Bush administration's policies after the 9/11 attack and it was generally successful. The 2002 election was a rare midterm in which the President's party picked up seats in both Houses of Congress.
Ironically, Cleland voted for most of the War on Terror, including a reluctant vote in support of the Iraq War because "it was obvious that if I voted against the resolution that I would be dead meat in the race, just handing them in a victory." He later characterized it as "the worst vote I cast."
Cleland's crime? He "had voted for an amendment to the Chemical Weapons Treaty that eliminated a ban on citizens of terrorist nations being on U.N. inspection teams in Iraq. It was a majority vote, 56 to 44, and among those in support were Sen. Bill Frist, the stately chairman of the Senate Republican campaign committee who handpicked candidate Chambliss." The horrors!
Cleland was, by all accounts, a good man who spent much of his life in the public service. Not only is it remarkable, as Barnes notes, that he was able to pick himself up after early tragedy to live such a productive life but it's noteworthy that he managed to live a relatively long and healthy life.