Jim Moran: Military Not Public Service, Just Government Paycheck
Virginia's answer to Joe Biden has put his foot in his mouth once again. It won't prevent him from getting an 11th term.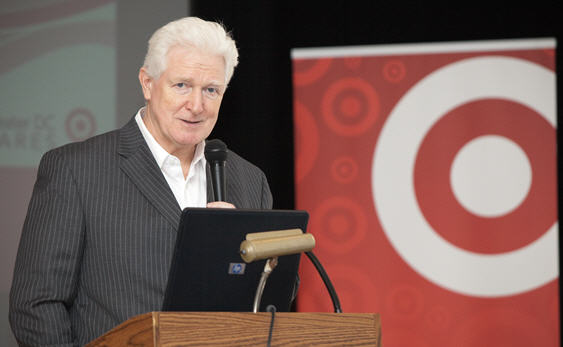 The gang at Retire Jim Moran caught Rep. Jim Moran (D-VA-8) telling the Arlington County Democratic Committee that, "What [Republicans] do is find candidates, usually stealth candidates, that haven't been in office, haven't served or performed in any kind of public service. My opponent is typical, frankly."
As Washington Examiner's Barbara Hollingworth notes, however, "Moran's opponent happens to be Col. Patrick Murray (US Army-Ret.), who served 24 years in uniform, was deployed to four different combat zones, including Baghdad, as part of the 2007 troop surge under Gen. David Petraeus, and was even shot at by foreign combatants. If that isn't public service, I don't know what is."
And, as the RetireJimMoran.com folks point out, "Moran can't say he misspoke, because he proves he knows about Murray's military service with his next comment, "And of course, for 24 years, he's taken a government check because, frankly, the military still is part of the Federal government, uh, and, yet, his principle platform is to cut government spending."
So, apparently, in Jim Moran's mind, not only is serving two decades in the military, including four combat deployments, not public service but it's akin to a welfare program. And, of course, those who took "a government check" as military officers ought to at least have the decency to support unlimited spending on other public programs.
Now, in fairness to Moran, he's not completely anti-military. As Hollingsworth reminds us, Moran was awarded the Arthur T. Marix Congressional Leadership Award by the Military Officers Association of America back in 1999. She does it in the context of slamming him for using that to imply that MOAA is endorsing him for re-election, which the MOAA has insisted he stop doing since they're a nonprofit and don't endorse political candidates. But, presumably, there was a time when the MOAA thought he was doing something constructive to support the military.
And, goodness knows, this isn't the dumbest thing Jim Moran has ever said. He's a veritable Joe Biden on that score.
Still, he was expressing a viewpoint common to a certain segment on the left.  "Public service" means working in politics or at least one of the "helping" agencies of government.
Moran, currently in his 10th term representing my neighboring district, is a government lifer. He finished college in 1967 and, rather than following most of his generational brethren to Vietnam he instead went to Pittsburgh for an MPA. And from there, "a prestigious financial management internship program through the Department Health, Education and the Workforce." (Actually, the W stood for Welfare.  He followed that with several other federal jobs  before going into local politics in 1979, getting elected to the Alexandria City Council, followed by stints as Vice Maylor (1982 to 1985), Mayor (1986 to 1990), and then on to Congress (1991 to present).
Regardless of his propensity to say outrageous things, Moran's likely to be re-elected.  Murray is likely too conservative for the district, which has been neatly gerrymandered to ensure Moran gets re-elected.  (Parts of the City of Alexandria and Fairfax County are in each of three Congressional Districts.)  And Moran has two decades of success in bringing home the bacon and has the power to do it with a senior seat on the Defense Appropriations subcommittee.   But, if a Republican wave were to somehow knock Moran out of his boat, I wouldn't be the least bit upset.
Minor errors in the last paragraph corrected.