Joe, You Are A Stubborn Old Man
I guess you proved your point about great powers picking and choosing their battlefields.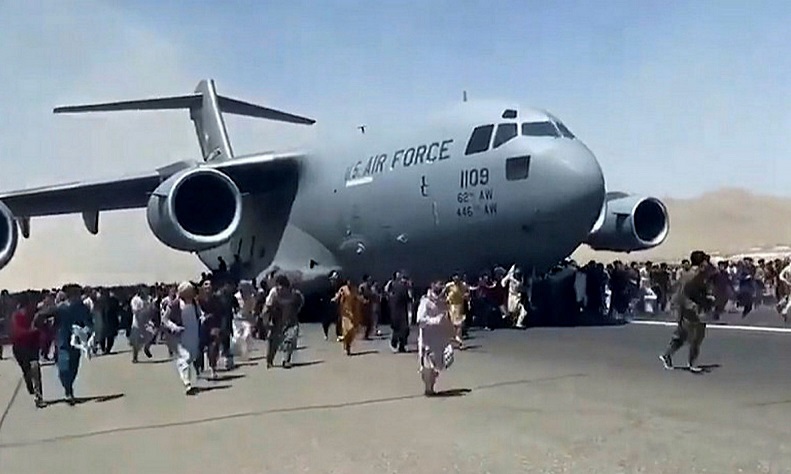 Dear Joe,
I hope you understand, in the extreme unlikelihood that you read this, that I am referring to you as "Joe" for a specific reason. It's not because you like this form of faux familiarity. I'm just very angry with you right now, and it's difficult to use the normal form of address. I believe in respecting the office and the occupant, which I still do. At the moment, however, it's something with which I'm struggling.
We voted for you to not do stupid things. The former guy excelled in stupidity, both foreign and domestic. Embracing Putin. Alienating our allies. Abandoning the Kurds. Praising dictators. Overlooking the horrifying murder of a Washington Post employee by a foreign government. Withdrawing from the Paris Accords without even discussing an alternate way to address an existential crisis. And so on and so on. While we didn't expect your foreign policy to dazzle, we expected, at least, a yeoman-like stewardship of the United States' national interests. We expected that you would indeed hire the best people, in contrast to making that claim a punchline. We expected that you would listen to them.
We also knew that you had a strong preference for how to handle Afghanistan. When you were vice president, you pushed for a drone-centric strategy. Instead of relying on US and allied ground forces to fight the Taliban and other opponents, directly or as trainers and support personnel, you advocated bombing our enemies from the air. While I shared your skepticism for the much-ballyhooed "surge," it was for very different reasons. I worried it would be a fatally misconceived quick fix, in a type of warfare (count me as one of those counterinsurgency nutballs) that requires patience and consistency.
When you took the oath of office in January, the situation in Afghanistan was surely deteriorating. However, there was no imminent collapse happening. There were still ways to disengage from Afghanistan better than we have. If you believe that a great power like the United States should pick and choose its wars, and this one was well past its shelf life, that's a defensible position. But not this way, with an unnecessarily short and arbitrary deadline for both ourselves and our allies (remember them?).
So why did you do it? I suspect that you have a bee up your presidential butt about Afghanistan, as you did when you were Vice President. You were preparing to hear, or were already hearing, the national security establishment's litany of reasons why the US could not withdraw. You probably felt that, unless you put your foot down, demanding an end to the American occupation by a particular date, there never would be a date. And you may still believe that drones can do a good enough job to keep threats to Americans at bay.
A full explanation of why this strategy is fatally flawed will require a different blog post (or more than one). For now, I want to keep the focus on your stubborn insistence on a too-soon arbitrary date. It helped the Taliban win, by demonstrating that the United States would abandon Afghans who had supported us. The midnight abandonment of Bagram made the Taliban's argument hard to deny. So too did the hurried, slipshod evacuation from Kabul's airport left in the lurch not just Americans, but orders of magnitude more Afghan soldiers, police, civil servants, workers in non-governmental organizations supporting our strategy, informers, and countless other classes of people now on a Taliban revenge list.
Millions of people in the United State, and countless more outside of it, have a deep respect for Malala Yousafzai, shot in the face by the Taliban, across the porous border in Pakistan. In Afghanistan, we have abandoned whatever meager protection we could have provided to millions of Malalas. While even a superpower cannot save everyone in the world, it does have moral obligations to protect whom we can. We failed at those obligations. Perhaps in your impatience to withdraw from Afghanistan, you convinced yourself that this was one of those occasions when we did not have any obligations, or they were muffled by exigent circumstances. The panicked and often heroic efforts to save Afghans was the moment when, perhaps, we all saw that the United States should not operate as an amoral, Realpolitik-driven power, concerned only with the crudest form of self-interest, lethal attacks on our citizens. (Of course, we utterly failed at that last week, and will likely again before this botched evacuation reaches its conclusion.)
Afghanistan never presented us with good choices. The brute facts, such as the Afghan military budget exceeding its GNP, were impossible to deny. Your decision was far from the best among bad choices. Not only has it damaged our foreign policy, but in the current US domestic politics, you have by extension imperiled important goals to be achieved at home. Why give the people opposed to voting protections, vaccination during a pandemic, or many other topics way more urgent than withdrawal from Afghanistan another way to undermine you, and harm the citizens who depend on you?
But you provided your point. We are a great power that can choose when and where it fights. The people at the helm can also make very bad, counter-productive decisions about how to follow that principle.
P.S. Please stop invoking your son in future public statements about Afghanistan. We all know his name, and his service. The moment when people who are nameless to us are in grave danger, or are already dead, because of our mistakes, is not the right time for that invocation.