John Boehner's Side of the Fiscal Cliff Story
The Speaker's version of what went down during the negotiations does not make the Speaker look good.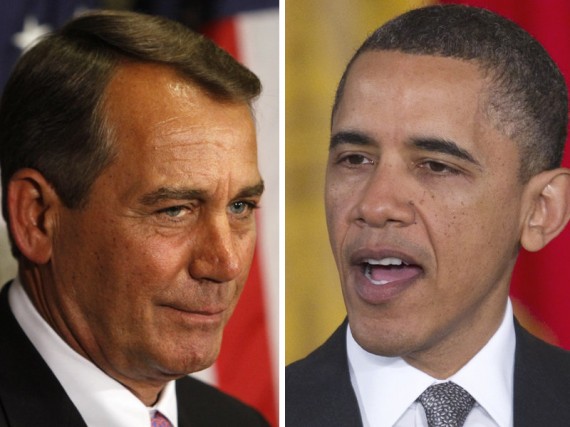 In "The Education of John Boehner," WSJ's Stephen Moore sits down with the chain-smoking Speaker to talk about the 13th hour deal to address the fiscal cliff.
What stunned House Speaker John Boehner more than anything else during his prolonged closed-door budget negotiations with Barack Obama was this revelation: "At one point several weeks ago," Mr. Boehner says, "the president said to me, 'We don't have a spending problem.' "

[…]

The president's insistence that Washington doesn't have a spending problem, Mr. Boehner says, is predicated on the belief that massive federal deficits stem from what Mr. Obama called "a health-care problem." Mr. Boehner says that after he recovered from his astonishment—"They blame all of the fiscal woes on our health-care system"—he replied: "Clearly we have a health-care problem, which is about to get worse with ObamaCare. But, Mr. President, we have a very serious spending problem." He repeated this message so often, he says, that toward the end of the negotiations, the president became irritated and said: "I'm getting tired of hearing you say that."
While neither is completely right here, Obama is much closer. If we did nothing else, the deficit would largely disappear if we could get our healthcare costs down to the levels of our Western European counterparts. In addition to the obvious—Medicare, Medicaid, and VA hospitals—health care is everywhere in the federal budget. It's a significant added cost for all of our civil service and military employees. It's a massive added cost in maintaining our burgeoning military and civil service retiree populations. Plus, we'd take is radically more tax revenue without changing anything in our tax code if business weren't writing off huge health insurance expenses.
Where Obama's wrong is that there's real money to be had in cutting or reforming Defense/Intelligence/Homeland Security and Social Security. The problem for Boehner is that he really doesn't want to do anything about these. He's ideologically opposed to cutting the former and politically afraid—and rightly so—of doing much with the latter.
On his FU to Harry Reid:
With the two sides so far from agreeing even on the nature of the country's fiscal challenge, making progress on how to address it was difficult. Mr. Boehner became so agitated with the lack of progress that he cursed at Senate Majority Leader Harry Reid. "Those days after Christmas," he explains, "I was in Ohio, and Harry's on the Senate floor calling me a dictator and all kinds of nasty things. You know, I don't lose my temper. I never do. But I was shocked at what Harry was saying about me. I came back to town. Saw Harry at the White House. And that was when that was said," he says, referring to a pointed "go [blank] yourself" addressed to Mr. Reid.
I've read somewhere that politics ain't beanbag.
Also interesting:
Mr. Boehner confirms that at one critical juncture he asked Mr. Obama, after conceding on $800 billion in new taxes, "What am I getting?" and the president replied: "You don't get anything for it. I'm taking that anyway."
This strikes me as a far more opportune junction for a "go F yourself." It's true that Obama held the leverage here; after all, taxes were automatically going up at the stroke of midnight New Year's Eve. Indeed, they did. But there was the matter of the debt limit, unemployment benefits, and other things that the president needed cooperation to achieve.
Why has the president been such an immovable force when it comes to cutting spending? "Two reasons," Mr. Boehner says. "He's so ideological himself, and he's unwilling to take on the left wing of his own party." That reluctance explains why Mr. Obama originally agreed with the Boehner proposal to raise the retirement age for Medicare, the speaker says, but then "pulled back. He admitted in meetings that he couldn't sell things to his own members. But he didn't even want to try."
That strikes me as plausible. Indeed, it's been Obama's MO throughout his presidency. Presumably, it's an outgrowth of his time as a community organizer; he's just extremely reluctant to spend political capital.
Mr. Boehner is frustrated that Republicans were portrayed by the press as dogmatic and unyielding in these talks. "I'm the guy who put revenues on the table the day after the election," he says. "And I'm the guy who put the [income] threshold at a million dollars. Then we agreed to let the rates go up, on dividends, capital gains as a way of trying to move them into a deal. . . . But we could never get him to step up," Mr. Boehner says with a shrug. Negotiations with the White House ended in stalemate when "it became painfully obvious that the president won't cut spending."
I'm inclined to side with Boehner here on the grounds that it's essentially an admission against interest. He got rolled in the negotiations, getting essentially nothing from the president other than moving the threshold for the top marginal rate to $400,000 from $250,000—a concession that Obama almost surely was thrilled to make, given pressure from powerful big city Democrats—and looked pathetic doing it.
Interestingly, it's a reversal of the way negotiations over ObamaCare went down, when the president was essentially negotiating against himself.