John McCain Calls Hearing Protesters 'Low-Life Scum'
John McCain is not a fan of Code Pink.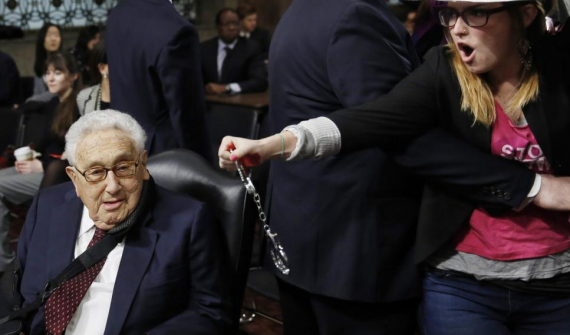 John McCain is not a fan of Code Pink.
CNN ("McCain boots 'low-life scum' from hearing"):
Senate Armed Services Committee Chairman John McCain had harsh words for protesters who shouted criticism at 91-year-old Henry Kissinger at a hearing Thursday.
"Get out of here, you low-life scum," the Arizona Republican told the protesters.

Kissinger, the diplomat who was secretary of state under President Richard Nixon, as well as President Ronald Reagan secretary of state George Shultz and Madeleine Albright, who was secretary of state under President Bill Clinton, were on hand for a hearing on global security challenges.

As the hearing started, several protesters approached the table where Kissinger was seated, holding signs and shouting at him.

"I've been a member of this committee for many years and I have never seen anything as disgraceful and outrageous and despicable as the last demonstration that just took place," McCain said.

"You know, you're going to have to shut up or I'm going have you arrested," he said, summoning Capitol Hill police.

 And then, to a smattering of applause, McCain added: "Get out of here you low-life scum."

Later in the hearing, Kissinger was interrupted by two female protesters who held signs and had painted their palms red. They stood up and shouted that Kissinger "oversaw the slaughter in Vietnam, Cambodia and Laos, which led to the deaths of millions of people."

The two were escorted from the room, too. And Shultz drew applause when he stood and said, "I salute Dr. Henry Kissinger."

McCain stood by his comments on Thursday night when asked by Fox News' Neil Cavuto if he had any regrets about the incident.

"No, because they are that," McCain said of calling the protesters "scum."

"Anybody who would do that kind of behavior is guilty of it. It was terribly upsetting to me," he said.
The right to protest government leaders is enshrined in the Bill of Rights. And, certainly, Henry Kissinger remains a figure of considerable controversy even nearly four decades removed from office.But I'm with McCain on the tactics of Code Pink and their ilk.
Kissinger has enjoyed a life of wealth and fame because of his public service and should fully expect some of the downsides that come with that. These include protesters at various public appearances. Presumably, he's accustomed to that. Indeed, having encountered him a various public speeches over the years, I suspect he rather enjoys the attention and greets is with good humor.
But Code Pink is something altogether different. For years, they've come to various public fora in Washington either in small groups or individually with the intention of disrupting them. At some point in the event, the protesters will start hollering or chanting, continuing until such time as they're escorted from the premises. It's shameful conduct, drawing attention to themselves at the expense of the civil discussion that the other assembled guests have come to enjoy. "Low-life scum" is about right.