Jon Huntsman Goes On The Attack
Jon Huntsman is not going to be the Republican nominee in 2012, but he seems ready to carve out a niche for himself.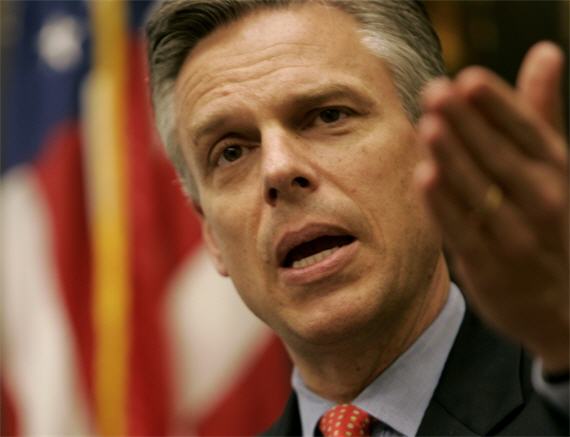 Jon Huntsman is not going to be the Republican nominee for President in 2012, of that much we can be assured. However after a rather lackluster performance at his first debate, it looks like the former Governor of Utah has decided that if he's going to go down, he may as well go down fighting. Tomorrow, Huntsman will appear on ABC's This Week and it sounds like he's got quite a bit to say about his fellow candidates:
TAPPER:  You were one of the only, if not the only Republican candidate, to support the deal to raise the debt ceiling.  You called Congresswoman Bachmann's position a, quote, "crash and burn" approach. Would you trust a President Bachmann to do the right thing with the economy?

HUNTSMAN:  Well, I wouldn't necessarily trust any of my opponents right now, who were on a recent debate stage with me, when every single one of them would have allowed this country to default.  You can imagine, even given the uncertainty of the marketplace the last several days and even the last couple of weeks, if we had defaulted the first time in the history of the greatest country that ever was, being 25 percent of the world's GDP and having the largest financial services sector in this world by a long shot, if we had defaulted, Jake, this marketplace would be in absolute turmoil.  And people who are already losing enough as it is on their 401(k)s and retirement programs and home valuations, it would have been catastrophic.

So I have to say that there was zero leadership on display in terms of my opponents.  Leaders — zero leadership on display in terms of the president, who should have used the bully pulpit well ahead of time.  He should have walked away from the teleprompter.  The people want you to speak from your heart and soul.  Tell us where you want us to go.  Tell us what you expect from Congress.  Tell us what's on your mind.

That never happened.  And it waited until the eleventh hour and then we had some of my Republican opponents who basically, I think, recommended something that would have been catastrophic for this economy. I stood alone in terms of supporting the Boehner plan. Why? Because I don't think you can just allow the greatest nation that ever was, 25 percent of the world's GDP, to default.  I thought the — the implications would have been catastrophic.  The global markets would have been a complete wreck.

Instead, we had Speaker Boehner, I think a pretty courageous guy, step up and say we can cut deeper than we have to take it up in order to meet our obligations.  And, by the way, we can move forward with entitlement reform and we can move forward with a balanced budget amendment and ultimately competitive tax reform, which we absolutely need. I give the speaker high marks for his leadership.
Huntsman also repeated his criticisms from earlier this week regarding Rick Perry's comments about evolution and Global Warming, warning that an being perceived as "anti-science" would ultimately work to the detriment of the Republican Party as a whole, even if it does lead to short term electoral success. Huntsman also joined other Republicans in criticizing Perry's remarks about Fed Chairman Ben Bernanke:
I don't know if that's pre-secession Texas or post-secession Texas.  But in any event, I'm not sure that the average voter out there is going to hear that treasonous remark and say that sounds like a presidential candidate, that sounds like someone who is serious on the issues.

But it gets to a broader point of, you know, the fact that, you know, we've had so much hope and hype in politics the last little while.  We've found ourselves at the extreme ends of the political spectrum and people are crying out for us to get back to some level of sensibility.

And this just kind of perpetuates the name calling and the finger-pointing and the blame game where we want solutions.  We want to look to the future, we want somebody with vision.  We don't want to look back.  We, as Americans, are the most optimistic, blue sky people the world has ever known.  We want to look forward and we want solutions.

And every time we have these sideshows take place, finger-pointing and name-calling.  It takes us that much farther off the ball, which is fixing our core in this country, is getting our economy fixed and creating jobs.
It would appear that this is part of Huntsman's decision to establish himself as something of a Republican truth-teller:
Former Utah. Gov. Jon Huntsman (R) believes he has an opportunity to carve out his position within the GOP primary field as the "truth-teller."
The former ambassador to China repeatedly has sought to distinguish himself as the relative centrist in the GOP race; he backed the debt-ceiling compromise in Congress when no other candidate did so, and he's been unapologetic about his support for civil-unions for same-sex couples.

(…)

Miller said the campaign also received positive feedback from donors for Huntsman's stances on the debt ceiling and civil unions, a sign his supporters are embracing his relative centrism and don't see it as a detriment.

"Part of being authentic is telling the truth on issues that aren't to your electoral advantage," Miller said. "When the opportunities arise to demonstrate he's authentic, he's told the truth."
At the risk of allying myself with yet another Presidential candidate who has absolutely no chance of winning, I've got to say that I'm liking what I'm hearing from Huntsman here.
Rejecting science, whether it's the fundamental roots of biology or the widely accepted, among the science community, that human activity has contributed to climate change, is just a stupid idea, especially when it is mostly motivated by talk show hosts who have slandered respected scientists by suggesting that their lying and/or corrupt. If the GOP continues down this road, they're going to continue to be marginalized in an America where science and learning are valued, not shunned. Huntsman's criticisms of the way that the Michele Bachmann's of the world acted during the debt ceiling fiasco is spot on as well, and the fact that he's the only one willing to say that not raising the debt ceiling would have been an incredibly stupid, and ultimately disastrous, policy choice says a lot about the Republican field and the state of the Republican Party. Finally, the former Governor is absolutely right about the sideshow that American politics has become. In fact, I suspect we"'ll see that sideshow on full display after the interview airs and the usual suspects pen their usual responses.
Like I said, Jon Hunstman isn't going to win the Republican nomination in 2012.  I'm sure if I delved far enough into his record, I'd find things I opposed. In this instance, though, and on these issues he's absolutely right. Hopefully, someone is listening.
Update: Here's the video of Huntsman's appearance on This Week: