Jon Huntsman Takes Surprise Second In Republican Leadership Conf. Straw Poll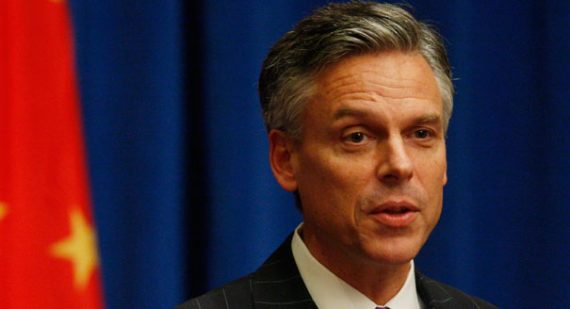 Speaking of taking Jon Huntsman seriously:
Ron Paul won the presidential straw poll at the Republican Leadership Conference in New Orleans Saturday, easily beating out his rivals for the GOP nomination. Second place went to Jon Huntsman, the little-known former Utah governor who missed the conference with a cold.

With the Libertarian-leaning Paul seen as unlikely to win the party's nomination, the second-place finish will be seen as a victory for Huntsman, the former ambassador to China who is announcing his presidential campaign next week. Huntsman's wife and daughter traveled to the conference in his place, though they did not speak.

Paul finished with 612 votes, followed by Huntsman with 382. Michele Bachmann took third with 191 votes, followed by Herman Cain with 104 votes. No other candidate got more than 100.

Mitt Romney took 74 votes, Newt Gingrich 69, Sarah Palin 41, Rick Santorum 30 and Tim Palwenty 18.
These straw polls don't really mean much of anything, but the reason this one raises an eyebrow is two-fold. First of all, winning one of these things typically requires some kind of on the ground operation designed to get people to vote for your guy. Second, Huntsman didn't even show up at the conference because he had to cancel his appearance due to a bad cold. That his campaign managed to pull off a second place showing given the fact that he barely registers in national polls indicates to me a far more serious an organizzed bid than perhaps many were expecting.
Rumors circulated here that Huntsman campaign had paid for supporters to attend the conference and a spokesman for the candidate, Tim MIller, didn't deny that they had.

"Not commenting on internal strategy," said Miller, adding: "The result demonstrates that young conservatives are responding to his record of success in Utah, willingness to take the debt problem seriously, and foreign policy message,"
This is so common when it comes to straw polls, that I'm not at all surprised. Again, straw polls aren't indicative of much to begin with. What this indicates, though, is a well-organized campaign. And that, at least, is something.