Jon Huntsman Tapped To Be Ambassador To Russia
A strong pick for what is likely to be an important Ambassadorial position in coming years.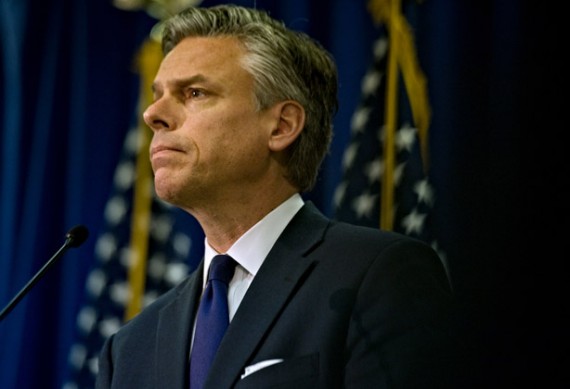 Jon Huntsman, who previously served as Ambassador to Singapore under President George H.W. Bush and Ambassador to China under President Obama, has been tapped to be the next U.S. Ambassador to Russia:
Jon Huntsman has accepted President Donald Trump's offer to be the next ambassador to Russia, a source close to Huntsman confirmed to NBC News Wednesday.

It will be the former Utah Republican governor's third ambassadorship in a long career of service. He previously served as Ambassador to Singapore under President George H.W. Bush and was later tapped to be President Barack Obama's Ambassador to China.

Huntsman, a former 2012 GOP presidential hopeful, endorsed Trump during the 2016 presidential campaign but called on him to drop out after a hot mic audio recording from 2006 revealed Trump bragging that he could grab women by their genitals without their consent.

News of the Russian ambassadorship was first reported by Politico.

Being Trump's man in Moscow may carry with it an effort to follow through on the president's hope of mending relations with the Kremlin. Trump, who has repeatedly praised Russian President Vladimir Putin, often wondered aloud on the campaign trail "wouldn't it be great if we got along with Russia?"
Russia has become an important part of American politics with the rise of Donald Trump due both to the increased aggressiveness we've seen from the Putin regime since shortly after the Sochi Olympics ended in 2014 and the current controversies about apparent Russian attempts to influence the 2016 election. Given that, Huntsman seems like an ideal choice for what is likely to be an important Ambassadorial position in the coming years. As noted, he's served as Ambassador twice before and it's generally agreed that he performed very well in both positions. Additionally, the fact that he isn't someone who was part of Trump's inner circle means that he's likely to have a somewhat freer hand and at least won't be tainted by the allegations surrounding the Trump campaign at the moment.
Prior to accepting this position, Huntsman's name was also mentioned as a potential Deputy Secretary of State, and he would have been well-suited to that position as well. Additionally, there had been speculation that Huntsman could be a candidate for Senate in Utah in 2018, but that would have largely depended on whether or not Senator Orrin Hatch, who would be running for his eighth term in 2018, decides to run for re-election. When he ran for re-election in 2012, Hatch indicated it would be his last electoral bid, but there have been several reports in recent months that Hatch, who is currently the longest-serving Republican in the Senate and serves as President Pro Tempore of the Senate, may run for reelection after all. If that happens, then it's unlikely that any Republicans will run against him and he would be easily reelected. On the other hand, if Hatch does end up retiring, it could open the seat up to a significant primary fight. Among the possible candidates are Congressman Jason Chaffetz, a Hatch loyalist, Mitt Romney, Josh Romney, and possibly other Republicans such as current Governor Gary Herbert,  former Governor Mike Leavitt, Evan McMullen, who previously ran as an independent candidate for President in 2016, and Congresswoman Mia Love. Huntsman could theoretically resign his post in Moscow to run for Senate, but he did that back in 2012 and it didn't go over so well with voters. Accepting this position likely means that Huntsman has either ruled out running for Senate, or he's got inside information that Hatch will indeed run for re-election.