Journalist Marie Colvin and Remi Ochlik Killed in Syria
Marie Colvin of the Sunday Times and Remi Ochlik of Reuters have become the latest journalists to die reporting on the massacres in Syria.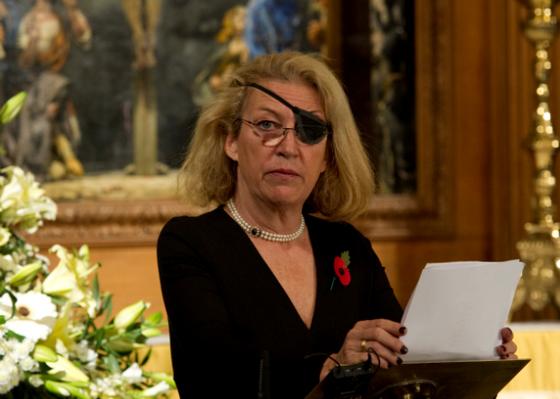 Marie Colvin of the Sunday Times and Remi Ochlik of Reuters have become the latest journalists to die reporting on the massacres in Syria.
The Telegraph ("Syria: Sunday Times journalist Marie Colvin 'killed in Homs'"):
Marie Colvin, a Sunday Times journalist, and a French photographer have reportedly been killed in the besieged Syrian city of Homs after the house where they were staying was shelled.

Colvin, an American reporter for the British newspaper, and photographer Remi Ochlik both died in the attack, opposition activists and witnesses said.

Shells hit the house in which the two veteran war correspondents were staying, then they were killed by a rocket as they tried to make their escape, Reuters reported.

Colvin, known for wearing a black eye patch after she lost an eye due to a shrapnel wound while working in Sri Lanka in 2001, was the only journalist from a British newspaper in Homs.

At least two other Western journalists were wounded after more than 10 rockets hit the house, it is understood.

Only yesterday, Colvin reported on shelling in the city in a video for the BBC, as well as CNN, in which she described the bloodshed as "absolutely sickening".

"I watched a little baby die today," she said. "Absolutely horrific.

"There is just shells, rockets and tank fire pouring into civilian areas of this city and it is just unrelenting."

In a report published in the Sunday Times over the weekend, Colvin spoke of the citizens of Homs "waiting for a massacre".

"The scale of human tragedy in the city is immense. The inhabitants are living in terror. Almost every family seems to have suffered the death or injury of a loved one," she wrote.

In 2010, Colvin spoke about the dangers of reporting on war zones at a Fleet Street ceremony honouring fallen journalists.

She said: "Craters. Burned houses. Mutilated bodies. Women weeping for children and husbands. Men for their wives, mothers, children

"Our mission is to report these horrors of war with accuracy and without prejudice.

"We always have to ask ourselves whether the level of risk is worth the story. What is bravery, and what is bravado?

"Journalists covering combat shoulder great responsibilities and face difficult choices. Sometimes they pay the ultimate price."

Ochlik was born in France in 1983 and first covered conflict in Haiti at the age of 20. Most recently he photographed the revolutions in Tunisia, Egypt and Libya.

The two were killed when a shell crashed into a makeshift media centre set up by anti-regime activists in Baba Amr district, activist Omar Shaker told the AFP news agency.
Sad news but, as Colvin herself noted, the risk journalists willingly take to report from war zones.