Russia, China Block U.N. Resolution To Curb Syrian Violence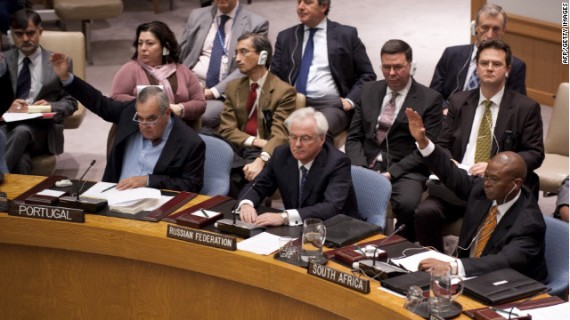 With the attacks on Syrian civilians seemingly getting worse by the day, the United Nations Security Council took up a resolution that would back efforts by the Arab League to bring an end to the crackdown, an effort that collapsed in failure as both Russia and China exercised their veto power:
UNITED NATIONS — A United Nations Security Council effort to end the violence in Syria collapsed in acrimony and a veto by Russia and China on Saturday, hours after the Syrian military attacked the ravaged city of Homs in what opposition leaders described as the bloodiest government assault in the nearly 11-month-old uprising.

The Security Council voted 13 to 2 in favor of a resolution backing an Arab League peace plan for Syria, but the measure was blocked by Russia and China, which opposed what they saw as a potential violation of Syria's sovereignty.

Pressure had mounted on the Security Council to act as Syrian opposition leaders said more than 200 people were killed in the attack in Homs, and the White House accused Syria of having "murdered hundreds of Syrian citizens, including women and children."

While the casualties were impossible to confirm, and were denied by Syria, reports of the bloodshed drew widespread international condemnation, and moved the Security Council toward a vote on an Arab League peace plan, despite new objections by Russia.

President Obama condemned what he called "the Syrian government's unspeakable assault against the people of Homs," saying in a statement that President Bashar al-Assad "has no right to lead Syria, and has lost all legitimacy with his people and the international community."

The French foreign minister, Alain Juppé, said, "The massacre in Homs is a crime against humanity, and those responsible will have to answer for it."

Protests broke out Saturday at Syrian embassies around the world, including in Egypt, Germany, Greece and Kuwait, and Tunisia expelled Syria's ambassador there.

Security Council members met Saturday morning to try to resolve disagreements with Russia, Syria's main ally, which had promised to veto any resolution that could open the way to foreign military intervention or insist on Mr. Assad's removal.

But the resolution's sponsors pushed the measure to a vote anyway, virtually daring Russia to exercise its veto and risk mounting international opprobrium for preventing action to stanch the escalating death toll in Syria. In the end, both Russia and China exercised vetoes.

Russia's last-minute changes appeared to be another attempt to create equivalency between the Syrian government and the armed elements in the opposition, including by removing all the wording that detailed human rights violations by the Assad government.

Arab and Western ambassadors said they had compromised enough to meet the demands of Russia and other skeptics. The resolution that was defeated said that the Council "fully supports" the Arab League plan, which calls for Mr. Assad to cede power to his vice president and a unity government to lead Syria to democratic elections. But specific references to Mr. Assad's ceding power and calls for a voluntary arms embargo and sanctions had been deleted from the Security Council resolution, and language barring outside military intervention was added.

Sergey V. Lavrov, the Russian foreign minister, said that Moscow still had two objections to the latest revised resolution: that it did not place sufficient blame for the violence on the opposition, and that it unrealistically demanded that the government withdraw its military forces back to their barracks.
If nothing else, this vote makes it plain that international action of any kind in Syria is not going to be nearly as easy to pull of as the Libyan operation was. In that case, the U.S. was able to get Russia and China to abstain from voting rather than exercising their vetoes. That's clearly not going to happen this time.
Of course, the other side of the equation is what should happen in Syria, or at least what the West should do. International intervention along the lines of what happened in Libya wouldn't seem to be the answer, especially considering that the Syrians don't seem to be using air power against civilians and rebelling military elements the way the Libyans did. Instead, they're engaging in large scale urban warfare in the cities that have been sympathetic to the rebels. That's likely to be far more difficult to combat from the air, and I seriously doubt that there's any nation on Earth that would be willing to send ground troops into Syria at this point. Then there's the unknown factor of how Syria's terrorist allies in Lebanon might react to outside intervention in Syria. In the long run, the Assad regime is clearly doomed, the question is how long they're going to be able to hang on and how much damage they'll be able to do on the way down.