Judge: Giving Ohioans Only 28 Days to Vote Unconstitutional
An overreach on the "disparate impact" standard.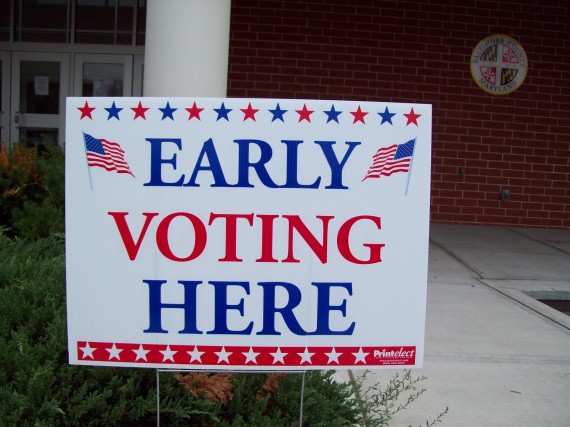 An Ohio judge has ruled that changes to the state's voting rules disproportionately harm blacks and is therefore unconstitutional.
The Columbus Dispatch:
Judge Michael H. Watson of U.S. District Court in Columbus said the Republican-dominated Ohio legislature violated the federal constitution and Voting Rights Act in 2014 when it reduced the state's early voting period from 35 to 28 days. The move also eliminated the so-called Golden Week in which eligible residents could register to vote and cast an absentee ballot at the same time.

Even though Ohio's early voting period is among the most generous in the nation, the reduction disproportionately affected African Americans, Watson ruled.

The judge noted that blacks took advantage of Golden Week 3½ times as often as white voters in 2008, and more than 5 times as often in 2012.

"Based on this evidence, it is reasonable to conclude that the reduction in overall time to vote will burden the right to vote of African Americans, who use (early in-person) voting significantly more than other voters," Watson said in a 120-page opinion.

The legislature's stated justifications for the cutback — reducing fraud, trimming costs, avoiding voter confusion — were weak, said Watson, former chief counsel to Republican Gov. Bob Taft. Watson ordered Ohio Secretary of State Jon Husted and Attorney General Mike DeWine — the defendants in the case — to stop enforcing the shortened voting period.

A DeWine spokesman said the decision — which sided with the state on many issues — will be appealed to the 6th Circuit U.S. Court of Appeals.

Husted said in a release that "for nearly 200 years, Ohioans voted for only one day. If it was constitutional for lawmakers to expand the voting period to 35 days, it must also be constitutional for the same legislative body to amend the timeframe to 28 days, a timeframe that remains one of the most generous in the nation."
Husted's argument is not only compelling but obvious. Absent clear evidence of racially motivated targeting—and there is none here—states ought be free to experiment with early voting and absentee balloting rules.
Under Watson's rationale, no state should dare experiment with expanded voting access lest tinkering back in the other direction be seen as having a disparate impact on minority voters. While I favor making voting much easier than it is, there's a legitimate cost-benefit calculus at play. It's quite possible that, having massively expanded access to early voting, the state found that a huge percentage of the increased turnout was confined to a few days before the election, with hardly anyone showing up the first week.  If the difference between being open 35 days and 28 days is a minuscule increase in turnout, then it's reasonable for the state to cut back on the open hours even if the delta is mostly black voters.
Contra Watson,  "trimming costs" is a real concern for many states given the stagnant economy. Cutting a week off of the expanded voting window would surely save a whole lot of money given the number of voting centers that would be open across a highly populous state.
Watson is, however, correct that "fraud" is a weak argument for cutting down in-person voting. The potential for fraud is almost entirely in the form of mail-in absentee balloting, which is extremely easy to abuse. There's essentially no evidence of significant fraud in in-person voting; that's not surprising, given the risk-reward calculus.