Ohio Early Voting Law Grants A Potentially Unconstitutional Preference To Military Voters
The Obama campaign is challenging an Ohio law that gives members of the military three extra days to vote. They have a very persuasive argument.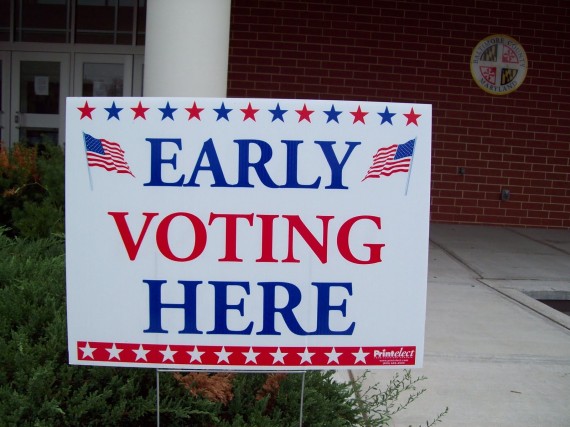 The Obama campaign, along with the Democratic National Committee, is arousing the ire of  some veterans group over the filing of a lawsuit challenging Ohio's new early voting law that gives a preference to military voters and their families by allowing them to vote up to the Monday before election day while other voters can only early vote until the preceding Friday:
Obama for America, the U.S. president's re-election campaign committee, sued two Ohio officials over changes to state law that limit in-person early voting for some people and not others.

Under the law, families of armed forces members and civilians overseas can vote through the Monday before an election, while early voting for all other Ohio residents ends on the preceding Friday, a disparity Barack Obama's campaign claims is unconstitutional. The 2012 election will be held on a Tuesday.

"This lawsuit, at bottom, seeks to treat all Ohio citizens equally under the law," Donald McTigue, general counsel for the Obama campaign in Ohio, said today on a conference call with reporters after the complaint was filed in federal court in Columbus, the state capital.

Ohio, which has 18 electoral votes, has been a bellwether in U.S. politics and no Republican has been elected president without a victory there. Obama, a Democrat, won the state in 2008 with 51.5 percent of the vote.

The Obama campaign is seeking a court order invalidating the deadline statutes. Named as defendants in its complaint are Ohio Attorney General Mike DeWine and Secretary of State Jon Husted, both Republicans.
The truly odd thing about this is that this is a change in Ohio law. After the 2004 election and the confusion and chaos that resulted throughout the Buckeye State due to very high turnout, the state passed an early voting law that permitted all Ohio voters to vote early right up until the day before Election Day. According to the Obama campaign, as many as 30% of the nearly 6 million people who voted in the 2008 Presidential election voted early under this law. It's not clear why the law needed to be changed at all, but the reason for the discrepancy seems to be very odd:
The Republican-controlled legislature enacted two laws last year with provisions to move the deadline to the Friday before the election for all voters, then repealed one measure in May to halt a statewide referendum sought by Democrats, the Obama campaign alleged.

"Whether caused by legislative error or partisan motivation, the result of this legislative process is arbitrary and inequitable treatment of similarly situated Ohio voters with respect to in-person early voting," according to the complaint.
It's not hard to see a partisan reason behind the discrepancy, of course. As a general rule members of the military and their family members are more likely to vote Republican than Democrat so anything that encourages this particular voting group to vote when it's convenient would potentially be of advantage to the GOP. Even if we assume that this was part of a legislative mistake, though, that doesn't really end the argument because there are some serious Constitutional issues implicated here that suggest that the Obama campaign has the better part of the legal argument.
In their Motion For Preliminary Injunction, the Plaintiffs make the following argument:
Here, Ohio's actions unquestionably result in disparate treatment of voters. In passing  HB 224 and SB 295, the Ohio legislature withdrew from the majority of Ohio citizens a previously conferred right to vote in a particular manner – specifically, the right to cast a ballot in the three days immediately preceding an election. And it did so while leaving that right intact for UOCAVA voters. This disparate treatment is significant. As the Supreme Court has acknowledged, the days immediately preceding an election are critical for participation. "It is well known that the public begins to concentrate on elections only in the weeks immediately before they are held," Citizens United v. Fed. Election Comm'n, ___ U.S. ___, 130 S. Ct. 876, 895 (2010). Ohio's disparate treatment of voters is arbitrary. The State has provided no justification for its decision to withdraw from only one class of voters the last three days of early vting. The statutory text contains no justification; nor do the Committee Reports or the subsequent Secretary of State analysis. This failure is striking, given that the legislature heard testimony highlighting the problem of disparate treatment resulting from the legislature's maneuvers

In addition, there is no discernible rational basis for the disparate treatment. First, the  distinction is not based on voter qualifications. It is uncontroverted that the voters for whom the last three days of early voting was eliminated are otherwise qualified to vote. See Crawford v. Marion Cnty. Election Bd., 553 U.S. 181, 189 (2008) (plurality opinion) ("[E]ven rational restrictions on the right to vote are invidious if they are unrelated to voter qualifications."). Second, the difference between UOCAVA and non-UOCAVA voters provides no justification for applying a different, more restrictive deadline to non-UOCAVA voters. Of course, overseas voters should be treated differently from non-overseas voters. Indeed, UOCAVA itself represents a response to the special difficulties that confront members of the military stationed away from their home counties and other overseas citizens. It was enacted to facilitate absentee voting by a group of citizens who are often not present in the area in which they vote. But here, the laws at issue govern only in-person early voting, and there is no reason why all voters should not have the benefit of the extra three days. Moreover, any suggestion that the current scheme was designed to benefit UOCAVA voters is undermined by what the legislature actually did in enacting the three bills at issue. In amending its election laws, it also created two different, and conflicting, deadlines for UOCAVA voters: 6 p.m. on the Friday before an election, Ohio Rev. Code § 3511.02 (as amended by HB 224), and the close of the polls on Election Day, Ohio Rev. Code § 3511.10 (following the repeal of HB 194 by SB 295). The enactment of a more restrictive deadline for UOCAVA voters as well demonstrates that the disparate treatment is not justified by some interest in protecting the voting rights of UOCAVA voters.
UOCAVA refers to the Uniform Overseas Citizens Absentee Voting Act, the 1986 law that was passed to create a uniform system by which American citizens who are overseas, whether they are in the military or not,  can exercise their right to vote via absentee ballot. There are frequently arguments raised under this law after a particularly close election over the question of whether or not state's should be required to accept overseas absentee ballots after Election Day. The general rule, of course, is that only absentee ballots received by Election Day will be counted as valid. But that's not the issue here. We're not even dealing with members of the military deployed overseas. We're dealing with a law that says that members of the military living in Ohio on Election Day, and their families, will have three extra days to vote early that other citizens of Ohio will not be permitted to take advantage of.
On the surface, there doesn't seem to be any justification for this kind of disparate treatment. What is it that distinguishes a member of the military, or their family members, from regular voters to the extent that it should be acceptable to give them three extra days to vote early? It's hard to see any plausible answer to that question that would withstand legal scrutiny, and the argument made by the Ohio Attorney General in his responsive pleading doesn't strike me as persuasive:
It is also important to note that courts have recognized the distinctions that exist between  UOCAVA voters and non-UOCAVA voters. In Bush v. Hillsborough County Canvassing Bd., the court emphasized that UOCAVA voters "do not enjoy the individualism which they serve to defend for all other citizens. How and where they conduct their lives is dictated by the government. The vote is their last vestige of expression and should be provided no matter what their location." Bush, 123 F. Supp.2d 1305, 1307 (U.S. District Ct., N.D. FL, 2000). Accordingly, the court acknowledged that "[f]or the members of our military, the absentee ballot is a cherished mechanism to voice their political opinion." Id. Similarly, in Doe v. Walker, the Maryland District Court addressed the deadline by which UOCAVA ballots could be received by mail. In extending the deadline for receipt, the court recognized the unique circumstances that UOCAVA voters face: "[U]nlike domestic absentee voters who may request an absentee ballot because it is inconvenient or difficult for them to vote at a polling station, military personnel deployed overseas lack the ability to vote in person. Voting by absentee ballot provides these men and women with their only meaningful opportunity to vote in state and federal elections while they are deployed abroad." Doe v. Walker, 746 F.Supp.2d 667, 679 (U.S. Dist. Ct. MD, 2010). Because UOCAVA and non-UOCAVA voters are not similarly situated, states have a rational basis for accommodating UOCAVA voters because of their unique circumstances.

Just as there is a rational basis to permit accommodations for the mailing and receipt of UOCAVA ballots, the Ohio General Assembly has a similar rational basis to allow UOCAVA voters the opportunity to cast an absentee ballot in person at the board of elections during the last weekend before Election Day while not extending that same deadline to others. The Ohio General Assembly recognizes the nature of deployment, which can happen abruptly and unexpectedly. For instance, members of the National Guard can be called up to active duty in order to respond to disasters, whether man made or natural. These call-ups can occur at a moment's time without any warning.

As initially noted, from the beginning of our Republic, military voters have had special problems in obtaining ballots and casting them. Ohio's laws, allowing UOCAVA voters the ability to cast an absentee ballot after the time during which non-military and domestic voters may do so has closed, rationally recognizes the unique circumstances that military voters may face. The General Assembly has provided a statutory scheme that accommodates that possibility.
The brief also cites two Federal Court cases, including one from the Supreme Court that essentially stand for the proposition that the state's can limit who is entitled to an absentee ballot to people who actually expect to be absent from their county of residence, or sick and unable to go to the polls, on Election Day. It strikes me, though, that both of those cases are inapplicable to this case. Nobody is arguing that the Constitution requires a state to adopt universal absentee ballot access for any reason, or that it adopt early voting if state law doesn't provide for it. For one thing, the Constitution gives the states broad authority of the "time, place, and manner" of Elections limited only by the requirements that government when elections for the House, Senate, and President will take place. In this case, though, the state has amended its early voting statute to give special preference to a specific group of voters.
The state argues that this is justified by the provisions of the UCOAVA and the general accommodations that have been given to military voters in the past, including extending the time for military ballots to be received beyond those of ordinary absentee ballots. As Court have noted, though, those accommodations are acceptable precisely because of the unique situation that deployed members of the military find themselves in being thousands of miles from home and unable to return home to vote.
This argument only really makes sense, it seems, if we're talking about members of the military who are on the verge of being deployed, something they're likely to know about well before the three days before Election Day unless we're talking about a deployment made necessary by a foreign crisis of some kind. If the soldier in question is stationed in Ohio, or the member of the Reserves or National Guard is at home, there is no rational reason for the State of Ohio to give them a preference not available to other voters. Indeed, if the interest that the state cites in this brief is truly the one that motivated the legislature then it would make more sense if they had created a scheme whereby members of the military in Ohio who are given deployment orders that require immediate deployment, then they can vote early in-person at any time prior to Election Day. That would likely be constitutional, but giving such a broad preference to such a broadly defined group when most of the members of that group will likely still be in Ohio on Election Day makes no sense to me. If early voting up until Friday is okay for other Ohio citizens, it's okay for members of the military. Alternatively, the legislature can go back to the way things were before 2011 when everyone could vote up until the Monday before Election Day. What they cannot do, though, is treat essentially identical groups of voters differently.
This will be an interesting case to keep an eye on.