Appeals Court Upholds Ruling Restoring Early Voting For All Ohio Voters
Another legal victory for the Obama campaign in Ohio.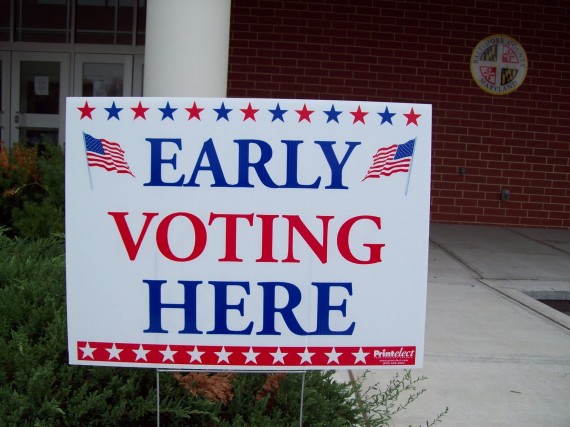 Just about a month after a Federal District Court Judge ruled that Ohio's law giving military voters and their families three additional days to participate in early voting unavailable to other Ohio voters was unconstitutional. The ruling came in a lawsuit filed by the Obama campaign and other groups against a law passed earlier this year that changed Ohio law to eliminate early voting after the Friday before an election unless the voter was a member of the military or their family member. The Romney campaign claimed that this lawsuit was an effort by the Obama camp to deny voting rights to members of the military, a claim which was totally false given the fact that the lawsuit's purpose was to extend early voting hours for all Ohio citizens. I also noted at the time that Ohio was the only state in the country that granted this type of early voting privilege for members of the military. In his ruling the Federal Court Judge had entered an injunction requiring the State of Ohio to grant early voting up until the day before the election for all Ohio voters. The state appealed that decision to the Sixth Circuit Court of Appeals and, late yesterday, that Court upheld the District Court's ruling and ruled against the State of Ohio:
Saying that Ohio voters would be "irreparably injured" by the Republican decision to eliminate the last three days of early in-person voting, the 6th U.S. Circuit Court of Appeals yesterday sided with the Obama campaign and Ohio Democrats to allow local elections boards to stay open.

However, the court is not requiring that the polls be open on the Saturday, Sunday and Monday before Election Day. Instead, that decision is left up to individual county elections boards, each of which is divided 2-2 between Republicans and Democrats.

That could shine a spotlight on Republican Secretary of State Jon Husted, who is required to break tie votes among the elections boards.

Husted said he will not decide until at least next week how to proceed legally and provide guidance to Ohio elections boards.In the summer, Republican members of several big-county boards refused to go along with extended voting hours supported by Democratic members, leading Husted to fulfill an earlier pledge to break ties in favor of keeping normal business hours. That led to a pattern of extra voting hours in GOP-dominated counties but restricted hours in more-Democratic counties.

Yesterday's ruling has implications for the presidential campaign because studies have shown that Democrats, particularly black voters, prefer voting early in person — as opposed to through the mail.

"With today's decision by the 6th Circuit Court of Appeals, Ohio joins Wisconsin, Florida, New Hampshire and Pennsylvania as states that turned back restrictions on voter access and limitations on voter participation," the Obama campaign said in a written statement. "As a result of this decision, every voter, including military, veterans and overseas voters alongside all Ohioans, will have the same opportunity to vote early through the weekend and Monday before the election."

Republican legislators passed a law last year to cut off early voting on the Friday before Election Day, arguing that elections boards needed time to update their poll books.

Democrats sued, arguing that because active military voters and their families could vote on those days, it was unconstitutional to eliminate those days for everyone else. Democrats estimate that 93,000 people voted on those days in 2008.

"The state has proposed no interest which would justify reducing the opportunity to vote by a considerable segment of the voting population," the appellate judges said. "The public interest … favors permitting as many qualified voters to vote as possible."

The appeals court upheld a late-September ruling by U.S. District Court Judge Peter C. Economus.

State attorneys argued that the unique challenges facing those in the active military justifies giving them an additional opportunity to vote, a position backed by a variety of military groups. The appeals court disagreed, saying nonmilitary voters should be treated the same.

"There is no reason to provide these voters with fewer opportunities to vote than military voters, particularly when there is no evidence that local boards of elections will be unable to cope with more early voters," the court declared yesterday. "While we readily acknowledge the need to provide military voters more time to vote, we see no corresponding justification for giving others less time."
As I've noted in my previous posts on this law, the arguments of the two sides are coming at this issue from completely different directions. The Obama campaign and its co-Plaintiffs argue that granting three extra days of early voting only to members of a certain class, in this case members of the military and their families, is a violation of the Equal Protection Clause of the 14th Amendment. The State of Ohio argues that members of the military are a special class entitled to differential treatment pursuant to the Uniform Overseas Citizens Absentee Voting Act (UOCAVA), the law that governs the treatment of absentee voting by deployed members of the military. The problem with Ohio's argument, though, is that UOCAVA typically only applies to deployed members of the military, not members of the military who are stationed in the state where they are registered to vote. Additionally, UOCAVA sets up procedures under which members of the military vote via absentee ballot and says absolutely nothing about early voting. In his ruling the District Court Judge found the state's argument unconvincing and held that the restriction of early voting to only one class of voters could not be justified under the Equal Protection Clause.
In their opinion yesterday, the Court of Appeals essentially agreed with the lower court's ruling:
Providing more time for military and overseas voters to cast their ballots in person is not a response to the problem of these voters being absent, because absent voters obviously cannot cast ballots in person. Rather, the State argues that these voters need more time to vote early because they could be called away from the jurisdiction in an emergency with little notice. (See R. 35-8, Defs.' Ex. 7; R. 35-10, Defs.' Ex. 9.) We acknowledge the difficult circumstances of members of the military and their families,who constantly face the possibility of a sudden and unexpected deployment, and we admire their dedication and sacrifice. For that reason, Ohio's commitment to providing as many opportunities as possible for service members and their families to vote earlyis laudable. However, the State has offered no justification for not providing similarly situated voters those same opportunities. See S.S. v. E. Ky. Univ., 532 F.3d 445, 457 (6th Cir. 2008) ("In essence, a State must 'treat similarly situated individuals in a similar manner.'" (quoting Buchanan v. City of Bolivar, 99 F.3d 1352, 1360 (6th Cir. 1996)).

The State asserts that military and overseas voters are not similarly situated to other Ohio voters for equal protection purposes. "The Equal Protection Clause does not forbid classifications. It simply keeps governmental decision makers from treating differently persons who are in all relevant respects alike." Nordlinger v. Hahn, 505 U.S. 1, 10 (1992) (emphasis added); see also TriHealth, Inc. v. Bd. of Comm'rs, 430 F.3d 783, 790 (6th Cir. 2005)  (finding that two groups of hospitals were not similarly situated for equal protection purposes because "they differ[ed] in several material respects"). In many respects, absent military and overseas voters are not similarly situated to other Ohio voters. Typically, their absence from the country is the factor that makes them distinct, and this is reflected in the exceptions and special accommodations afforded to these voters under federal and state law.

With respect to in-person early voting, however, there is no relevant distinction between the two groups. The State argues that military voters need extra early voting time because they could be suddenly deployed. But any voter could be suddenly called away and prevented from voting on Election Day. At any time, personal contingencies like medical emergencies or sudden business trips could arise, and police officers, firefighters and other first responders could be suddenly called to serve at a moment's notice. There is no reason to provide these voters with fewer opportunities to vote than military voters, particularly when there is no evidence that local boards of elections will be unable to cope with more early voters. While we readily acknowledge the need to provide military voters more time to vote, we see no corresponding justification for giving others less time.
The Court also upheld the lower court's remedy:
The order clearly restores the status quo ante, returning discretion to local boards of  elections to allow all Ohio voters to vote during Saturday, November 3, 2012; Sunday, November 4, 2012; and Monday, November 5, 2012. Because Ohio Rev. Code § 3509.03 is unconstitutional to the extent that it prohibits non-military voters from voting during this period, the State is enjoined from preventing those voters from participating in early voting. But the State is not affirmatively required to order the boards to be open for early voting. Under the district court's order, the boards have discretion, just as they had before the enactment of § 3509.03. The district court's remedy was therefore appropriate.
As noted, the three judge panel was split 2-1, but the split was not on the whole decision. Instead, Circuit Judge White agreed with the Court's ruling on the merits of the case but argued that the remedy was inappropriate. Instead, she would have sent the case back to the Secretary of State with instructions to remedy the Constitutional defect. The problem with that, of course, is that remedying the defect could easily be accomplished by ending early voting on the weekend before the election for military voters. Then, everyone would be similarly situated. For rather obvious political reasons, this is not the remedy that the Plaintiff's requested.
As he was with the District Court's ruling election law blogger Rick Hasen is skeptical of this ruling, and specifically the remedy:
I think there is a fairly good chance this ruling gets appealed.  First DeWine is going to want to push this issue, as are Republicans generally because it presents an opportunity to continue to argue that the Obama campaign is taking steps against military voters (a charge I believe is bogus).  The next step of the appeal is to the Sixth Circuit as a whole.  As I've explained in this blog post and this recent Slate piece, the Sixth Circuit has divided bitterly on election law disputes recently, and there are more Republican-appointed judges than Democratic ones. The step after that, of course, is the U.S. Supreme Court.

And so while I stand to be surprised again, I'm still expecting a reversal should Ohio appeal.

Finally, I should point out that the remedy is very problematic.  If some counties have extra early voting and others do not, that itself could create an equal protection violation. Further, if we are going to require Jon Husted, the Republican Secretary of State to break the tie, in the past he has sided with the Republican members of county boards to deny extended early voting.  After criticism, he imposed uniform rules (but without weekend voting which Democrats wanted).  We will see if he imposes extra early voting across the state if this ruling holds.
Of course, any appeal to the full Sixth Circuit or the Supreme Court is going to have to be expedited. Rather than a full ruling on the merits, we're likely to only see a ruling on the propriety of the Preliminary Injunction itself. For rather obvious reasons, that will have to happen some time well before the last weekend before Election Day so that those counties in Ohio that wish to offer that option to their citizens. For the moment, though, this is another victory for the Obama campaign on this issue. As I've said, I think they're right on the ultimate issue, the problem comes in the injunction that the Courts have issued twice now.
Here's a copy of the opinion: