Julian Assange Charges and 'Sex By Surprise'
Julian Assange is a loathsome human being. Is he also a rapist? Under Swedish law, maybe.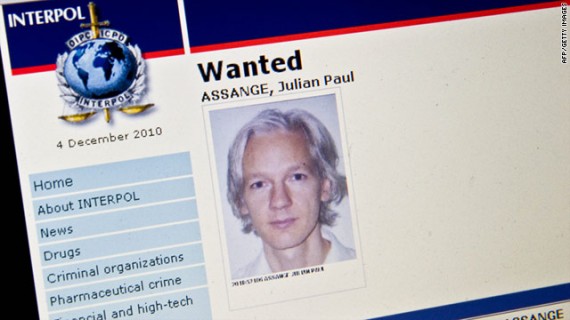 Kevin Drum asks, "What are Julian Assange's Sex Charges All About?"
Like me, he's a bit suspicious of the timing of an international manhunt for the WikiLeaks founder on the basis of Swedish sex crime charges that sound "fishy."  Also like me, he has no reason to think the Swedish government is corrupt.
He points to a story by Richard Pendlebury in the Daily Mail titled "The Wikileaks sex files: How two one-night stands sparked a worldwide hunt for Julian Assange."  The sordid details are set forth very well but the key is that "Sweden's complex rape laws are central to the story."
The very short version: Assange had consensual sex with two women, unbeknownst to one another, who were friends.  They had hurt feelings afterwards and confided to a female police officer that Assange had engaged in sex with one of them without a condom, having worn a condom the night before.  In the case of the second woman, Assange's condom broke but he continued to climax, anyway.
One of the women had previously circulated on the Internet a how-to guide titled "7 Steps to Legal Revenge," which "explains how women can use courts to get their own back on unfaithful lovers."
So, how in the world can Assange's behavior, while doubtless that of a cad, be illegal — much less rape?  Feministe's Jill Filipovic is appalled that anyone would even ask.
Withdrawal of consent should be grounds for a rape charge (and it is, in Sweden) — if you consent to having sex with someone and part of the way through you say to stop and the person you're having sex with continues to have sex with you against your wishes, that's rape. That may not sound entirely familiar to Americans, since the United States has relatively regressive rape laws; in most states, there's a requirement of force in order to prove rape, rather than just demonstrating lack of consent. Consent is more often used as a defense to a rape charge, and it's hard to convict someone of rape based solely on non-consent. Some states, like New York, have rape laws on the books which include "no means no" provisions for intercourse — basically, if a reasonable person would have understood that the sex was not consensual, then that's rape. It seems obvious enough, but those laws are not used nearly as often as forcible-rape laws; they aren't on the books in many states, and they're difficult to enforce even where they are.

Withdrawal of consent gets even trickier. It's an obvious enough concept for feminist thinkers who have spent more than 10 minutes considering the realities of sex and sexual assault: If you consent to sex but then at some point during sex withdraw that consent by telling your partner to stop, your partner should stop, and if your partner doesn't stop then that's assault. It's not too hard, for those of us who have had sex, to imagine how this works — I have a difficult time imagining any decent human being hearing their partner say "Stop!" in the middle of sex and not, you know, stopping. I can't imagine hearing my partner say "Stop" and not stopping. And if your partner is saying "Stop stop stop stop!" and you keep going, yes, you are raping them.

[…]

Consenting to one kind of sexual act doesn't mean that you consent to anything else your partner wants to do; if it's agreed that the only kind of sex we're having is with a condom, then it does remove an element of consent to have sex without a condom with only one partner's knowledge.
I largely agree with all of that, although the facts of this case lead me to suspect that the sex was consensual when it occurred and then later withdrawn after the ladies discovered that they'd been used and come to assess the consequences.  Pendlebury reports that the woman with whom Assange had sex without the condom proceeded to roll out of bed and happily go out to breakfast with him.  That doesn't make Assange less of an SOB.  But it makes it hard for me to think of him as a rapist.
Comments especially welcome, as this is a rather unusual case.  Please dispense with jokes about "leaks," however.
UPDATE: Charli Carpenter admonishes us that Assange hasn't techically been charged with "rape."  Swedish law doesn't permit making public the exact charges in sex crimes but it appears that he's been charged with sexual assault and violation of a statute prohibiting sex without a condom.  So noted.