Ecuador Grants Julian Assange Asylum
Another step in the ongoing diplomatic showdown over the founder of Wikileaks.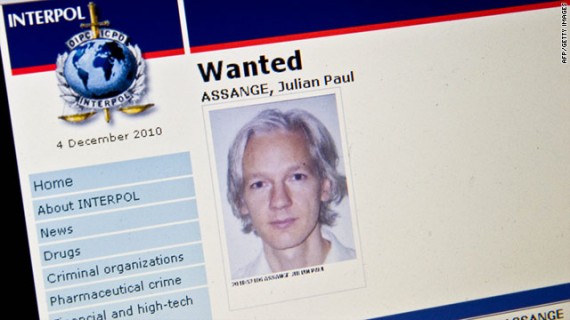 Some six weeks after he fled to the Ecuadorean Embassy in London after it became apparent that his efforts to prevent extradition would fail, Wikileaks founder Julian Assange has been granted asylum by Ecuador, although the British aren't necessarily agreeing to honor that status:
Ecuador has granted asylum to Wikileaks founder Julian Assange two months after he took refuge in its London embassy while fighting extradition from the UK.

It said there were fears Mr Assange's human rights might be violated.

Foreign minister Ricardo Patino accused the UK of making an "open threat" to enter its embassy to arrest him.

Mr Assange took refuge at the embassy in June to avoid extradition to Sweden, where he faces questioning over assault and rape claims, which he denies.

The Foreign Office said the decision on Mr Assange's application for political asylum would not affect the UK's legal obligation to extradite him to Sweden.

It tweeted: "We remain committed to a negotiated solution that allows us to carry out our obligations under the Extradition Act.

The UK government will still seek to arrest him and it will not grant him safe passage. If he steps out, he will be arrested.

Announcing Ecuador's decision, Mr Patino said the country believed Mr Assange's fears of political persecution were "legitimate".

He said the country was being loyal to its tradition of protecting those who were vulnerable.

"We trust that our friendship with the United Kingdom will remain intact," he added.

The announcement was watched live by Mr Assange and embassy staff in a link to a press conference from Quito.

Outside Ecuador's embassy in London, the BBC's James Robbins said news was slowly spreading through Mr Assange's assembled supporters and they were delighted.

"The political temperature has risen very significantly. It is clear this is only the beginning of a very long legal contest," he said.
Ecuador has claimed that the British have threatened to raid the Embassy, or use a provision of British law to strip the building of its diplomatic status, but both those moves seem unlikely at this point. At the very least, it seems rather unlikely that the British are going to change their position on allowing Assange safe passage out of the country, which means that Assange will have to stay in the embasssy since the Brits will arrest him the minute he leaves or attempts to board a plane to Ecuador.
The truly odd thing about all of this, of course, is that there are not any criminal charges pending against Assange at this time. All he is wanted in Sweden for is questioning in connection with an alleged sexual assault in that country. In accordance with its obligations under its treaty with Sweden, the United Kingdom agreed to extradite Assange to Stockholm for questioning. Assange, meanwhile, has spent nearly a year now trying to fight extradition and only ran to the embassy when it was clear that his last legal option had run out. Legally, though, it's unclear that he's even really entitled to asylum:
Assange requested diplomatic protection and political asylum under the United Nations Declaration of Human Rights.
Under Article 14 of the Universal Declaration of Human Rights, "everyone has the right to seek and to enjoy in other countries asylum from persecution." However, the second clause of the article states that "the right may not be invoked in the case of prosecutions genuinely arising from non-political crimes or from acts contrary to the purposes and principles of the United Nations."

Assange is not, in fact, accused of political crimes. He is being sought for questioning in Sweden on rape and coercion allegations stemming from separate sexual relations he had with two women in that country in August 2010. One woman told police that Assange pinned her down to have sex with her and that she suspected he intentionally tore a condom he wore. The second woman reported that he had sex with her while she was initially asleep, failing to wear a condom despite repeated requests for him to do so. Assange has denied any wrongdoing, asserting that the sex in both cases was consensual.

His attorneys have been fighting extradition to Sweden because they say the investigation is a ruse to make it easier for the United States to further extradite him to the U.S. to face criminal charges over thepublication of millions of U.S. classified diplomatic cables.

But UK prosecutor Clare Montgomery, who was in an early court proceeding representing Swedish authorities, said that even if the U.S. requested extradition of Assange from Sweden, no such extradition could take place without consent from U.K. authorities.
It's unclear where things go from here because we're in a classic standoff. As long as Assange is in the embassy, the Brits can't touch him without setting off a diplomatic incident that they're unlikely to want to risk at this point. At the same time, though, it's hard to believe that Assange is going to be staying in that embassy forever. It's possible the parties will reach a resolution, but given that Assange would have to consent to the same and he seems entirely uninterested in compromises that are anything but unreasonable (such as Sweden agreeing that they would never extradite him to the U.S., even if charges are brought here). There is some possibility that the Brits could take this to the International Court of Justice to rule on the validity of the Ecuador's grant of asylum, but the wheels of justice grind slowly in that regard. So, for now we've got the Ecuadoreans and the London police in a stare down, and nobody seems willing to blink at the moment.