Julian Assange Seeking Asylum From Ecuador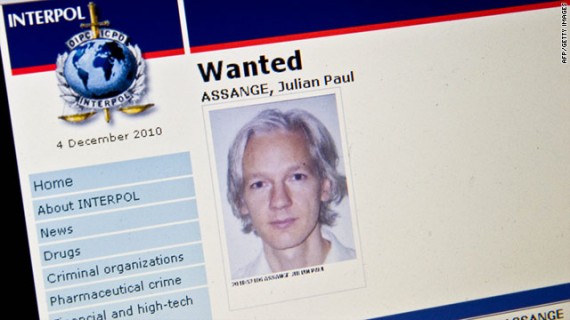 With his appeals to the order extraditing him to Sweden to face rape charges running out, Julian Assange appears to be becoming reckless:
LONDON — The Ecuadorean Embassy here, a small redbrick building behind Harrods department store, became a center of international intrigue Tuesday when the WikiLeaks founder Julian Assange wandered in on a sunlit afternoon, trailing a web of legal and diplomatic complications.

He wanted, according to statements from the embassy and officials in Quito, "protective asylum" from the Swedish and American governments.

Last week, Britain's Supreme Court rejected Mr. Assange's final appeal in his 18-month legal battle against Sweden, which is seeking to extradite him for questioning about allegations of sexual abuse and rape made by two women in Stockholm in 2010. Barring intervention from the European Court of Human Rights, the British justices said, Mr. Assange would be sent to Sweden by midnight on July 7.

The United States, according to persistent reports, has impaneled a grand jury to investigate Mr. Assange over the release by WikiLeaks of hundreds of thousands of classified American military and diplomatic documents in the same year.

In a statement from the Ecuadorean Ministry of Foreign Affairs, Trade and Integration, Mr. Assange said he had sought asylum because his native Australia had declined to protect him from what he hinted were unfair international attacks.

Sweden, he said, is "a place where the highest officials have attacked me openly." In the United States, he said, he is "being investigated for political crimes" that carry the death penalty. WikiLeaks representatives did not respond to messages seeking comment.

Ecuador's administration, which appears to have a warm relationship with Mr. Assange, said it would consider the application, and the embassy said he would remain "under the protection of the Ecuadorean government" in the meantime.

In a statement late Tuesday, the British Foreign Office said Mr. Assange was now "on diplomatic territory and beyond the reach of the police." It would not comment on whether that meant he had effective immunity from extradition, but such warrants are usually enforced by the police.

It is not clear whether Mr. Assange's request at the embassy was made instead of an application to the European court for a last appeal. A lawyer for Mr. Assange did not respond to calls, and British officials could not say whether it would be possible for Mr. Assange to travel to Ecuador in defiance of his bail conditions and an extradition warrant authorized by the highest court in the land.

The sudden move Tuesday represents another narrowing of Mr. Assange's horizons. He, and WikiLeaks, rose to prominence in 2010 on a radical global vision for transparency and openness. But the organization fell from the limelight as a spate of defections left it unable to process and publish fresh leaks.

Mr. Assange was in effect placed under house arrest over the Swedish allegations in December 2010, and he has turned his energy to fighting what one of his lawyers has called a "honey trap" set to silence him, and to raising money for his legal fees.

Friends have said Mr. Assange feels he cannot get justice in Sweden. He is fearful of conditions in Swedish jails, and the prospect of later extradition to the United States, they have said. In speeches, he had joked about running away to Moscow or Havana.

Instead, he chose Ecuador as his potential refuge. He recently interviewed its president, Rafael Correa, on a talk show Mr. Assange hosts on the Kremlin-financed television network Russia Today. The two men bonded, often in fits of mutual laughter, over their disdain for the American government.
This isn't the first time Ecaudor and Assange have crossed paths. Two years ago, as Wikileaks was coming under increased international scrutiny and pressure, the nation offered Assange residence but apparently that never went beyond informal talks. Now, with his options in the UK pretty much at an end, and facing the possibility that he would be removed to Sweden within nine days, Assange has gone somewhere that police cannot get him unless he leaves voluntarily, or the Ecuadoreans tell him to leave which they do not seem inclined to do.  Interestingly enough, Ecuador and the United State do have an extradition treaty so if charges were brought against him here, the U.S. would have grounds to ask that he be turned over. It's unclear if there is an extradition treaty between Ecuador and Sweden, which still intends to try Assange on the rape charges brought against him more than a year ago now.
It's really unclear where we go from here. If Assange stays where he is, then he's essentially untouchable. The Ecuadoreans could even theoretically evacuate him to Ecuador on a diplomatic flight but it's unclear if they'd be willing to thumb their nose and at least three countries in such a brazen manner. So, Julian Assange is likely to be a guest of the Ecuadorean Embassy to the United Kingdom for the foreseeable future.