Jurassic Newt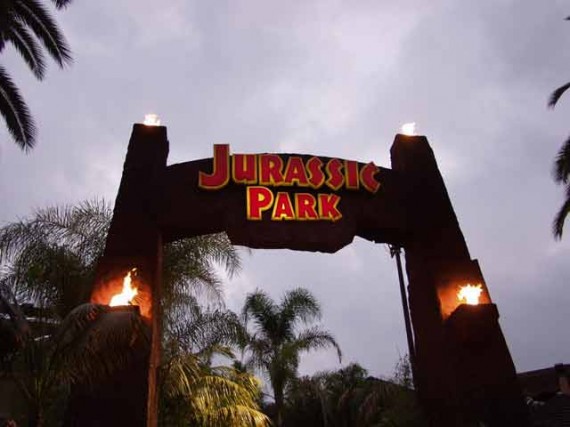 If you thought that Newt Gingrich's idea for a Moon Base that eventually becomes an American state was a bit wacky, back in the 90s the former Speaker was talking about resurrecting the dinosaurs:
The former House speaker has long been known for his boyish enthusiasm for subjects like dinosaurs, zoos and outer space. And in his 1996 book "To Renew America" he even devoted a short chapter to proposals that are, in some cases, directly inspired by popular science fiction.

"Why not aspire to build a real Jurassic Park?" Gingrich asked on page 190 of the book, adding in parenthesis that such an achievement "may not be at all impossible."

"Wouldn't that be one of the spectacular accomplishments of human history?" he continued. "What if we could bring back extinct species?"

In fact, Gingrich argued in the book that we have quite a lot to learn from the works of authors like Arthur C. Clarke and Jules Verne, and despaired those contemporary storytellers like Michael Crichton didn't have the imaginations necessary to inspire Americans.

"Somehow we must reintegrate the scientific with the popular and reconnect the future to the present," he wrote. "This is less a job for scientists, engineers, bureaucrats, and administrators and more a job for novelists, moviemakers, popularizers, and politicians."

Gingrich says that as a boy he was taught by science fiction to believe there was "a whole universe waiting to be learned and explored" and that, having grown older, he still believes "this positive vision of my childhood was the right one."
Apparently, part of that positive vision included the idea of honeymoons in space:
We could also have sex in space.

"I believe that space tourism will be a common fact of life during the adulthood of children born this year, that honeymoons in space will be the vogue by 2020," Gingrich wrote toward the end of the chapter. "Imagine weightlessness and its effects and you will understand some of the attractions."
This was in 1996, and Gingrich dedicated the book to "Marianne, who made it all worthwhile." One imagines, though, that at the time his thoughts about zero-gravity honeymoons more likely involved a young House Committee Aide name Callista Bisek.
Now there's nothing wrong with being inspired by science fiction. I've been a fan of the genre myself since at least middle school. But inspiration and rational public policy aren't always the same thing, and when it's all combined in the mind of a guy like Gingrich who seems to know a very little about a very lot but doesn't know what he doesn't know, it leads to ridiculous flights of fancy.
Besides, I think Dr. Ian Malcom pretty much established the wisdom (or lack thereof to be more precise) of Newt's fascination with resurrecting the dinosaurs: