Moon Base Newt
Wait until you hear about Newt Gingrich's new out of this world idea.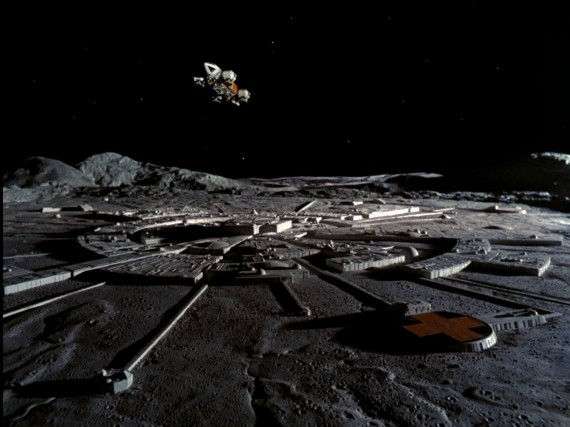 Let's say you're running for President of the United States at a time when the economy is weak, the Federal Budget is a mess, and our infrastructure is badly in need of repair. Let's also say your running in a party that believes in small government and getting the budget deficits under control. What do you do. Why, of course, you propose a massive Federal program to build permanent bases on the Moon by 2020:
COCOA, Fla.–Appealing to residents of the state's economically struggling "Space Coast," Republican presidential candidate Newt Gingrich promised to have a permanent U.S. base on the moon by the end of his second term as president.

To cheers and applause in an area that has suffered major job losses since the cancellation of the space shuttle, Gingrich said, "By the end of my second term, we will have the first permanent base on the moon and it will be American.

"We will have commercial near-Earth activities that include science, tourism, and manufacturing, and are designed to create a robust industry precisely on the model of the development of the airlines of the 1930s, because it is in our interest to acquire so much experience in space that we clearly have a capacity that the Chinese and the Russians will never come anywhere close to matching."

He also said that by the end of 2020, the country would have "the first continuous propulsion system in space" capable of allowing people travel to Mars. "I am sick of being told we have to be timid, and I am sick of being told we have to be limited in technologies that are 50 years old," the former House speaker told the crowd at a "space roundtable" he hosted at a Holiday Inn.

Responding to rival Mitt Romney's criticism of his proposal for a lunar settlement, Gingrich said, "When we have 13,000 Americans living on the moon, they can petition to become a state. And here's the difference between romantics and so-called practical people. I wanted every young American to say to themselves, 'I could be one of those 13,000. I could be a pioneer. I need to study science and math and engineering. I need to learn how to be a technician. I can be a part of building a bigger, better future.' "
As to that last point about statehood for the Moon (or would that be planetoid-hood?), Gingrich may not be aware that the United States has been a signatory to the Outer Space Treaty since 1967 under which the Moon and other outer space "property" is defined as a "common heritage for all mankind," barring any single nation from claiming dominion over it. But there's so much more to it than that. This is Newt Gingrich after all, the guy who once talked about the physical benefits of honeymoon's in zero gravity and talked about space as a tourist destination. It all seems very wacky and, in a nation where Congress spends months in tight battles over how to cut the budget to pay for some new program, pretty much an impossibility under current conditions.
But that doesn't matter to Gingrich, who has his feet firmly planted in the ground of "national greatness" (i.e., big government) conservatism, where the idea of massive national projects like a manned space program, or failing that a war, is the necessary for America to achieve its destiny. Gabriel Malor puts it best with regard to that part of Gingrich's philosophy:
The idea that we must have some culturally significant and symbolic government project to spur the next generation to new heights of blah blah blah is utter crap. The moon race and the space agency incidentally aided other industries. And it eventually gave us Tang and that weird freeze-dried astronaut icecream stuff. Which is very cool and all, but I suggest to you that neither represents a GREAT WORK in the history of mankind that we would be worse off for not having.

(…)

We've been to the Moon. There's nothing there. There was nothing there then and there's still nothing there except the garbage we left behind the first times we were there.

We've scoped and prodded and had our little mouse droids running all over Mars. There's nothing there either. Nothing that would justify spending taxpayer money, anyway, chasing a dream so that Newt Gingrich can call himself "visionary."
That doesn't mean it doesn't make for good politics, though:
Communities along Florida's Space Coast, built on the optimism and industry of the space program, are in economic peril. The area's 12 percent unemployment rate—2½ points higher than the national average—is expected to rise to 15 percent over the next year, mostly as a result of the space industry contraction. Meanwhile, as America dithers, Russia, China, India, and other countries are expanding their shares of the space market.
So perhaps it's no surprise that Newt is bringing this up in Florida. That doesn't mean it isn't an incredibly silly and impractical idea, of course, but at least we know he's a panderer and not some guy who thinks Luna is going to be the 51st state.