Justice Kagan Praises Lawyer Defending Defense Of Marriage Act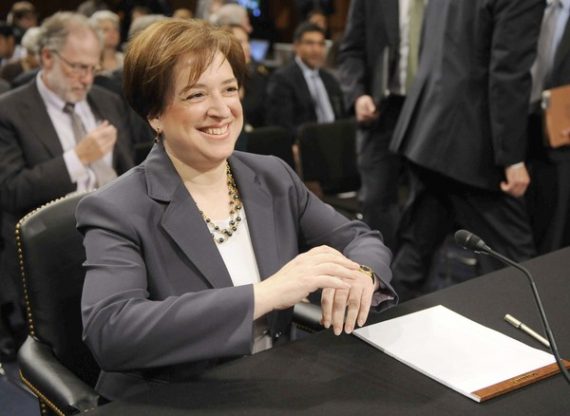 Associate Justice Elena Kagan spoke yesterday about Paul Clement, the former Solicitor General who left his law firm over his decision to take on the defense of the Defense of Marriage Act:
Justice Elena Kagan praised and defended a former Bush administration official's decision to leave his law firm rather than abandon what has become a controversial agreement to defend the federal ban on recognition of same-sex marriages.

At a crowded reception at Georgetown University Law Center on Thursday for lawyers who practice before the Supreme Court, Kagan recognized former solicitor general Paul D. Clement for his "integrity, professionalism and honor."

Kagan said it was not a surprise that Clement would resign from his law firm "rather than abandoning a client." Those who criticize Clement "misunderstand the traditions and ethics of the legal profession," she said.

Clement's client is the House of Representatives, which hired him and the Atlanta-based law firm King & Spalding because of challenges to the Defense of Marriage Act. The firm came under pressure from gay rights groups for agreeing to defend the 1996 law, which forbids the federal government from extending spousal benefits to same-sex couples, even if they are legally wed in their states.

About a dozen lawsuits challenging the law have been filed, but Attorney General Eric H. Holder Jr. said in February that the Obama administration did not consider the law constitutional and would not continue to defend it. The House's Republican leadership then hired Clement.

Clement resigned when his firm said it wanted to back out of the case. He will continue to represent the House as a partner at a different firm, Bancroft PLLC.

(….)

The events have led to a spirited discussion in the legal community about how firms should select their clients and a lawyer's responsibility after accepting a controversial case.

Gay rights groups say they are justified in their efforts to persuade the firm to drop its representation, comparing the same-sex marriage issue to civil rights struggles.

Many in in the legal community — including Holder and now Kagan — have sprung to Clement's defense.

Holder said that Clement was "doing that which lawyers do when we are at our best" and that criticism of the former solicitor general was "misplaced."
Although I defended King & Spaulding's decision to withdraw from the case, I think Kagan and Holder are correct here. Clement shouldn't be condemned for representing a politically unpopular cause, because it's not the lawyer's decision to determine if his client his right or wrong, it's the lawyer's job to zealously represent his client's interest within the bounds of the law. It's only when both sides of the argument receive that treatment that we can be assured that the legal system is working the way it's supposed to.