Karl Rove: Sarah Palin Lacks The 'Gravitas' Needed To Be President
Karl Rove unloaded what may be the beginning of the GOP Establishment's effort to cut a Palin Presidential bid off at the knees.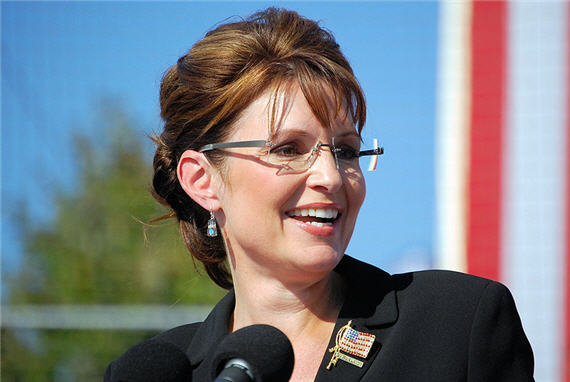 The man credited with George W. Bush's political success in 2000 and 2004 tells the London Telegraph that he doubts that Sarah Palin is up to the task of being President of the United States:
Karl Rove, the former senior adviser to George W Bush, has cast doubt on Sarah Palin's viability as a White House candidate, questioning if the American people thought she had the "gravitas" for the "most demanding job in the world".

Expressing the strongest public reservations about the conservative star made by any senior Republican figure, Mr Rove said it was unlikely that voters would regard someone starring in a reality show as presidential material.

In two weeks, the former governor of Alaska launches a cable television series exploring her home state's wilderness.

"With all due candour, appearing on your own reality show on the Discovery Channel, I am not certain how that fits in the American calculus of 'that helps me see you in the Oval Office'," Mr Rove told The Daily Telegraph in an interview.

He added that the promotional clip for Sarah Palin's Alaska could be especially detrimental to any political campaign. It features the mother of five in the great outdoors saying: "I would rather be doing this than in some stuffy old political office."

Mr Rove, who remains a major force on the US political scene, also implied that Mrs Palin lacked the stomach for the rigours of a presidential primary campaign, which will begin early next year before the first polls in 2012.
In all honesty, I am not at all certain how much appearing in a reality show, or sending your daughter off to appear on Dancing With The Stars, is really going to diminish the public's general opinion of Sarah Palin, mostly because she's viewed so negatively already that's it's hard to believe it could get any worse: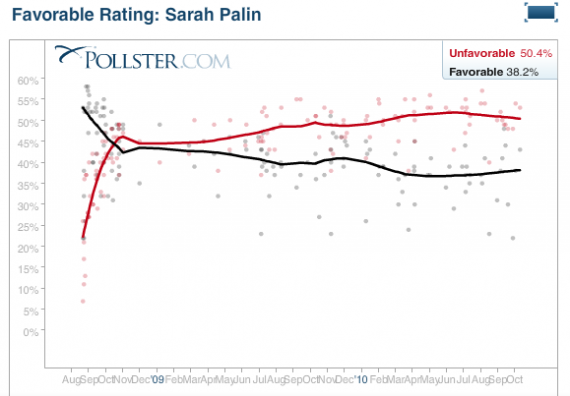 With unfavorable numbers like this, it's hard to think that something as silly as a TLC reality show could really drag Palin's reputation down any further. Nonetheless, Rove has a point when he says this:
[Rove] said Mrs Palin had done a "terrific job" in 2008 when Senator John McCain took her from near obscurity to the vice-presidential nomination, but added: "Being the vice-presidential nominee on the ticket is different from saying 'I want to be the person at the top of the ticket'.

"There are high standards that the American people have for it [the presidency] and they require a certain level of gravitas, and they want to look at the candidate and say 'that candidate is doing things that gives me confidence that they are up to the most demanding job in the world'."
Clearly, Rove does not believe that Palin is up to that job, but one wonders why he's speaking out so bluntly now, especially after he was so roundly attacked by the grassroots after he questioned the nomination of Christine O'Donnell in Delaware. Over at Hot Air, Allahpundit has his theories:
(1) This is pure payback for Palin needling him on the night of O'Donnell's victory, calling him a "good old boy" who's part of the GOP establishment "machine." (2) This is him trying to run down a formidable presidential contender so that his own candidate of choice in the primary will benefit. Who that candidate might be, I don't know, and maybe Rove doesn't know yet either. But Daniels is, of course, a Bush alum, and Rove had some very nice things to say about him just a few weeks ago. (3) This is a ploy to try to reorient Republicans who are leery about Palin back towards the "establishment" and away from the tea-party grassroots. It's one thing for the average conservative joe to harbor doubts about her, but if a guy who helped get George Bush elected twice is hint-hinting that she's disqualifying herself by doing this, it may goose the perception among undecideds that she's unelectable.
It may well be a combination of all three, or at least the last two that are motivating Rove. At the very least, it is a preview of what we can expect to see from the Establishment GOP if Sarah Palin does run for the nomination. It will be an attack, subtle or not, on her qualifications and her (lack of a real) record. Whether it will work or not is questionable given the fact that Palin seems to continue to have very high favorablility ratings among Republicans even while she is viewed unfavorably by the country as a whole. Given that, it's unclear that attacking Palin among Republican voters will have the impact that Rove quite obviously hopes that it will.
Nonetheless, the Stop Palin movement has begun, and if the GOP wants to win the White House in 2012, it would be wise to sign on.