Keystone XL Likely To Pass Senate, But It Won't Save Mary Landrieu
Approval of the Keystone XL pipeline will likely pass the Senate today, and will eventually go forward despite an expected Presidential veto. But, Mary Landrieu's political career is still dead.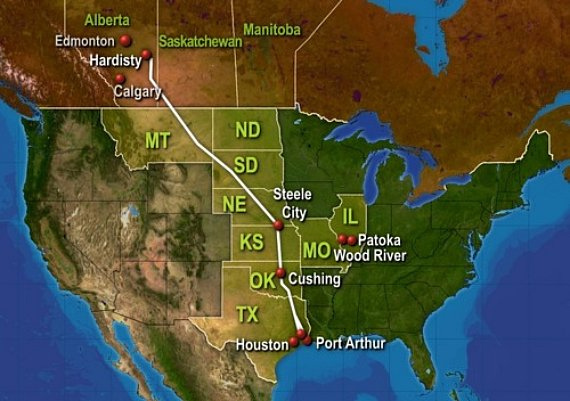 Louisiana Senator Mary Landrieu says that she has the 60 votes needed to advance the bill before the Senate to approve construction of the Keystone XL pipeline, but its unclear where things proceed from there and it seems clear that passage of the bill is not going to help her in her battle with Congressman Bill Cassidy in Louisiana's December 6th runoff:
Louisiana Democratic Sen. Mary Landrieu says she has the 60 votes she needs for the Senate to advance a measure Tuesday that would authorize construction of the Keystone XL pipeline.

Landrieu has been scrambling to attract at least 15 Democrats to join 45 Republicans to reach the critical 60-vote procedural threshold. She told reporters at the Capitol on Monday night that she'd reached that mark.

"I feel very comfortable," Landrieu said.

At least 14 Democrats have said they will support the measure. But it's not clear who has agreed to provide the final vote or whether Landrieu's comments simply reflect optimism.

One of Landrieu's top targets, West Virginia Sen. Jay Rockefeller, said it won't be him. Another target, Maine Sen. Angus King, an independent who caucuses with the Democrats, said he is leaning against supporting the bill.

If she can shepherd the legislation through the Senate, it would allow Landrieu to demonstrate her influence one last time ahead of a Dec. 6 run-off election in Louisiana, where she faces Republican Rep. Bill Cassidy, who sponsored the bill authorizing the pipeline when the House approved it on Friday.
As I noted last week when this process began, it is quite obvious that Senator Landrieu's urgency in proceeding forward so quickly in the wake of a midterm election that sent her into a Runoff Election where she is fighting for her political life is tied directly to her own concerns about her political fate. Even before the midterms, polling was showing that Landrieu was trailing Congressman Cassidy in a head-to-head matchup and, even now as she attempts to show her political power in advancing this bill so quickly, it seems unlikely that she's going to be able to save herself. An internal poll released late last week, for example, showed Cassidy leading in the race by sixteen points, and another poll released yesterday put Cassidy ahead by some twenty-one points. While it's likely that both these polls are over stating Cassidy's lead to some extent, the fact that both national Democrats and, to at least some extent, national Republicans are pulling money out of the race despite the fact that there are still several weeks to go is a strong indication that everyone has concluded that the race in Louisiana is over and that Landrieu's fate is sealed regardless of what happens to the Keystone XL pipeline.
As for the Keystone XL bill itself, the bill has already passed the House so if it does indeed pass the Senate then it will head straight to the President's desk. While the White House has not committed one way or the other, the expectation is that President will veto the bill based on a number of factors ranging from an ongoing State Department review to certain court proceedings in Nebraska. That veto has been a given for some time, however, so it's not entirely a surprise. Additionally, the current Congress does not have enough votes to override the veto, so this would be the end of the issue for this Congress. Despite that, expectations are that the issue will be quickly revived in the new Congress given the fact that the results of Election Day now appear to mean that there is a veto proof majority in both Houses of Congress in favor of the project. That majority would depend, of course, on Democrats who would be willing to vote to override a veto from President Obama. So far, none of the vetoes that President Obama has exercised — which consists only of two bills in 2009 and 2010 when Democrats still controlled both chambers of Congress — have been overridden, so it's unclear whether Democrats in the House and Senate will be inclined to do so in this case. If they do, though, it will be a major step forward for a project that the Obama Administration has sat on for reasons that have more to do with appeasing the environmentalist wing of the Democratic Party than any objections that actually have merit. Mary Landrieu, meanwhile, will have to watch the matter advance from afar because it seems pretty clear that she is not going to be re-elected on December 6th