A Veto Proof Majority In Favor Of Keystone XL?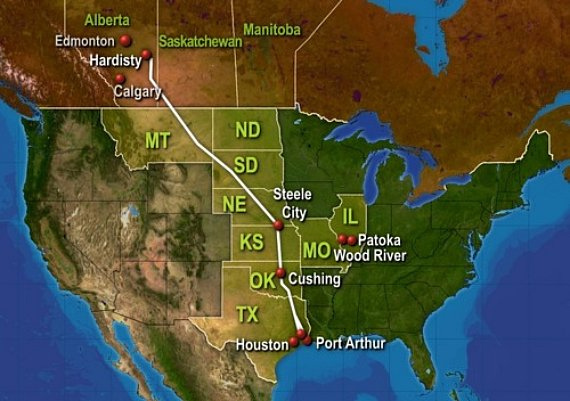 Politico notes that, with the GOP's victories last night and the Democrats who are on record supporting it, there is now a veto proof majority in Congress in favor of the Keystone XL pipeline, a project that the Obama Administration has spent the last five years delaying time after time:
Republicans will command a filibuster-proof Senate majority in favor of the Keystone XL pipeline after Tuesday's election victories — and they could be within striking distance of assembling a veto-proof bloc for the project, increasing their leverage over President Barack Obama.

The GOP says Keystone will be the subject of one of the first votes in the newly GOP-controlled Senate, when Republicans will be able to join forces with several Democrats who have already publicly backed the Alberta-to-Texas oil pipeline.

"I think first order of business is to pass it out of House, Senate, and then finally force the president to make a decision on it," a GOP aide said Tuesday night, adding that "the contrast will be crystal clear" if Obama rejects a pipeline that counts support from more than 6 in 10 Americans in public polls.

"Only then do I think we would rework strategy to secure veto-proof," the Republican aide said.

Here's how the math would work: Before Tuesday's elections, pipeline advocates could count on a solid 57 votes in the Senate, including a dozen Democrats who have previously co-sponsored or expressed support for binding pro-Keystone legislation. Tuesday's victories by Republican Senate candidates Cory Gardner in Colorado, Shelley Moore Capito in West Virginia, Mike Rounds in South Dakota and Joni Ernst in Iowa bring that total to 61.

And if Republicans are feeling ambitious, they could try to pull in four Democrats who previously supported a nonbinding resolution on Keystone during the 2013 budget debate: Chris Coons and Tom Carper of Delaware, Bill Nelson of Florida and Michael Bennet of Colorado. That gets them to 65.

Going beyond that, in hopes of getting a veto-proof 67, would depend on how willing Republican leaders are to add sweeteners to a pipeline bill — and avoid divisive riders on issues like offshore drilling.

But the GOP is banking on not needing to worry about a veto. Republican National Committee Chairman Reince Priebus predicted Tuesday that a GOP-controlled Senate will send a Keystone bill to President Barack Obama as its second order of business, "and I actually think the president will sign the bill."
Republicans would need to proceed carefully on a measure like this because, even after yesterday's big losses, many Democrats are going to be reluctant to cross the President when it comes to something as significant as overriding a veto on a high profile legislative agenda item. Nonetheless, the project itself has polled well across the board nationwide and it could be the case that Democrats would prefer to get the matter off the table before the 2016 elections by coming up with some kind of compromise that would allow them to placate environmental and other interests opposed to the project. Given that, while some pundits have believed that it would take a new President for this project to proceed forward, assuming that it ever did, the new math in both chambers of Congress suggest strongly that this is an area where the new math will allow Republicans to cross off their agenda list something that has been a prominent Republican talking point since before the President took office. Perhaps, in the end, the President will be the one to realize that making a deal here is better for him and his party than fighting a veto battle that he very well could lose, a development that would further weaken a Presidency that is already on its last legs after last night.