Cong. Bill Cassidy Defeats Mary Landrieu In La. Runoff, Extending GOP Senate Majority
A crushing but expected defeat for a veteran Democrat.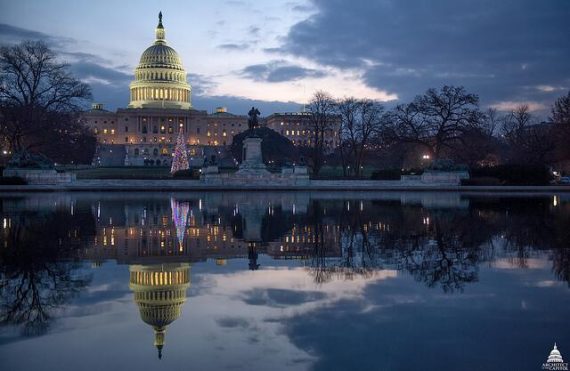 To the surprise of pretty much nobody, Congressman Bill Cassidy has defeated Senator Mary Landrieu in today's runoff election in Louisiana:
In the final insult of a devastating 2014 election for Democrats, Sen. Mary Landrieu, the party's last remaining statewide officeholder from the Deep South, was trounced Saturday in the head-to-head Louisiana Senate runoff election.

Republican Bill Cassidy's resounding victory is the ninth Senate seat picked up by the GOP in this year's elections, three more than the party needed to take control of the chamber. That gives them a four-seat cushion going into 2016, when the party is seeking to protect its first Senate majority since 2006. The next election cycle's Senate map is as bad for Republicans as this year's was for Democrats, with the GOP forced to defend seven seats in states President Barack Obama carried twice.

Landrieu, the three-term incumbent who chairs the Senate Energy Committee, found herself cut off and left for dead by national Democrats after party strategists decided she had no realistic path to victory in Saturday's Bayou State runoff. She lost much of her clout when Democrats lost their majority, and her failure to pass legislation to move forward with the Keystone XL pipeline in the lame duck session last month made her look politically impotent.

Cassidy, a medical doctor, first elected to a Baton Rouge-area congressional seat in 2008, ran an uninspiring but mistake-free campaign that capitalized on increasing hostility to the Democratic primary in Louisiana and throughout the Deep South.

It was the final major race of a 2014 election cycle in which Republicans won nearly every battleground Senate election, gained three governorships and at least 246 House seats. Democrats' efforts to localize many of these contests fell flat, and Republicans succeeded in making the election a referendum on the unpopular president.

Obama — and his 39-percent approval rating in the November exit poll — has been an anchor on Landrieu all year. In 2008, Landrieu won a majority on election night — pulling 205,000 more votes than Obama and avoiding a runoff.

But the reputation she cultivated as a moderate was no match for the increasing toxicity of the Obama brand in the state.

During the open primary election last month, Landrieu won just 18 percent of the white vote, according to exit polls, compared to 33 percent six years ago. She got 42 percent overall; since no candidate earned a majority of the vote, the top two finishers went to a runoff.

Cassidy, 57, ran a low-profile campaign featuring fewer public events. He made the remarkable decision to spend Wednesday and Thursday in Washington for routine House votes, a reflection of his confidence.

The only debate of the runoff took place Monday and produced nothing close to a game-changing moment. Cassidy was awkward and stiff, while Landrieu tried to gin up controversy over him earning $20,000-a-year to practice medicine at Louisiana State University while collecting his congressional paycheck.

Landrieu found herself on the defensive for improperly billing taxpayers more than $30,000 in private charter flights to campaign events since 2002. But the debate mainly focused on the issues that have defined the contest, such as Obamacare, gun control and abortion. Landrieu is on the wrong side of the state's electorate on each.

She made two significant strategic miscalculations. First, she thought she could win outright in November and spent accordingly — burning through almost $16 million, more than double what Cassidy spent. Second, she thought control of the Senate could come down to the results in Louisiana, which would guarantee national Democrats spent millions — or maybe tens of millions — on her behalf.

Neither came to pass.
In the end, the race was called by the Associated Press within a half hour after the polls had closed at 9pm Eastern, as it was already becoming apparent that Cassidy was well on his way to defeating Landrieu by the double digit lead that the limited amount of polling that had been done in the race has been predicting since Election Day at least was showing. In the end, Landrieu never really had a chance, though. She was trailing Cassidy in an expected head-to-head runoff match for weeks before Election Day, and once it became clear that Republicans had gained control of the Senate on Election Night in November, Democrats largely lost interest in doing anything to help Landrieu keep her seat. The Democratic Senate Campaign Committee pulled nearly all its media money out of the state only days after the election, for example, and Landrieu received only limited support from her fellow Democrats when she went to the floor of the Senate in a pathetically desperate effort to secure approval of the Keystone XL pipeline project that fell one vote short of passing the Senate thanks to insufficient support from the Senate Democratic Caucus.
As a preliminary matter, this means that the Republicans have won nine formerly Democratic seats in the 2014 midterms, certainly a wave as impressive as the one that brought them control of the House in 2010, and one that gives them a 54-46 majority in the upper Chamber of Congress when January rolls around. Not only is this larger than many forecasters had predicted we'd see when the process was said and done, yours truly included, but it also potentially bodes well for the GOP's ability to hold on to their Senate majority in 2016. As I've noted in the past, just as Republicans faced a favorable Senate map in 2014 with a number of Democrats seeking re-election in states that Republicans dominate, they face a number of challenges in 2016 with the need to defend seats in states that Democrats typically win such as Pennsylvania, Illinois, and Wisconsin, along with the need to deal with Presidential-year level turnout, which tends to favor Democratic candidates, in states such as Florida and Ohio. Had they entered 2016 with a thin majority like 52-46 or 51-49, Republicans would be in serious danger of losing their majority two years from now. With a 54-46 majority, the GOP has far more breathing room than they would have otherwise and could very well hold on to the Senate regardless of what happens in the Presidential race.
That's two years in the future, though, which is a lifetime in politics. For now, the GOP can revel in what amounts to an astounding election victory. The question now is what they will do with it.