If Republicans Win The Senate, They May Not Hold It For Very Long
If the GOP wins the Senate in November, their majority could prove to be fleeting.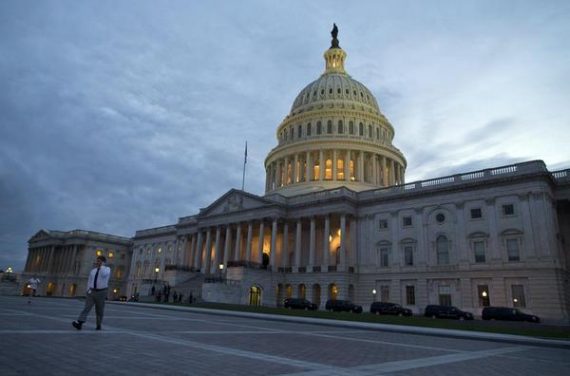 While the attention for the next four weeks is focused on whether the Republican Party will be able gain control of the Senate in November for the first time since the 2006 elections, The Atlantic's Russell Berman points out that any majority they do win could be short-lived, not so much because of what Republicans might do if the win as because of simply mathematics and political reality:
"It's important for Republicans to do as well as they possibly can this fall, because the 2016 election is going to be fought on much different terrain," said Nathan Gonzales, a political analyst at the Rothenberg Political Report.

Senators Ron Johnson of Wisconsin, Pat Toomey of Pennsylvania, Kelly Ayotte of New Hampshire, Mark Kirk of Illinois, Rob Portman of Ohio and Marco Rubio of Florida all will be seeking second terms in states won by President Obama in 2012. Rubio is eyeing the White House and might not run for reelection at all, having said he won't seek both offices at the same time.

Republicans need to gain six seats to win the Senate, and while a complete sweep of races now in play would give them a net pick-up of 10, their majority is most likely to be narrow.

That reality could quickly temper the jubilation for conservatives who have long dreamt of ousting Harry Reid from the majority leader's perch and confronting President Obama on equal footing during his last two years in office.

It would also present party leaders with a critical—and immediate—choice.

"One of the first things Speaker Boehner and Senator McConnell will have to do is sit down and decide how much they want to legislate and compromise versus how much they want to use the floor of the House and Senate to protect their presidential candidates," said Jim Manley, a Democratic strategist and former Reid adviser.

Their decision will have implications not only for Obama's hopes of getting anything through Congress for the remainder of his presidency, but also for the internal dynamics of a Republican Party that has been riven by divisions in recent years.
The six Senators named above, of course, all won election in 2010, which was both a year that was very favorable for Republicans generally and a midterm election year, where turnout generally favors Republicans and is without fail lower than it would be in a Presidential election year. Additionally, several of these states aren't just states that the President won twice in the last six years, they are states that have been strongly Democratic for quite a long period of time. A Republican candidate for President, for example, hasn't won Wisconsin since Ronald Reagan's 1984 landslide and hasn't won Illinois or Pennsylvania since George H.W. Bush was elected in 1988. New Hampshire has gone for the Democratic nominee in five of the last six Presidential elections stretching back to Bill Clinton's 1992 victory there. Florida and Ohio, of course, have more traditionally been toss-up states in the recent past, although Ohio has been won by a Democratic in four of the last six elections and Florida has been gone blue in three of the last six (with the 2000 result, of course, being incredibly close). This means that the Republicans seeking re-election in those five states are likely to face an uphill battle, with this being especially true for Johnson in Wisconsin Kirk in Illinois, and Toomey in Pennsylvania. The others, Ayotte, Portman, and Rubio, would still face a tougher battle than they did in 2010 but it is honestly quite easier to see them pulling off a victory than the Senators running in states that are most assuredly going to fall into the Democratic column in the Electoral College.
Along with this more daunting electoral math, Republicans could find themselves faced with the possibility of having to find entirely new candidates to run in some of these states. As noted above, Marco Rubio has hinted that he might not run for re-election if he runs for President. Along the same lines, and not on the list above, Kentucky Senator Rand Paul would be barred by state law from simultaneously running for re-election and for President in Kentucky, meaning he may have to make a choice between the two unless the law is changed in the next year or so. Additionally, and probably more immediately, there is the case of Illinois Senator Mark Kirk. As you may recall, Senator Kirk suffered a stroke in January 2012 that left him unable to perform most of his duties for the better part of a year. Thankfully, Senator Kirk has recovered sufficiently to resume the duties of his office, but there has been some speculation that he may decline to run for re-election. If that happens, then it's unclear who Illinois Republicans could put up in his place, especially if a popular statewide politician like Attorney General Lisa Madigan ends up running on the Democratic side of the ballot. Republicans could also face vulnerabilities in North Carolina, where Richard Burr will be up for re-election, Iowa if Charles Grassley declines to run for re-election, and Arizona if John McCain declines to run for re-election. In other words, Republicans will be facing a somewhat daunting Senate map in 2016 that suggests at this very early stage both that they would be unlikely to make any further gains and that they could face the prospect of enough losses to cost them the majority they might win in 2014.
On paper, it would appear then that Republicans will need to count on a few things when 2016 rolls around if they want to keep the Senate. First of all, this year they would likely need to win more than just a bare 51-49 majority, and even a 52-48 majority would be vulnerable to losses in the states noted above. To be safe, I would guess that Republicans would need at least a 53-47 majority coming out of 2014 in order to have some assurance that they could hold a majority in two years. With that kind of number, or something better of course, they could afford to lose a seat or two without losing the majority. Second, as Berman notes above, the House and Senate leadership will need to calculate the impact of any proposed agenda on the 2016 election. This was going to happen in any case, of course, but it would be especially true in the case of holding on to Senate seats in states where Democrats are likely to be stronger in 2016 than they were in 2010 or are likely to be this years. Finally, of course, they are going to need no small degree of luck. Obviously, the situation on the ground will be much better if 2016 turns out to be a year where the Republican nominee is competitive in states like Ohio and Florida but that's going to require a nomination process that doesn't push the nominee to the right the way that Mitt Romney was pushed to the right in 2012. The final note, of course, is that if the Republicans don't win the majority in the Senate this year, it's unlikely that they will in 2016 either, and even the math for 2018 isn't entirely favorable for them.
The Senate has been quite fluid in terms of party control since the beginning of the Bush Administration, of course, and this is just a reflection of that fact, but it seems quite apparent that Republicans probably shouldn't get too comfortable in the majority if they do manage to win this year.