Koch Brothers Donation Brings Attention To Inadequacies Of Indigent Criminal Defense
The Koch Brothers are putting money behind an effort to reform a part of the legal system that is ignored far too often.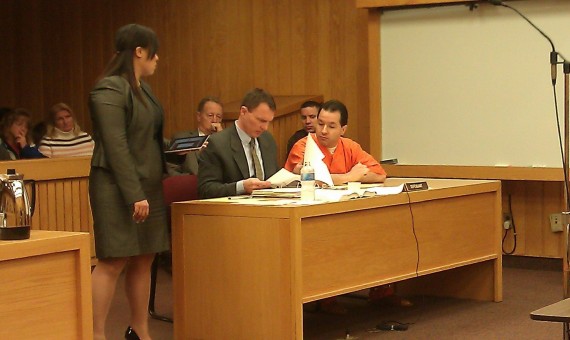 The Koch Brothers are putting their money behind an effort to revamp and improve the public defender system throughout the country:
The Koch brothers have been pouring tens of millions of dollars into efforts to elect Republicans next month. Now they are directing money to a more obscure cause.

Koch Industries, in partnership with the National Association of Criminal Defense Lawyers, is financing a program to provide scholarships and training for public defenders. The grant will also pay for a review of indigent defense programs to see what works in providing legal representation to those who can't afford it.

Charles G. Koch, the chairman of Koch Industries, said in a statement that the grant was a way "to make the Sixth Amendment's guarantee of an individual's right to counsel a reality for all Americans, especially those who are the most disadvantaged in our society."

The company's interest grew out of its own experience during a criminal case in Texas and underscores a growing area of common ground between conservatives and progressives on criminal justice issues like sentencing reform.

Officials with Koch Industries and the lawyers association would not disclose how much was being spent, but said it was in the six figures.
By and large, the men and women who work every day in public defenders offices across the nation are good attorneys who are doing their best to try to ensure that people who are accused of crimes are getting the best defense, and the best legal advice, possible. Having spent some time many years ago dabbling in criminal law as a private attorney, I can attest to the fact that it is often difficult, thankless work and that many of the clients you run across are, shall  we say less than desirable. Desirable or not, however, the Sixth Amendment, and the court cases that have interpreted over the years, provides that they are entitled to be defended when accused of a crime that, under the law, they are considered to be innocent of until proven guilty beyond a reasonable doubt. Quite often, representing a criminal defendant means raising the kinds of defenses that could end up freeing someone who may have actually committed a crime, or getting them a deal that greatly reduces the charges against them and the time that they might spend incarcerated. This happens most often, though, when there is insufficient evidence to convict, or when there has been misconduct by the police or prosecutors that constitutes a violation of the Defendant's rights. Because of that, these criminal defense attorneys quite often earn the scorn of the public because of their role in freeing a "guilty" person when, in reality, they are performing an essential Constitutional function.
All that being said, the state of America's public defender system is, in a word, pathetic. In most major cities the offices, while staffed by able and competent attorneys, including many who go on to have stellar legal careers in the private and public sectors, are generally understaffed and overworked. In less populated areas of the country, the offices are even more over-worked or they don't exist at all, meaning that the job of providing a defense to people who are accused of a crime but can't afford an attorney falls on local lawyers who agree to service either pro bono or at fees that are greatly reduced from what they normally charged. They operate in an environment where the state has virtually unlimited resources for forensic analysis, DNA experts, psychologists, and a whole host of other experts. By contrast, depending on the state public defenders and pro bono defenders have to beg the court for approval for the funding to hire even a single expert on their client's behalf, even one that could be crucial to their defense. This, along with the fact that, unfortunately, some of the people who end up defending indigent criminal defendants don't measure up to the appropriate levels of competence even when they aren't overworked, is one of the reasons why we see so many stories about people who have been held in prison. and even on Death Row, even though subsequent analysis of the evidence in their case makes clear that there's no way they could have been guilty of the crime. It's also a problem that cuts across partisan boundaries; it is as much of a problem in deep blue New York and Illinois as it is in purple Virginia and deep red Texas.
Unfortunately, reforming the indigent criminal defense is not exactly a political priority. Politicians are more interested in being tough on crime than allocating money for the people who defend the criminals that their ever expanding network of criminal statutes bring before the courts, and who wants to be known as the guy who gave more money to lawyers who "defend criminals"? In some states, this is resulted in public defenders going on temporary work stoppages in order to bring public attention to the issues they face, and in some cases, to courts stepping in and ordering that the states provide better funding for a program that is essential to the functioning of the criminal justice system. That's why its good to see programs like the ones that the Koch Brothers are donating to here. The money they put into it won't solve all the problems, of course, but it's a start and, maybe, it will help draw attention to an issue that most people ignore.