There's a Criminal Defense Crisis In New Mexico, And Nobody Seems To Care
Public defenders in New Mexico are overworked, underfunded, and outmatched, but then that's true pretty much everywhere in the country.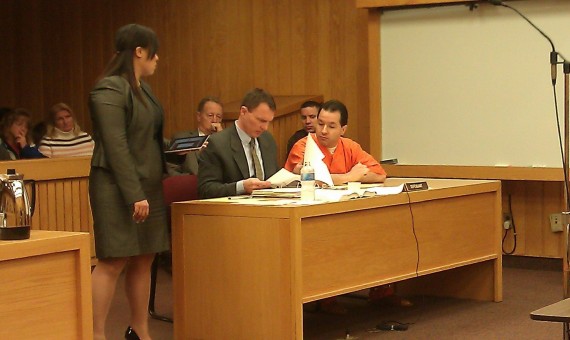 New Mexico is experiencing a crisis that goes to the heart of the integrity of its criminal justice system, and nobody seems inclined to do much about it:
HOBBS, N.M. — When Bennett J. Baur, New Mexico's chief public defender, took office in April, he set out to review the workload of every lawyer on his team, ahead of another year of belt-tightening in a state whose budget has been crippled by the slump in oil and gas prices.

One place stood out: Hobbs, the largest city in Lea County, a misshapen rectangle speckled by pump jacks in the oil-rich Permian Basin, along the edge of western Texas. The number of felony cases in Hobbs had almost doubled since 2011, rising through the oil boom and bust even as the number of public defenders dropped by one-third in only three months.

In October, Mr. Baur ordered his lawyers here, who on average were representing 200 defendants each, to stop taking any new cases. It was a desperate and unprecedented step in this state, which triggered a nasty legal fight that has roiled this town of 43,000 for months.

"We have to turn off the spigot," Mr. Baur said. "It is unconstitutional, inefficient and, frankly, not fair to represent more people if we can't give them a functioning attorney."

Lisa Kuykendall, Lea County's chief deputy district attorney, called Mr. Baur's decision to stop taking on new cases an "abdication of their statutory duty" and an affront to the more than 250 indigent defendants who have appeared in court to respond to criminal charges only to hear their lawyers tell judges, who are themselves working longer hours, they cannot do the job.

"We're all doing a lot more with a lot less," Ms. Kuykendall said.

Late last month, a district court judge found Mr. Baur in contempt of court, forcing the public defenders to go back to taking on cases. So the lawyers changed strategy. They started showing up in court and immediately asking judges to dismiss the cases without prejudice, meaning that the cases could still be filed later on.

So far, none of the judges have granted their requests.

And the crisis continues.

Poor defendants almost always make a first court appearance on their own, without a lawyer present to interpret the charges against them. Routinely, they meet the public defenders assigned to represent them only moments before they are supposed to negotiate critical decisions, such as a plea deal or the conditions for their release.

Public defenders contend that they are unable to properly prepare for hearings, thoroughly interview witnesses, evaluate the evidence against their clients or file the correct motions because they are stretched way too thin.

There is no relief in sight. Already confronting a $1.3 million shortfall this year, the courts are preparing for more cuts. Earlier this month, Arthur W. Pepin, director of the state's Administrative Office of the Courts, asked magistrate and district judges to send him a memo listing ways they can trim expenses further.

"We are strained and we consistently hear prosecutors and public defenders tell us there are not enough of them to do the job that they ought to do," Mr. Pepin said. "We've reached a point where the judges have grave concerns about the system's ability to deliver justice."

Mr. Baur had tried cajoling defenders assigned to other parts of the state to move to Hobbs, where housing remains relatively expensive and scarce. He had met with judges and the Lea County district attorney, Dianna Luce, to brainstorm solutions. He had advertised for two open positions and two new slots, hoping to bring the number of lawyers in the office to eight.

Months passed and no solution was in sight. One new hire resigned a week ahead of his start date. Most applicants, Mr. Baur said, were not even qualified enough to be interviewed. One who got hired this month was not experienced enough in criminal trials to take on a full caseload.

By then, Mr. Baur had already taken the dramatic step of turning down any new cases. "There's no cavalry going over the hill," said Mr. Baur (pronounced BOW-er). "We're going to have to figure this out on our own."

At the same time, the City of Hobbs finds its budget in the black. Having learned their lesson from previous boom-and-bust cycles, its leaders decided to set aside a third or more of what the city was taking in during the flush times. The saving has helped to hire new police officers, which has led to additional strain on the state-run courts.
What's going on in this one county is New Mexico isn't at all uncommon. Across the country, public defenders and attorneys whose primary clientele consists of representing people who cannot afford attorneys by placing themselves on the court-appointed list find themselves overworked, underpaid, and outmatched by prosecutors offices that have access to an essentially unlimited budget. They are overworked because there are usually only a handful of attorneys willing to take on the thankless task of representing people charged in criminal cases, and even fewer willing to do so for compensation far below what they could likely earn from representing the public at large. Attorneys who work in public defenders offices, for example, generally earn less than their private sector counterparts and private sector attorneys who agree to place themselves on the court-appointed list for indigent Defendants find that the compensation they receive is far below what they could charge a Defendant who came into their office off the street. They are unpaid because, for the most part, paying for the defense of people charged with crimes is politically unpopular, with many members of the general public apparently believing that there's something wrong with attorneys who represent criminal defendants to begin with. And, finally, they are outmatched even when they do try to do their jobs by prosecutors who have access to expert witnesses and other tools that attorneys typically use thanks to a virtually unlimited budget while public defenders and court-appointed counsel must generally receive court permission to use state funds to hire experts who might assist in their representation of their clients, or at least point out flaws in the analysis of experts employed by the state. The result is that, even when publicly-funded defense lawyers are being as zealous as possible in representing their clients, they are essentially doing so with one hand tied behind their back. '
One unfortunate consequence of this system, of course, is the impact it has on the quality of the defense that indigent defendants receive. Because of all the disincentives and road blocks noted above, few attorneys volunteer to represent indigent Defendants, and those that do are seldom among the best in their profession. The reasons are easy to understand, of course. When you can make twice as much, or more, in private practice as you can representing the poor charged with crimes, there's an obvious incentive process at work. Additionally, even when it is the case that public defenders and court-appointed counsel are highly competent and skilled attorneys — and to be fair that is quite often the case, especially in cases involving serious and high-profile crimes — the fact that the case loads these attorneys are working with are so full means that they simply can't give their clients the amount of attention that they otherwise might like to in order to represent them as zealously as possibly. The result is that these attorneys often have the incentive to push their clients into accept plea deals rather than forcing the state to prove its case on the merits, and are often forced to walk into court with only a minimal amount of time to prepare for a trial during which their client may end up facing conviction and years in prison. Then, of course, there are the cases where the public defender or court-appointed attorney is grossly incompetent, such as infamous cases from jurisdictions such as Texas where we've found cases where defense counsel were falling asleep during trial or making obvious mistakes that deprived their clients of the right to a fair trial. In some cases, these errors and omissions were caught on appeal and defendants given another trial, but one can only assume that those case are but a handful of the cases where an under-funder, overworked, and outmatched criminal defense bar is failing to do what we need it do.
As I've said before, the criminal defense attorney is a crucial part of our Constitutional system:
The Sixth Amendment guarantees every person accused of a crime the effective assistance of counsel. The Seventh Amendment guarantees the right to trial by jury. Both of these provisions, as well as the other parts of the Bill of Rights, and the two centuries of case law that have expounded on them and interpreted their meaning and application, stand for the proposition that each person accused of a crime is innocent until proven guilty, and they are entitled to require the state to prove the case against them beyond a reasonable doubt. It's the job of the criminal defense attorney to ensure that those rights are protected by being the person who presents the court with the arguments and evidence that tends to call the state's case into doubt. There are limitations, of course. A defense attorney, any attorney actually, is not permitted to lie to the Court by presenting false testimony or evidence or misrepresenting the law, and they aren't permitted to knowingly allow their client or any other witness to permit perjury. All of this is designed to ensure as much as possible that only someone who is actually guilty of a crime is punished, even if it means that someone who is factually guilty goes free because of what some people derisively call "technicalities." Those technicalities are your Constitutional rights.
Public defenders and court-appointed attorneys are an important part of this process because they help make sure that the system works fairly for all defendants regardless of whether or not they can afford an attorney. When the system fails the way it is so obviously in Hobbs, New Mexico, and in countless other jurisdictions across the country, everyone's rights are adversely impacted.