Lady Gaga Stole My Pie
The super rich have a lot larger share of total income than they did a generation ago. Are they taking it from the rest of us?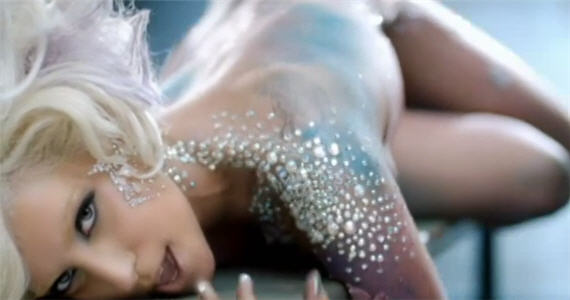 Kevin Drum takes on Will Wilkinson's assertions that America's rising inequality is greatly exaggerated by an over-focus on the top 1% and poor statistical measures that don't account for the lowered cost of goods.   While granting that there "are bits and pieces of truth" to this, Drum counters "there's still the raw fact that the flow of money in America has changed dramatically over the past few decades," a point he illustrates, naturally, with a chart: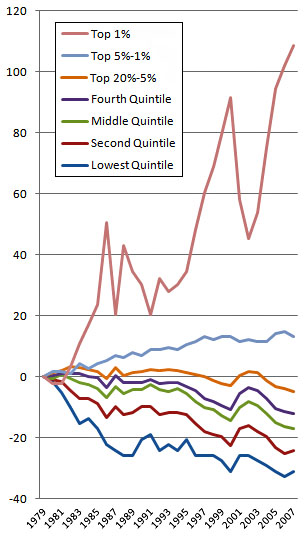 He concludes:
If you look at the raw CBO figures, they show that a full tenth of the national income has shifted since 1979 to the top 1% of the country. The bottom quintiles have each given up a bit more than two percentage points each, and that adds up to 10% of all earnings. That 10% has flowed almost entirely to very tippy top of the income ladder.

Is the middle class worse off because of this? Of course they are. Income matters even if plasma TVs are cheaper than they used to be or if CPI mismeasures middle class consumption or if average households now contain 2.6 members instead of 2.7. If this massive income shift hadn't happened, middle class earnings would be higher, they'd be able to buy more stuff, and they probably wouldn't be in debt as much. And the top 1% wouldn't have quite so much idle cash lying around to do stupid things with.

This income shift is real. We can debate its effects all day long, but it's real. The super rich have a much bigger piece of the pie than they used to, and that means a smaller piece of the pie for all the rest of us. You can decide for yourself if you think this is something we should just shrug our shoulders and accept.
But this seems to ignore the fact that the pie is a hell of a lot bigger than it was in 1979 and assume that those in the top 1% had nothing to do with that fact. (Full disclosure: I'm not in the top 1% and had very little to do with growing the pie.) Not to mention that these graphs trick the reader into thinking these income groups are static, consisting of the same people over the course of the movement.
Is it really true that Bill Gates, Warren Buffett, LeBron James, and Lady Gaga are taking some of my pie?  Because, damn it, I like pie.  And I'm not sure what it is that Lady Gaga does, so I'm really annoyed if she's getting some of my pie.   Yet, I haven't noticed any of my pie missing and can't offhand figure out how they'd have gotten into my kitchen.
Granted, Gates charges a lot for his software, even though it's sometimes buggy.   And I've bought quite a bit of it over the years.   But no one held a gun to my head.  And, I'm not sure how we'd have gone about lowering his margins so that I could have more pie.
Is the cost of stock going up because of Buffett's big buys?  Otherwise, Jimmy Buffett has more of my pie than Warren does.  And Jimmy's welcome to come over for pie any time.
Presumably, James' high salary and endorsement compensation are somehow being passed on to us in the cost of the products we buy.   But, since we're apparently willing to pay those prices, wouldn't somebody else be getting the excess profits?
And I haven't bought a record album in quite some time (which you might have guessed by my calling them "record albums") and sure as hell haven't bought any of Ms. Germanotta's stuff.   If it were being played on the radio, I wouldn't recognize it.   So, I'm pretty sure her success hasn't come at the cost of my pie.
Now, of course, we could go back to the days of 90% top marginal rates–or, more realistically, 39% top marginal rates–and take some of their pie and pass it around a bit.   But, even if I were on board with doing that, I'm pretty sure that I wouldn't get any of it.  There might nonetheless be good reasons for doing that.   But they don't have anything to do with my pie.