Latest Attempt To Fix DACA Fails In The Senate
Congress is no closer to a resolution of the DACA fix than it was earlier this year.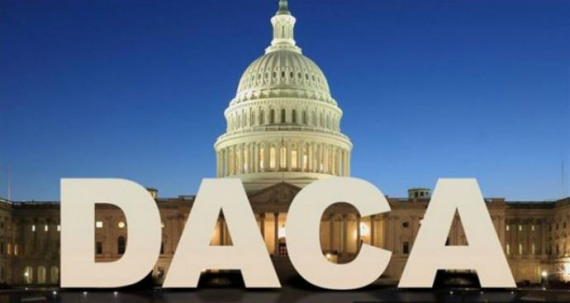 For the second time in as many months, the Senate has failed to pass a bill to address the status of beneficiaries of President Obama's Deferred Action For Childhood Arrivals (DACA) program:
A short-term fix for a key Obama-era immigration program was blocked in the Senate on Tuesday for the second time in roughly a week.

Sen. Jeff Flake (R-Ariz.) tried to pass legislation that would extend the Deferred Action for Childhood Arrivals (DACA) program for three years while providing $7.6 billion in border security funding.

Flake said while it was his "strong preference" for Congress to pass a permanent fix, such an agreement has so far eluded lawmakers.

"It's clear that we cannot achieve this goal right now and no one is more disappointed about that fact than me. I'm the first to admit that this solution I proposed is far from perfect, but it provides a temporary fix," he said.

But GOP Sen. David Perdue (Ga.) blocked Flake's request, saying a short-term fix would be a "failure."

"It's my opinion that we should take that time right now and continue to work on the permanent DACA solution as well as the other legal immigration issues that we know are with reach rather than settling for a temporary solution," he said.

The back-and-forth on the Senate floor comes as the debate on the DACA program has largely stalled.

Flake made a similar request on the floor last week but GOP Sen. James Lankford (Okla.) objected.
It was just under a month ago, of course, that the Senate rejected four separate proposals that would have provided a more permanent solution to the DACA problem and ever since then, the prospect for any real progress on this issue in Congress has become less likely as time goes on. Initially, it appeared that the prospect of a deadline of March 5th for action seemed as though it would spur Congress to act but that has proven not to be the case. To some degree, this is due to the fact that injunctions issued by Federal Courts in San Francisco and New York City that bar the Trump Administration from taking any action against DACA beneficiaries. The Trump Administration had responded to those ruling by attempting a direct appeal to the Supreme Court asking the Justices to lift the injunction, but the Supreme Court allowed the injunctions to stand. What this effectively means is that the Trump Administration's order to end the DACA program is effectively on hold pending further litigation. While this is good news for DACA beneficiaries, it effectively means that there is no reason for Congress to act at this time and that the prospect for any kind of a long-term fix for DACA or other action on immigration is unlikely.
At this point, it's difficult to see any viable path forward on DACA or any other immigration issue. The so-called Common Sense Coalition, a bipartisan group of Senators whose original proposal came the closest of any that have been before the Senate this year to getting the sixty votes necessary to survive a cloture vote, hasn't come up with any new ideas and I'm not even sure if they are still even talking about the issue anymore. Even if they did manage to come up with a plan that could pass the Senate, though, it's unlikely that package would pass the House of Representatives. Over on that side of the Capitol, immigration hardliners are a strong voice inside the Republican caucus appear to have drawn a line in the sand against any proposal that would include a path to citizenship for DACA beneficiaries or any other undocumented immigrants. This stands in contrast to not only the proposals that have been considered in the Senate but also the proposal that was put forward by the White House. President Trump. Alternatively, the proposal that the immigration hardliners in the House are pushing would bar DACA beneficiaries from becoming citizens and mandate that all employers participate in the E-Verify program to ensure that only people legally entitled to work are can gain employment. That proposal, of course, would not make it through the Senate and would likely be opposed by many Senate Republicans as well as the entirety of the Senate Democratic Caucus. President Trump, meanwhile, has said he would veto any bill that didn't include all the provisions contained in the White House proposal, and it's unlikely that Congress would be able to override that veto.
In a normally functioning Washington D.C., of course, there should be room for some kind of compromise that could pass the House and the Senate and which the President would sign into law. Such a compromise would combine the ideas that the Senate's Common Sense Coalition has put forward with both the White House proposal and the position of the hardliners in the House. For that to happen, though, all the parties need to sit down and actually attempt to come up with something agreeably enough members in both the House and Senate to get through both bodies. That's not likely to happen, though, without the active participation of the President of the United States. Right now, though, it is apparent that President Trump is not inclined to get involved and that, notwithstanding his rhetoric, doesn't really care about the DACA beneficiaries. As long as that's the case, nothing is going to happen.