LeBron James Becomes NBA's All-Time Scoring Leader
What was once impossible, then inevitable, has now happened.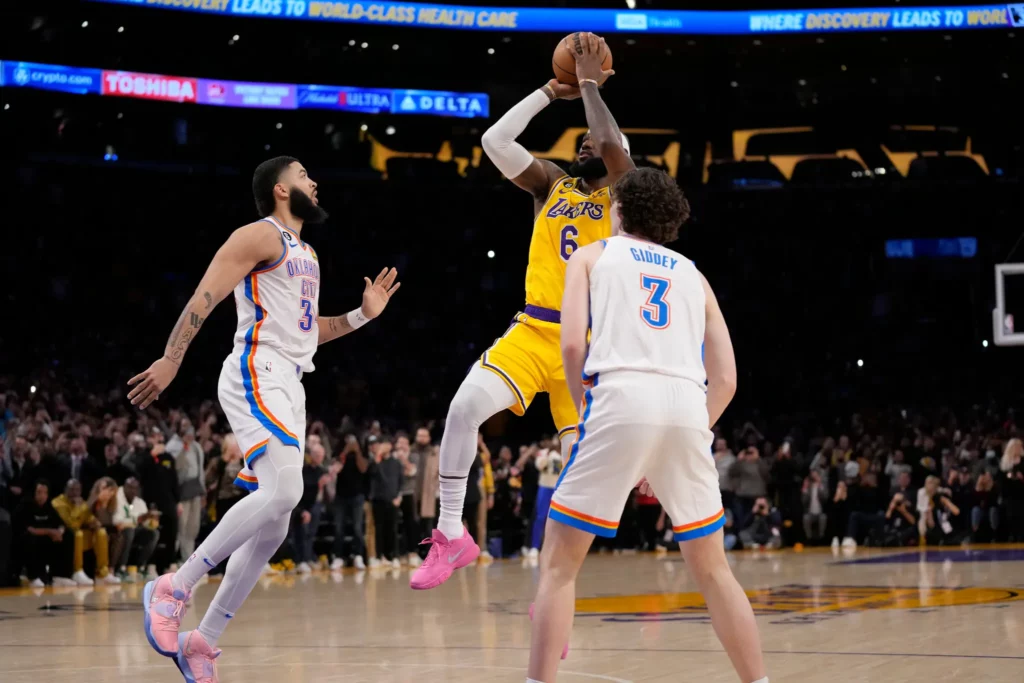 The basketball star LeBron James, subject of a post the very first day of OTB's existence while still in high school and a whole lot more since, has broken a record many thought unbreakable: Kareem Abdul Jabbar's 39-year-old scoring record.
NYT ("LeBron James Breaks Kareem Abdul-Jabbar's N.B.A. Scoring Record"):
Lakers forward LeBron James is the leading scorer in N.B.A. history after breaking Kareem Abdul-Jabbar's career record of 38,387 points, a feat that once had seemed impossible for anyone — but James has become known for making the improbable part of his routine.

He broke the record on a fadeaway 2-point shot in the final seconds of the third quarter of Tuesday night's game against the Oklahoma City Thunder. James extended his arms out like he was flying as he jogged back toward the other basket. Then he raised them up and looked up into the stands at the thousands of people who had come to see him make history.

He paused for a second, bent over, rested his hands on his knees and smiled as his family and friends jumped out of their seats in celebration and joined him on the court. He had tears in his eyes.

"I felt like I was sitting on top of the arena tonight," James said in his postgame news conference. He added, "I can probably count on my hands how many times I've cried in 20 years, in happiness or defeat."

James said Tuesday night's tears came because he could not believe what was happening.

The record had seemed to be set in stone, untouched for decades even by greats like Michael Jordan and Kobe Bryant. But the 38-year-old James, in his 20th season, is still pouring in points as one of the best players in the N.B.A. Since the Cleveland Cavaliers drafted him No. 1 overall in 2003, he has made thousands of dunks, fadeaways, free throws, 3-pointers, hook shots and everything in between. And now, with his latest act of defying the odds of his age, James will bolster his supporters' claims that he, and not Jordan, is the best player ever.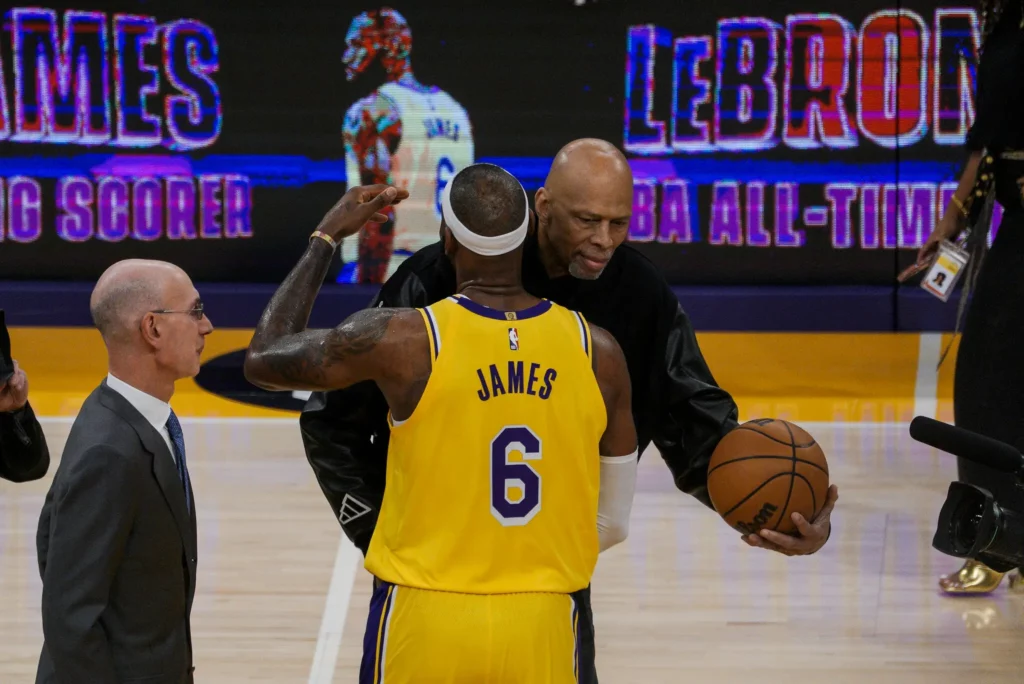 To be sure, it's a different game than it was for most of Jabbar's career. The rules have been written to favor scoring, with the incredibly physical defensive styles of yore outlawed. And the 3-point line, now at the forefront of the game because of analytics, didn't exist until halfway into Jabbar's tenure and was considered a gimmick (Jabbar only had 1 his whole career; James is at 2237 and counting). Further, James was able to enter the NBA right out of high school, while Jabbar (then Lew Alcindor) had to spend four years at UCLA first.
James also had to endure challenges Jabbar didn't. The NBA postseason, which James has participated in just about every year—going to the Finals ten times—is longer. Plus, he's represented his country in three Olympics and a FIBA World Championship, demands that pro players didn't have in Jabbar's day. Crucially, those postseason baskets don't count toward this total, which is for regular season games only.
While both Jabbar and James achieved their milestone the same way—by being great longer than other players' bodies were able to sustain—James is much closer to his peak than Jabbar was in his final years. Indeed, James is still the best player on his team and, on many nights, still the best player in the league.
Even more impressively, unlike Jabbar, James isn't even primarily known as a scorer. Indeed, he's known for being unselfish—sometimes, to a fault. He's fourth on the all-time assists list, with 10354; Jabbar is 48th, with 5660.
Regardless, it's quite likely James plays another three seasons at a high level. If so, he should easily put the scoring record over 40,000. The closest active player to him, Kevin Durant, is almost 12,000 points behind him and poses no threat.