Less Than 1/3 Of Young Uninsureds Say They Will Sign Up For ObamaCare
Millenials don't seem very concerned about signing up for ObamaCare, and they're not very thrilled with Obama at the moment either.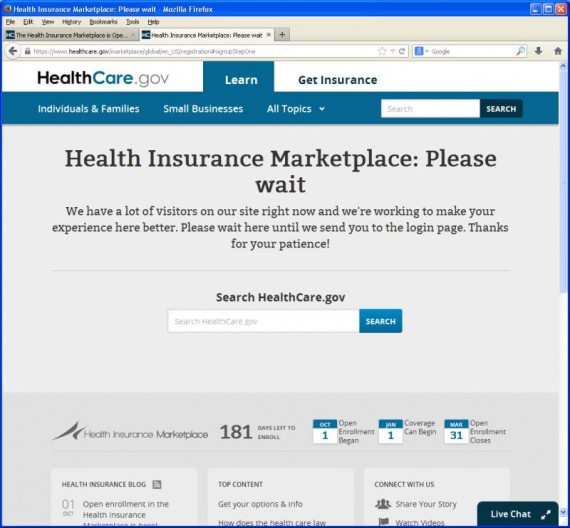 As I've noted before, one of the most critical parts of the ongoing open enrollment period for the insurance offered through the Federal and State exchanges set up pursuant to the Affordable Care Act is the question of both how many people will sign up and who will end up signing up. The Obama Administration has set a goal of some 7 million people signing up by the end of the open enrollment period on March 31, 2014, for example, and at least at the moment the pace of the enrollment remains far below that goal. Just as important as the number of people who sign up, is the importance that they sign up people from the right demographic groups. Specifically, it's generally accepted that an insurance pool that ends up being unbalanced when it comes to age could end up being a potential problem going forward due to the fact that a lack of relatively young, healthy, insureds is likely to lead to an unbalanced risk pool that will result in higher premiums for everyone going forward. In other words, the success of the plan largely seems to depend on getting the so-called "Millennials" to sign up for and purchase health insurance.
So far, none of the data we've gotten from the Administration has shown any kind of demographic breakdown regarding who's signing up for insurance but, a recent poll seems to indicate that the "Millennials" aren't exactly rushing to get on board:
Fewer than one-third of young, uninsured Americans say they are leaning toward enrolling in a health-care plan under the new Obamacare exchanges, according to a new poll — a number that, if it holds, would present huge problems for the new law.

In order to keep costs down, the Affordable Care Act relies on younger, healthier people signing up for coverage to offset the costs for older, sicker Americans.

But a Harvard University Institute of Politics poll shows just 29 percent of uninsured 18-to-29-year olds say they will definitely (13 percent) or likely (16 percent) enroll in the Obamacare exchanges. When the question describes the law as the "Affordable Care Act" rather than Obamacare, just 25 percent say the are leaning toward enrolling or will enroll.

About the same number say they're unlikely to or definitely won't sign up. Another four in 10 say it's a 50-50 proposition.

Not enrolling would subject these people to a penalty under the individual mandate, but in the law's first year, the penalty is relatively small.

The slow pace of enrollments among young people has already been cause for concern. The White House has estimated that it needs 40 percent of enrollees to be under 35 years old, but early numbers in states where data is available suggest that that number is closer to about 25 percent.

This is despite ad campaigns that have been geared toward signing young people up. The most notorious of these campaigns featured young men who appeared to be college-age participating in a keg stand.

More broadly, young people's opinions of the health-care law are pretty much on par with their older cohorts.
Digging deeper into the poll, one finds that these younger Americans have soured both on President Obama and on his signature health care law:
Obama's approval rating among young Americans is just 41 percent, down 11 points from a year ago, and now tracking with all adults. While 55 percent said they voted for Obama in 2012, only 46 percent said they would do so again.

When asked if they would want to recall various elected officials, 45 percent of millennials said they would oust their member of Congress; 52 percent replied "all members of Congress" should go; and 47 percent said they would recall Obama. The recall-Obama figure was even higher among the youngest millennials, ages 18 to 24, at 52 percent.

While there is no provision for a public recall of U.S. presidents, the poll question revealed just how far Obama has fallen in the eyes of young Americans.

IOP director Trey Grayson called the results a "sea change" attributable to the generation's outsized and unmet expectations for Obama, as well as their concerns about the economy, Obamacare and government surveillance.
If these numbers hold up, and if it indeed it turns out that Millenials choose to pay the penalty rather than signing up for health insurance, then the Affordable Care Act will indeed have demographic problems going forward. More broadly, though, one wonders if this poll signals a split between the President and a demographic group that was enthusiastically behind him in both 2008 and and 2012. While it's unlikely that we'd see these Millenials flocking to the GOP until that party changes its attitudes on social issues like same-sex marriage, the fact that they've become so burned out on a political leader that had arguably been instrumental in inspiring them to get involved in politics to begin with suggests that they may be likely to return to the previous habits of younger voters in sitting out elections, which is something that could have real consequences for Democrats heading into the 2014 midterms.