"LIBERATE" Minnesota, Michigan and Virginia
The President is issuing dangerous statements.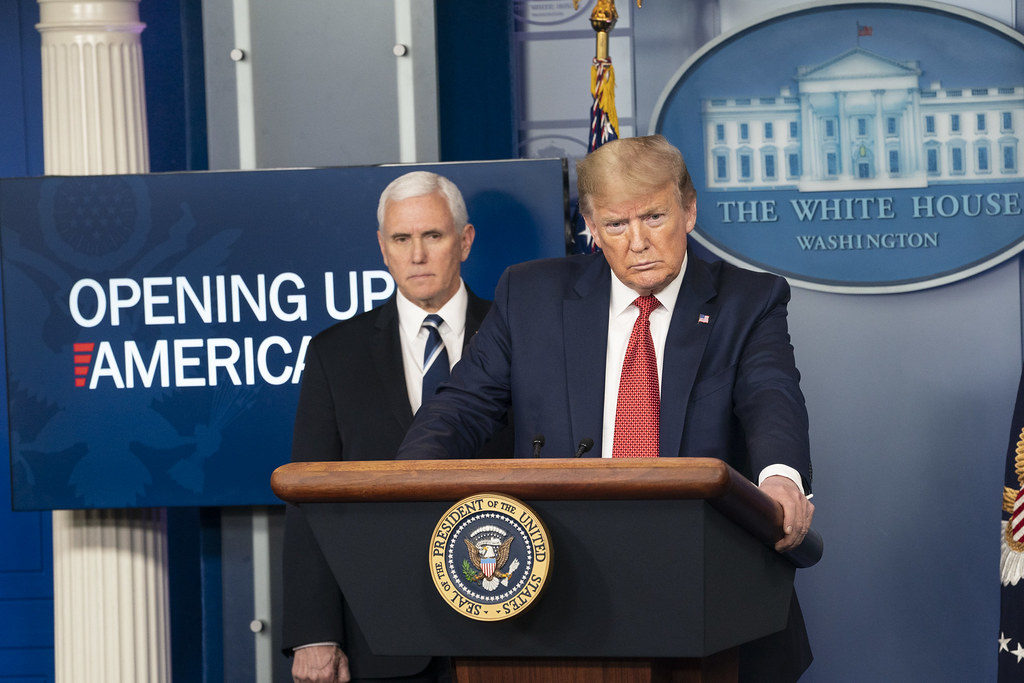 President Trump is understandably frustrated that the COVID-19 pandemic has much of the American economy shut down, potentially hurting his chances for re-election in November. But he's acting irresponsibly.
POLITICO's Quint Forgey ("Trump breaks with his own guidelines to back conservative anti-quarantine protesters"):
President Donald Trump culminated a swerving, week-long power struggle against the nation's governors with an apparent endorsement of protesters who have defied leaders of coronavirus-stricken states, public health experts and the most senior members of his own administration.

In a series of tweets Friday afternoon, the president issued an online call to "LIBERATE" Minnesota, Michigan and Virginia — all states where aggrieved residents have gathered in public in recent days to demonstrate in opposition to stay-at-home orders declared by Democratic governors.

"LIBERATE MINNESOTA!" Trump wrote, followed soon after by a message that read, "LIBERATE MICHIGAN!" He also tweeted, "LIBERATE VIRGINIA, and save your great 2nd Amendment. It is under siege!"

Asked about his tweets at Friday's White House press briefing and whether those states should lift their stay-at-home orders, Trump said, "No, but elements of what they've done are too much. … It's too tough."
Earlier in the briefing, Trump said certain states are going to "come online" "sooner rather than later."

The president's remarks and social media posts come as some conservative groups have grown increasingly frustrated with the local directives that have slammed the brakes on the U.S. economy, the strength of which had been a key selling point of Trump's reelection effort.

Trump's tweets also represent the latest salvo in a rhetorical back-and-forth between governors seeking more robust assistance from his administration and a president loath to accept blame for a federal response that has been widely criticized as inadequate and slow-footed.
Amid the urgent state efforts, thousands of protesters — many wearing Trump paraphernalia — have congregated in the capital cities of Minnesota, Michigan and Virginia, flouting stringent mitigation measures imposed by Democratic Govs. Tim Walz, Gretchen Whitmer and Ralph Northam.

Northam was dismissive of Trump's unexpected broadside at a news conference Friday, telling reporters that he and his staff are "fighting a biological war. I do not have time to involve myself in Twitter wars."
The tweets also came up near the end of a conference call between Senate Democrats and Vice President Mike Pence regarding national testing for the coronavirus.

When Sen. Tim Kaine of Virginia asked why the president was trying to incite division online, Pence said the administration would continue to work with governors while also communicating with the American people.

But the Democrats were not satisfied. Kaine called the president's posts disrespectful, and Senate Minority Leader Chuck Schumer of New York pressed the vice president to answer Kaine's question.

Gov. Jay Inslee of Washington had an even stronger reaction, issuing a lengthy statement condemning Trump's rhetoric. His tweets "encourage illegal and dangerous acts" and put "millions of people in danger" of contracting the coronavirus, the governor said.

"I hope someday we can look at today's meltdown as something to be pitied, rather than condemned. But we don't have that luxury today. There is too much at stake," Inslee, a Democrat, added.

House Speaker Nancy Pelosi on Friday called Trump's tweets a "distraction" on MSNBC. "I won't take the bait," she added.

The president's suggestion that Americans should disobey state orders directly contradicts his own past statements acknowledging governors' authority to announce restrictions to combat the disease's spread.
Asked about the demonstrations at his coronavirus news briefing Thursday, Trump declined to condemn them, instead noting that "they seem to be protesters that like me" and that the marchers had "been going through it a long time."
NBC News' Ben Collins and Brandy Zadrozny go much further ("In Trump's 'LIBERATE' tweets, extremists see a call to arms"):
When President Donald Trump tweeted "LIBERATE MINNESOTA!" on Friday morning, some of his most fervent supporters in far-right communities — including those who have agitated for violent insurrection — heard a call to arms.

The tweet was one of three sent from the president's account, along with "LIBERATE MICHIGAN!" and "LIBERATE VIRGINIA, and save your great 2nd Amendment. It is under siege!"

Trump's tweets came after small protests by Trump supporters broke out in a handful of states, many of which were fueled by anti-vaccination and anti-government groups. Anti-government sentiment has percolated among far-right extremists in recent weeks over the stay-at-home orders governors have issued to prevent the spread of the coronavirus.

Trump's tweets, however, pushed many online extremist communities to speculate whether the president was advocating for armed conflict, an event they've termed "the boogaloo," for which many far-right activists have been gearing up and advocating since last year.

There were sharp increases on Twitter in terms associated with conspiracies such as QAnon and the "boogaloo" term immediately following the president's tweets, according to the Network Contagion Research Institute, an independent nonprofit group of scientists and engineers that tracks and reports on misinformation and hate speech across social media.

Posts about the "boogaloo" on Twitter skyrocketed in the hours after the president's tweets, with more than 1,000 tweets featuring the term, some of which received hundreds of retweets.

"We the people should open up America with civil disobedience and lots of BOOGALOO. Who's with me?" one QAnon conspiracy theorist on Twitter with over 50,000 followers asked.

"Boogaloo" is a term used by extremists to refer to armed insurrection, a shortened version of "Civil War 2: Electric Boogaloo," which was coined on the extremist message board 4chan.

[…]

Law enforcement officials have previously identified "boogaloo" domestic extremists as a legitimate threat. A report released by the Network Contagion Research Institute about the term "boogaloo" being used to ironically mask violent overthrow attempts had "gone viral" within law enforcement and intelligence communities in February, Homeland Security Advisory Council member Paul Goldenberg told NBC News in February.

The president's tweets came just minutes after Fox News aired a segment featuring coverage of a Facebook event called "Liberate Minnesota." Although only a few hundred people expressed interest in the event on Facebook, local news sites and conservative blogs drove attention to the event Thursday, one day before the president's tweets.
My strong guess is that the President is only vaguely aware of QAnon, much less "boogaloo," if that. Much more likely is that he saw the Fox segment and decided to amplify it.
Dan Drezner has been curating a Twitter thread for years that has just been turned into an academic press book called Toddler in Chief. His argument, documented by hundreds of examples of Trump's own staff venting their frustrations with him, is that Trump demonstrates the characteristics of a small child: "Across a range of behavioral and cognitive traits — temper tantrums, a short attention span, impulse control, oppositional behavior, and knowledge deficits — Trump has much more in common with small children than with the 43 men who preceded him."
This is almost certainly another example of that rather than a conscious attempt to foment rioting and insurrection. That, alas, does not make it any less dangerous.