Liz Truss Already On the Way Out?
The Brits may soon have yet another Conservative PM.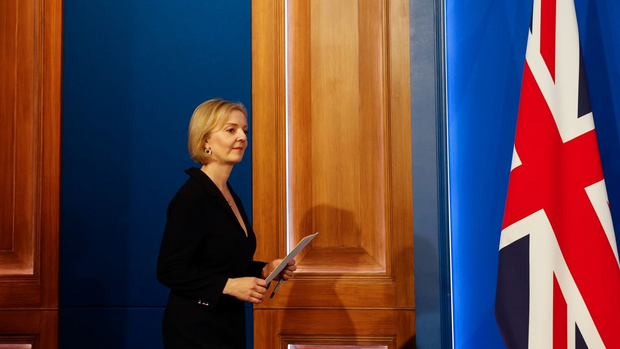 FT ("'We've messed this up': Tories plan for life after Liz Truss"):
Tory MPs and ministers will be carefully watching the reaction of markets when they open on Monday following Truss's decision to appoint Jeremy Hunt as chancellor and scrap her planned rise in corporation tax.

Hunt, who replaced Kwasi Kwarteng, is expected to go further and drop a 1p cut in the basic rate of income tax, another key plank of last month's "mini" Budget, in a bid to calm markets and restore stability.

If the pound and gilt yields stabilise, senior members of the government said this would buy the prime minister time until October 31, when the chancellor had planned to publish his medium-term fiscal plan: he has since brought forward the announcement of key details to Monday. But few are in doubt that Truss's reputation and authority have been shot.

One veteran Tory party official said Truss may survive for weeks due to the lack of an obvious successor. "I give her longer than most others because there is no viable alternative," they said.

But a senior Whitehall official suggested that Truss had as little as two weeks left in Downing Street. "That will give the leadership contenders time to sort themselves out and figure out how to remove her without too much disruption," the person said.

Another civil servant said: "There is an awful lot of uncertainty."
I have no dog in this fight but it's not like Truss inherited a stable situation and screwed it up. Boris Johnson was an absolute circus and she's had . . . checks notes . . . 42 days to right the ship?
It seems to me that the Tories have just about run it aground. They've been in power a remarkable 12-plus years, going back to David Cameron's turn at 10 Downing from 11 May 2010 to 13 July 2016.
He allowed populist sentiment to force him to stage a referendum for Brexit, which he then campaigned against, failing to persuade the public that it would be a disaster. When he rightly resigned his post in the wake of that vote, he turned it over to Theresa May, who proceeded to try to give the public what they wanted and to give it to them good and hard. After three years and twelve days, she'd failed to get a Brexit plan through Parliament and resigned, turning it over to Johnson–who managed to push through the worst possible form, lasting roughly a month longer than May before being ousted.
It's probably time for Truss to have King Charles call for new elections. It seems her party has run out of ideas and they've certainly run out of mandate.