Liz Truss Resigns
She is the shortest-tenured Prime Minister in British history.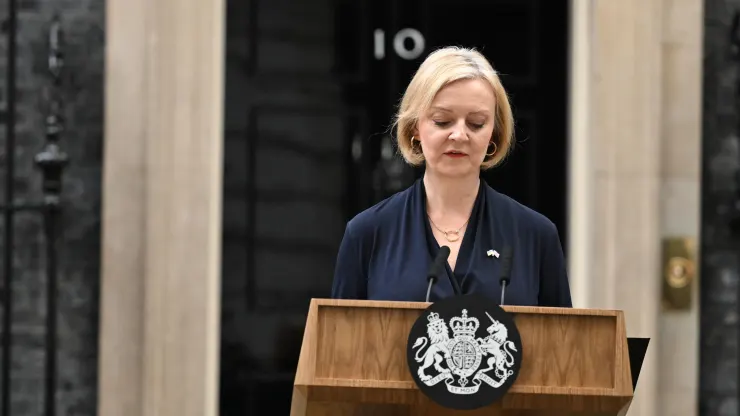 BBC ("Liz Truss resigns as prime minister after Tory revolt"):
Liz Truss has dramatically resigned as prime minister after just 45 days in the job.

The PM said her successor will be elected in a Tory leadership contest, to be completed in the next week.

Tory MPs urged Ms Truss to go after her government was engulfed by political turmoil, following the ditching of most of her economic policies.

Ms Truss was elected by the Tory membership in September, but she lost authority after a series of U-turns.

In a speech outside Downing Street, Ms Truss said: "I recognise that I cannot deliver the mandate on which I was elected by the Conservative Party."

Ms Truss said she would remain in post until a successor formally takes over as party leader and is appointed prime minister by King Charles III.

Ms Truss – who took office 44 days ago – will become the shortest-serving PM in British history when she stands down.

Labour leader Sir Keir Starmer called for an immediate general election following Ms Truss's resignation speech.

In her speech, Ms Truss said she entered "office at a time of great economic and international instability", as war rages in Ukraine and living costs skyrocket.

But her resignation comes after a key minister, former home secretary Suella Braverman, quit and Tory MPs rebelled in a chaotic parliamentary vote.
CNBC ("UK Prime Minister Liz Truss resigns after failed budget and market turmoil"):
U.K. Prime Minister Liz Truss resigned Thursday following a failed tax-cutting budget that rocked financial markets and which led to a revolt within her own Conservative Party.

Truss said in a statement outside Downing Street: "We set out a vision for a low-tax, high-growth economy that would take advantage of the freedoms of Brexit."

"I recognize though, given the situation, I cannot deliver the mandate on which I was elected by the Conservative Party. I have therefore spoken to His Majesty the King to announce that I am resigning as leader of the Conservative Party."

Her resignation follows a meeting with Graham Brady, the Conservative politician that is in charge of leadership votes and reshuffles. Brady chairs the 1922 Committee — the group of Conservative MPs without ministerial positions who can submit letters of no confidence in the prime minister.

Just before the meeting, a Downing Street spokesperson told reporters Truss wanted to stay in office.

During the hour the meeting lasted, the number of MPs publicly calling for Truss to step down reached 17. The number who have written letters to Brady expressing no confidence in the prime minister was reported to be over 100 by Thursday.
BBC Political Editor Chris Mason ("Massive challenge for Truss successor to unite party"):
It's astonishing, just three and a half months ago I was standing in this very spot reporting on the resignation of the previous prime minister from the Conservative leadership.

Here we are just 100-odd days later and his successor, Liz Truss, performs that same walk and utters a very similar set of words.

If you thought yesterday was chaotic, the chaos is going to deepen, and out of the next few days there's going to emerge yet another prime minister.

The Conservatives hope they can dredge a name out of their ranks amongst themselves to avoid a contest among Conservative Party members in the country which would take several months in order to present yet another leader to the country.

That new prime minister, if they can find someone who can unite the party – and that is a massive if – will then face a massive challenge around legitimacy.

But we should remember, constitutionally, we live in a parliamentary democracy and if a new prime minister can command a majority in the House of Commons, they have the constitutional right to serve until the next general election legally has to happen.
CNN's Rob Picheta ("How Truss destroyed her own premiership within weeks"):
Liz Truss's resignation brings to an ignominious end her catastrophic tenure in Downing Street, which appeared doomed ever since Truss's flagship economic agenda sent markets into panic and led to a fall in the value of the pound.

She won support from Conservatives members by promising low-tax, pro-growth policies – derided by her critics as a lurch towards trickle-down economics – but within weeks of coming to power she disavowed the plans in a humiliating pivot, firing her Chancellor Kwasi Kwarteng and ditching virtually all of the fiscal agenda in the wake of a market backlash.

It came after investors rejected an announcement by the Truss government in late September that it would slash taxes while ramping up borrowing in a bid to produce faster growth, citing concerns that the plan would push up inflation just as the Bank of England wants to bring it down.

Fears also crept in about the sustainability of government debt at a time of rapidly rising interest rates.

The pound crashed to a record low against the US dollar, while bond prices slumped, sending yields soaring. That pushed mortgage rates much higher, and brought some pensions funds to the brink of default.

The Bank of England was forced to announce three separate interventions to avoid a full-scale meltdown in the UK government bond market.

Truss meanwhile failed to regain control of an increasingly mutinous Conservative Party, and her Home Secretary Suella Braverman launched a blistering attack on her leadership after leaving the role on Wednesday.

A final chaotic display saw Truss allies accused of manhandling lawmakers to force them to vote against a fracking ban on Wednesday evening.
The speed at which she torpedoed her premiership is impressive, indeed.
There is, however, something to be said for a system that allows a massive course direction when the public and the party have lost faith in its leader. Ours requires waiting four years, regardless of what a disaster the tenure is. Then again, Joe Biden might well have been ousted a year ago, when so many Democratic Party leaders were frustrated with his inability to pass legislation. He has rallied quite nicely since.