Logistics of Chemical Weapon Destruction
The destruction of Syria's stockpiles will be slow and laborious even if all goes according to script.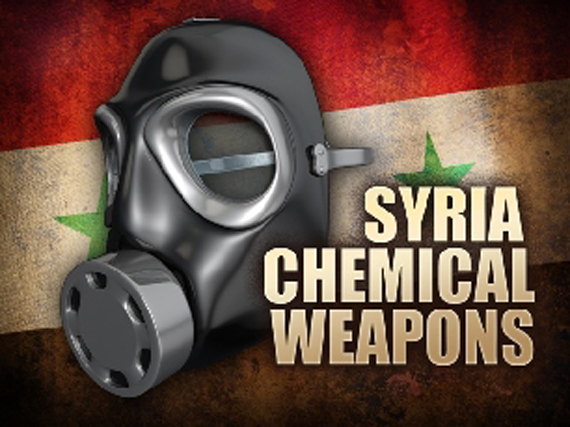 William J. Broad and David E. Sanger have a page 1 report in today's NYT ("If History Is Any Measure, The Clock Is Ticking") detailing just how laborious the destruction of Syria's chemical weapons will be even if all goes according to script.
When Col. Muammar el-Qaddafi had to convince the world 10 years ago that he was serious about giving up his chemical weapons, he dragged warheads and bombs into the desert and flattened them with bulldozers.

When Saddam Hussein, defeated in the Persian Gulf war of 1991, had to demonstrate that he was giving up his chemical arsenal, Iraqis protected by little more than tattered cloths over their faces poured some of the agents into ditches and set them on fire — to the shock of inspectors watching in heavy "moon suits."

Weapons experts and diplomats say that if President Bashar al-Assad is serious about complying with the landmark agreement announced in Geneva on Saturday, he will have to take similarly dramatic action in the coming weeks. Anything short of an immediate demonstration of willingness, they say, will be a sign that Mr. Assad is seeking to drag out the process, betting that time is on his side as memories fade of the attack that is said to have killed more than 1,400 people and prompted a military standoff with the United States.

The benchmarks laid out in the Geneva agreement seek to capitalize on the momentum by imposing quick deadlines, including a requirement that Syria submit a complete list of its chemical weapons, and storage and production facilities within a week. The agreement also requires "immediate and unfettered" access to chemical weapons sites by international inspectors.

The agreement calls for the destruction of chemical agent mixing equipment by November and, perhaps most ambitious, for Syria to completely rid itself of chemical weapons and production facilities in less than a year, a timetable that would set a speed record and one that many experts doubt could be completed even with Syria's full cooperation.
Indeed, Libya's chemical stockpiles remain rather large despite active compliance. Indeed, the United States has been working on dismantling its own stockpiles for going on three decades and is nowhere close to finished. Further, "Even in the cases of Iraq and Libya, which cooperated in the destruction of their stockpiles, small stashes of chemical weapons have been found years later, apparently not out of any intentional deception but because they were simply forgotten."
At the core of the debate over how to test Mr. Assad are two conflicting strategies to getting rid of chemical arms: the slow, safe and costly, versus the quick and dirty. When the United States had to get rid of Nazi Germany's chemical weapons, it dumped them into the Baltic Sea; Japan's ended up in the Pacific.

But the United States' effort to get rid of its own stockpile has now taken 28 years and $35 billion — and it is not yet over. Over the years, the United States has led the world in developing special furnaces that scrub out dangerous waste products, and it has created methods to react the material with water and other chemicals to permanently undo the toxic structures. It has built seven destruction plants across the world, including at Johnston Atoll in the Pacific and the Aberdeen Proving Ground in Maryland, and it is in the process of building two more, at Richmond, Ky., and Pueblo, Colo.

Mr. Obama has made it clear to his staff that no one has time for a painstakingly slow process in Syria, and the Geneva agreement reflects that urgency.

Iraq after the gulf war is a prime example of the quick-and-dirty approach. The chemical arsenal was destroyed, and at fire-sale prices compared with the costly American approach, said Charles A. Duelfer, a top United Nations official in the elimination of Iraq's chemical arsenal.

"We gathered stuff from all over and destroyed it for under $10 million," he recalled in an interview. Some leaky munitions were too dangerous to move, Mr. Duelfer said. "So we'd dig a pit, put in diesel fuel, and blow the stuff up."

Raymond A. Zilinskas, a senior scientist at the Monterey Institute of International Studies and a former United Nations weapons inspector in Iraq, said chemical experts would get up early to beat the desert heat, donning full-body protective suits that protected them from hazardous fumes at sites where lethal toxins were being incinerated in open pits.

"They'd supervise the Iraqis," he said of the United Nations inspectors. But the local workers themselves, he added, wore sandals and "put rags over their faces."
None of this is a complaint about the process. Presuming the Russians and the threat of Western air strikes keep Assad motivated, getting him to sign the CWC and beginning the process of destroying his chemical weapons is a win. But it's not going to happen overnight.
There's also a countervailing pressure on Assad. What immediately came to mind after reading the opening sentences of the report is that both Saddam Hussein and Muammar Gaddafi were both ultimately attacked by the United States and killed by their own people despite active compliance. So, while he's apparently motivated to do what's necessary to avert US strikes in the near term, he's got a powerful incentive to hedge his bets.