LTC Vindman Update
Revisiting a recent post.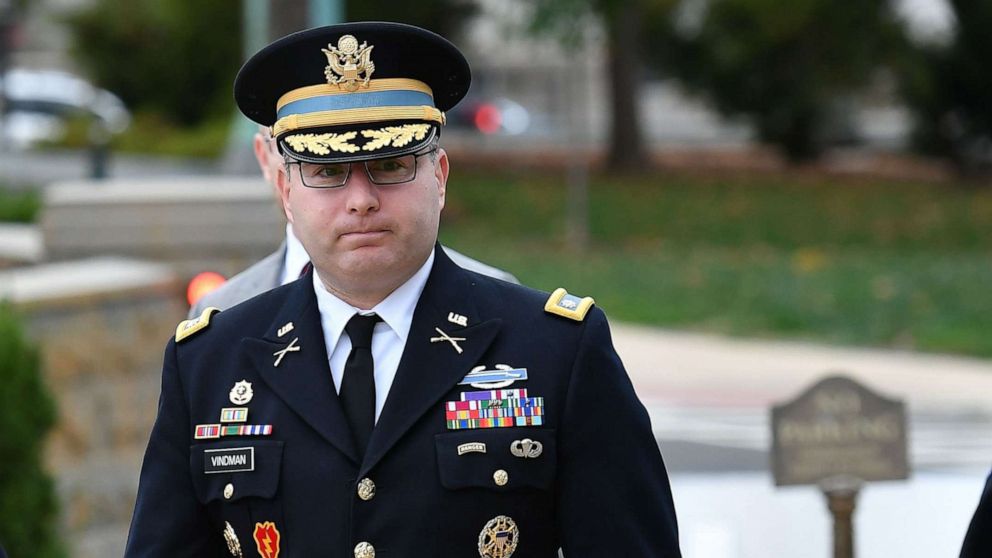 My Friday morning post "LTC Vindman Could be Court-Martialed for Testifying to Congress" garnered a lot of discussion on Twitter, some of it thoughtful, over the weekend.
Outside the context of the blog, which I view as a running conversation with the regular readership, many saw it as clickbait or, strangely, an argument that he should be court-martialed.
The piece was built around a report by Meghann Meyers, the Pentagon bureau chief at Military Times, titled "How the Army officer who testified against Trump could end up in a court-martial" and based on her interview with attorney Sean Timmons. It was speculative and quoted other sources saying that the outcome was unlikely—a conclusion that I also reached in my post.
After the Twitter back-and-forth and re-reading Meyers' story, however, I disagree with Timmon's assertion that a court-martial is "not far-fetched."
While the lede asserts that "When Lt. Col. Alexander Vindman appeared before members of Congress on Tuesday to discuss what he knew about President Trump's conversations with Ukraine's president, he was violating an order from his commander in chief not to cooperate with the House's impeachment inquiry," the story doesn't actually support that. Rather, several paragraphs in, we're told, "The White House's impeachment inquiry policy is laid out in an Oct. 8 letter from its senior counsel, Pat Cipollone, calling the investigation invalid and unconstitutional." A policy letter from the White House senior counsel is not an order from the commander-in-chief.
Even if it were an order—or if there were a more direct order from Trump—Timmons' rationale for court-martial is strained. Still, I disagree with Jim Golby, himself an Army lieutenant colonel and a bonafide expert on civil-military relations, that such an order would be "incontrovertibly an illegal order" if based on the premise that the information was classified and not releasable to Congress. "Josh," an Army JAG who I've followed on Twitter for years agrees that it's "a tough gray area."
Still, as noted in the original post and my various back-and-forths on Twitter, I agree with Golby that ordering an officer not to testify to Congress in an impeachment inquiry for the actual purpose of covering the President's ass (my words, not his) rather than protecting truly sensitive national security information is illegal. The question is whether Vindman could be charged under that circumstance. I continue to believe that he could but almost certainly won't.
Golby believes the very question is overly provocative and he's perhaps right. I saw it more as an intellectual exercise about the lengths a commander-in-chief who manifestly doesn't feel constrained by the historical norms of the office might go. But there's no evidence that he's even contemplating this particular action.
I still believe that the far more likely course of action is that Vindman gets removed from his post at the National Security Council and gets an Officer Evaluation Report that's sufficiently subpar as to be a career-ender. But even that's speculative; we'll know when we know.
Relatedly, a retired Army lieutenant colonel and former NSC staffer whose insights I value contacted me privately to challenge my assertion in the post that Vindman had a "promising career—one doesn't get selected for the NSC staff as a terminal assignment."
It turns out that, while all manner of Washington assignments are career-enhancing, this particular one is often a career-killer. Because the job is to reach back down to one's agency and tell them to execute the White House's bidding, junior officers are frequently put in a position where they'll ruffle the feathers of much-more-senior officers. Some survive and thrive in that position but many do not.
UPDATE (1056): My colleague Jill Goldenziel, an NYU-trained lawyer and Harvard PhD, observes, "We teach our students to critically think and push back and work with the interagency and when I see and hear about how SOME (by no means all) senior officers behave sometimes I fear we are teaching them to commit career suicide."
While we don't emphasize the consequences as much as the ethics, they're well understood. As I note in my response, "I first started having that conversation as a first-year cadet way back in 1984. It was always presented in the context of choosing the harder right over the easier wrong. That doing the right thing could and probably would end your career was taken almost as a given."
Vindman didn't undertake reporting what he believed to be the misconduct of his commander-in-chief lightly. He knew damned well that it would likely have negative consequences. His conscience and professional code required that he do the right thing anyway.